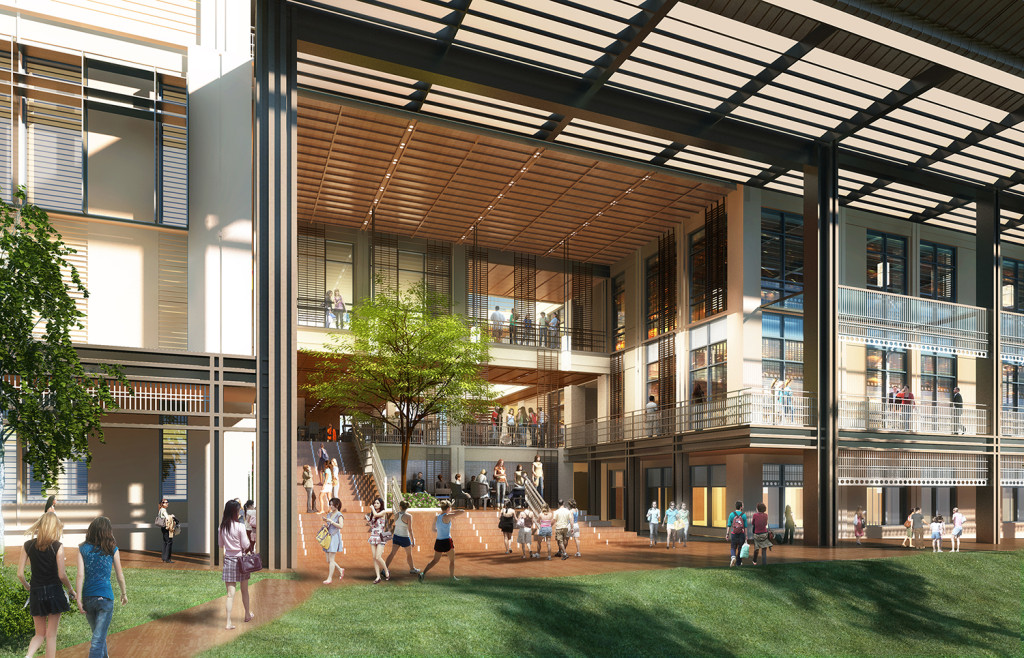 Eco-ponds, sky gardens, energy-efficient sensors and campus designs which maximise natural light are some of the green features that Yale-NUS students can look forward to when the new College campus is completed in 2015. Designed by Pelli Clarke Pelli of New Haven in the United States and Forum Architects of Singapore, Yale-NUS College received the Green Mark Platinum Award from the Building and Construction Authority (BCA) earlier this month even as it is still being built.
The award recognizes the College's efforts to integrate green building designs at the new campus. To create an optimal meeting ground for students, the new campus has been designed with an extensive courtyard, green roofs and sky gardens. Besides providing shade and ventilation, these features will reduce the urban heat gain effect. Mixed modes of ventilation have also been incorporated campus-wide in an effort to lessen the College's cooling load. The dining hall and faculty offices have photo sensors and occupancy sensors to control and reduce the consumption of lighting and air-conditioning.  The use of natural lighting will be maximized campus-wide.
Another green feature is the stormwater treatment system. The bio-wales will reduce stormwater run-off, while the biotope plants keep the eco-pond clean. Fibrous-rooted shrubs also speed up water filtration back into the ground.
Launched in 2005, the BCA Green Mark Scheme aims to promote sustainability in the built environment and raise environmental awareness among developers, designers and builders when they start project conceptualisation and design, as well as during construction. The BCA Green Mark Platinum is the highest level of award that can be achieved for sustainable designs to new buildings under construction.