By Kelly Ng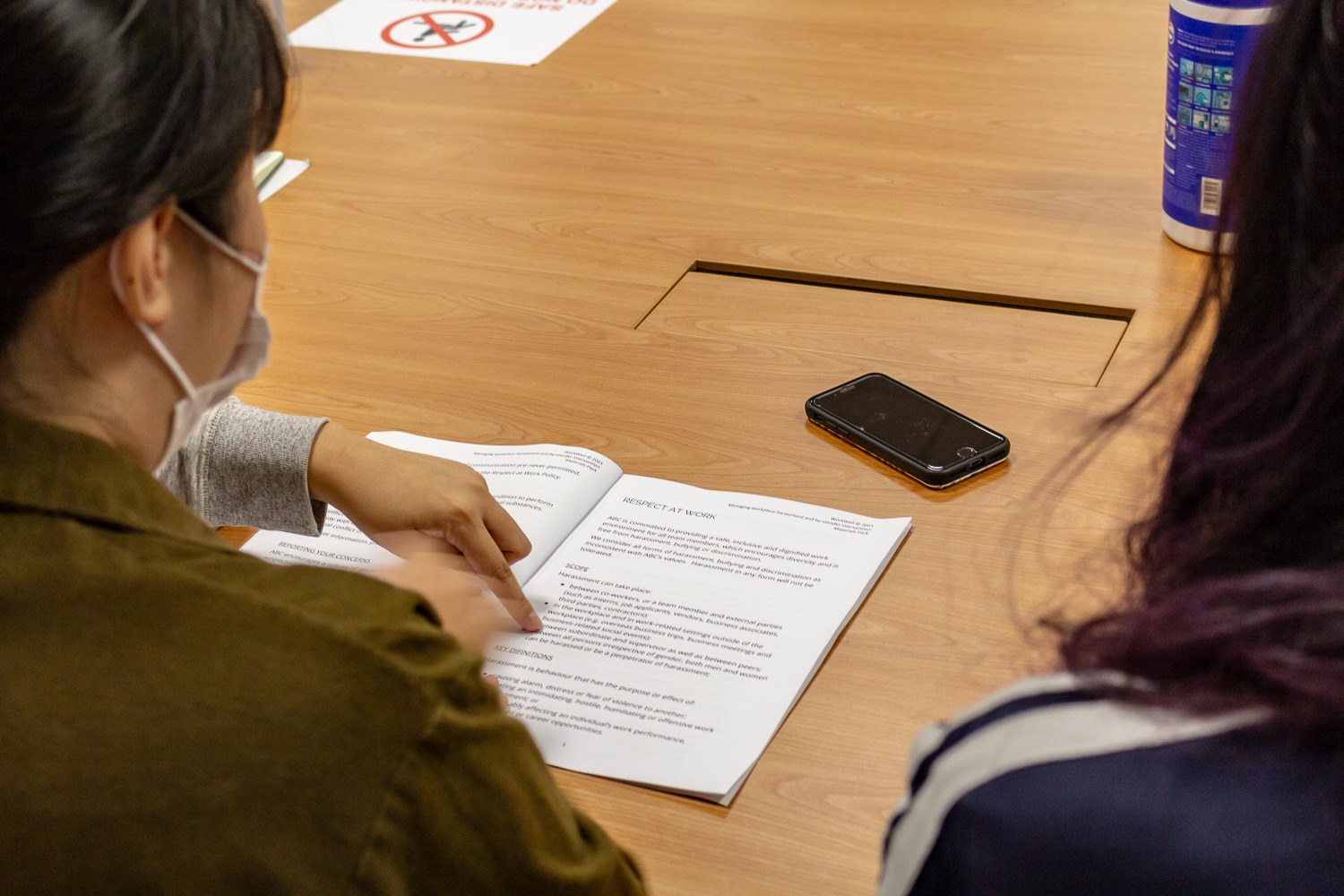 Participants of the Kingfisher De-Orientation Programme reading materials provided at the workshops. Image taken by Glen Ang for Yale-NUS College.
The Yale-NUS student experience is not just confined to their undergraduate studies in the College. It is important for our students to be equipped with the knowledge to excel in life as well as academics.  This year, our Residential Colleges, Centre of International and Professional Experience (CIPE), Dean of Students Office (DOS), and Alumni Council have consolidated their efforts to prepare our graduating class for their next life chapter through the inaugural Kingfisher De-Orientation programme. The programme comprises several workshops and information sessions that aim to help soon-to-be alumni navigate "adulting" after graduating from Yale-NUS.
The programme kicked-off with a workshop on personal finance management. Residential Life Officer Tinesh Indrarajah, who is a member of the Financial Wellness team in DOS, led the workshop. He shared that as a Yale-NUS alumnus, he felt that such workshops would help the graduating students get a good start in financial planning.
"I took quite a bit of time after starting work to figure out how to manage my finances, such as choosing a savings account, thinking about insurance and budgeting, and even understanding investment options that suit me and my lifestyle. We (DOS) knew that such information would be valuable for graduating students and therefore created materials that could help them kick-start their financial literacy journey," Tinesh said.
The workshop was divided into four key components – basic principles of budgeting, a comparison of popular savings accounts in Singapore, insurance planning and options, and lastly, a beginner introduction to investment. In under three hours, the session covered the foundational groundwork of personal finance for fresh graduates to help them make their first steps to prudent financial planning.
Kurumi Ota (Class of 2021) shared that she found the workshop to be comprehensive and easily digestible. "As a soon-to-be graduate, I am concerned about how I can manage my finances post-graduation and am keen on improving my financial literacy. The workshop was a convenient, effective and reliable way for me to get insights into useful personal finance details and answer my queries."
In addition to financial management, another key concern for many graduates – especially international students who work in Singapore for the next few years – is the search for accommodation and renting. This was addressed through the second workshop convened by Annette Wu and Carol Pillai from Student Services who also brought in an expert, Mr Eddie Lim, Senior Vice President from PropNex Realty, to share guidelines on renting in Singapore.
Speaking on behalf of the Alumni Council, Annette Wu, an alum from the Class of 2017 and Senior Executive with DOS, shared that the session is meant to alleviate some of the stress and uncertainty that "change, transition, and saying goodbye" bring. While moving out of a familiar place and into a new phase of life (physically and literally) is not easy, they can "present exciting opportunities for exploration and personal growth".
The session provided a comprehensive overview of the search, viewing, and tenancy agreement signing process in Singapore, resources on navigating rent splitting and household responsibilities, and general tips on housemate engagement and communication.
"I did some room-hunting last year and so, I was fairly confident about the general renting process. However, I realised that leasing a whole house is a totally different ballgame than simply renting a room. I decided to attend this workshop for updated knowledge, and it was incredibly insightful!", said Angad Srivastava (Class of 2021).
Tips from the workshop, such as walking around the neighbourhood, were interesting and useful. In addition, finding the right housemates was a big concern for Angad. While the workshop did not exactly stress on the "hows" of finding fellow housemates, it provided opportunity for those looking for homes to connect physically.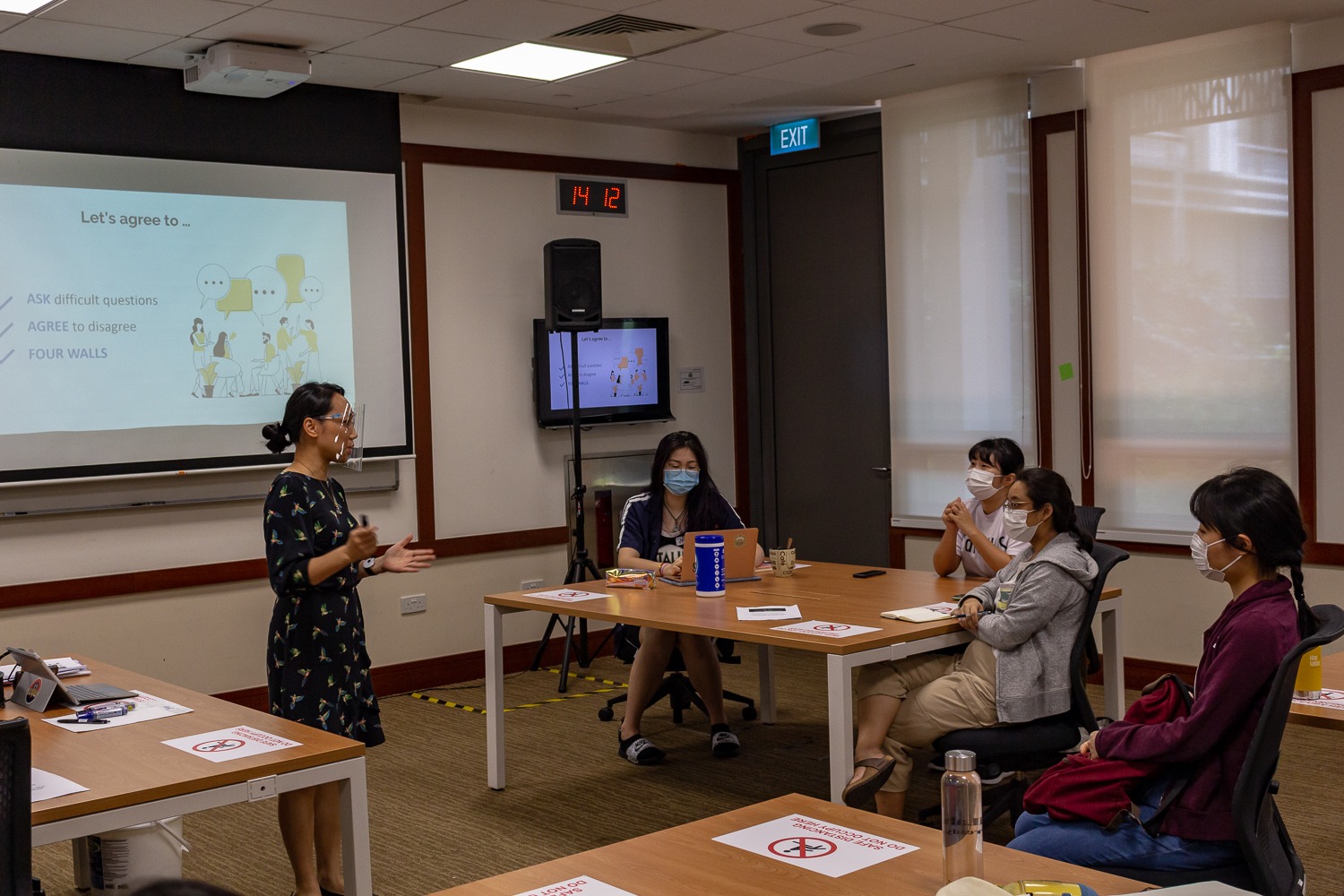 Graduating students attending the "Managing Workplace Harassment and Bystander Intervention" workshop. Image taken by Glen Ang for Yale-NUS College.
The third session in the Kingfisher De-Orientation Programme directly targeted working life. The workshop, "Managing Workplace Harassment and Bystander Intervention", invited participants to consider practical steps to manage workplace challenges based on real-life case scenarios. Jointly organised by CIPE, DOS and the RCs, the workshop was conducted by by Workwell Associates, and is a pioneering initiative by the College to equip students with awareness and practical knowledge to address such difficult circumstances, as well as support others through similar experiences.
"We understand that students encounter related situations at different stages of an internship or job search, and wanted to support capacity building in this regard. Through this session, we hoped students left with a deeper understanding of the informal and formal channels of support, and an idea of how they can seek recourse or support to resolve harassment or bullying incidents," shared the organising team.
Nicole Quah (Class of 2021) pointed out that the workshop underscored a common misconception that providing support or seeking recourse for workplace harassment always entail large, dramatic or grand actions.
"As someone who's shy and not always able to speak out in such situations, I found the workshop very useful because it made me realise that there were smaller (but no less significant) actions that I could take, both as a bystander and victim. For example, keeping evidence of unpleasant situations, reaching out to those you witnessed being harassed, or simply making an excuse and leaving the situation", she said.
Graduation is often both an exhilarating and apprehensive experience for many, and signifies the start of a brand-new phase of life; one filled with as much excitement and passion as with fear and doubt. Hopefully, the Kingfisher De-Orientation Programme helped to give our graduands a boost of confidence as they take their next steps beyond college.