By Daniel Lee
On 17 May 2021, Yale-NUS College conducted a virtual graduation ceremony for 247 of its graduands from the Class of 2021. Despite the evolving COVID-19 situation which resulted in a virtual event instead of the in-person ceremony originally planned, families and loved ones were still able to commemorate this milestone with the graduating class.
To kick-start the celebrations, the organising team scheduled photo-taking sessions (adhering to safe management measures in place) so that graduands could take graduation photographs and receive their graduation and alumni welcome gifts. Families and community members sent their heartfelt messages to graduands in advance and these were screened as part of the virtual ceremony, which was broadcast on the institutional YouTube channel.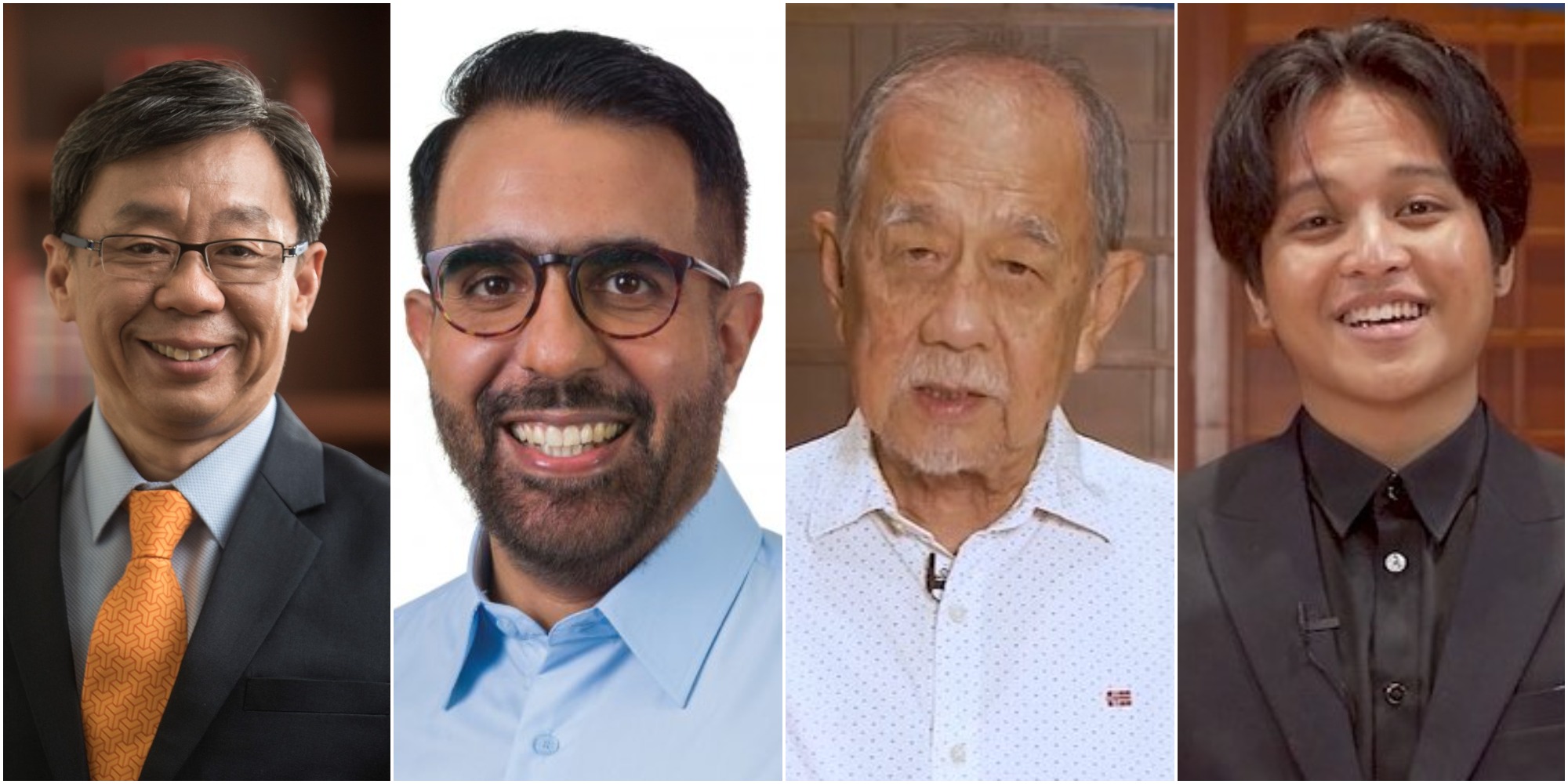 Speakers at the virtual graduation ceremony (from left to right): President Tan Tai Yong, Mr Pritam Singh, Professor Chua Beng Huat and Miguel Luis Ochosa.
In his opening message, Yale-NUS President and Professor of Humanities (History) Tan Tai Yong reflected on the recent 10th anniversary since the signing of the final agreement to launch the College. Since that decade, much has changed in the world. Despite these changes, President Tan shared that Yale-NUS has equipped its graduands with a strong academic grounding, as well as the "skills to be a good human being."
President Tan added, "Your four-year residential journey at Yale-NUS, living in close proximity with your classmates and professors, has taught you far more about yourselves and each other than learning in a classroom ever could – perhaps even more than you might like. …You have learnt skills of give and take, setting and observing boundaries, having difficult conversations respectfully, empathising with one another, and supporting each other in all that you have had to go through over the past year".
The Graduation Speaker for this year's ceremony was Leader of the Opposition of the Parliament of Singapore, Mr Pritam Singh. Addressing the class, he encouraged the graduands to draw on their experiences and personal relationships to enrich themselves after College. He also urged them to adopt the correct attitude and to adapt based on the opportunities and obstacles that might come their way.
"The opportunities and obstacles that come your way will be unpredictable. I did not plan to be Secretary-General of the Workers' Party, nor did I scheme and plot my way to be Leader of the Opposition. … I have taken it as it comes and I intend to, as the cliché goes, keep calm and carry on. I encourage you to do so too," he said.
Concluding, Mr Singh asked the graduands to maintain an open mind about the meaning of success but to always aim for excellence and fulfilment.
"Your aim should always be to produce excellence, whether you decide on alternate paths of charitable, NGO work or whether you are in a small enterprise, a start-up or a multinational corporation. Or even if you decide to give tuition to kids, be a homemaker, or do what some others may see as routine work. Look first for fulfilment. That sense of fulfilment counts for a lot and is important for your mental well-being. It is only with fulfilment that you will be truly able to make your best contribution to society," he added.
Specially nominated by the Class of 2021, Yale-NUS Professor of Social Sciences (Urban Studies) Chua Beng Huat spoke on behalf of the faculty to the graduating cohort.
Prof Chua shared his own personal journey with the class. He noted his story "has been one of drift with abrupt turns and changes, following opportunities and taking chances, but never a U-turn."
"As you leave this College, do not worry if you were drifting for some time. There will be both anticipated and unexpected opportunities to discover where you want to be. I hope you will not stop taking chances that come your way, until you reach the point without self-alienation," he shared.
Student speaker Miguel Luis Ochosa (Class of 2021) closed the ceremony by sharing the positive impact that the Yale-NUS community has had on him.
"It is encouraging to know that I have been shaped by you. We will all bring glimpses of each other's hearts with us for the rest of our lives. That is just an inevitable truth. But I hope as our four-year flight in Yale-NUS College ends today, that you find comfort in knowing that the people you have met in this school have changed you for the better," he said.
Beyond the ceremony, the Class of 2021 echoed many of the sentiments highlighted in the speeches as they reflected on their time at the College.
Iskandar Abdullah (Class of 2021), who majored in Politics, Philosophy and Economics, shared that "as I graduate from the College, I look forward to an exciting career ahead of me. With the skills, interdisciplinary knowledge and cultural awareness gained from my experience here, I am confident that I will be well-equipped to take on the challenges that lie ahead of me."
Haaken Bungum (Class of 2021), a graduating Life Sciences major, will always cherish his time at the College. Haaken said, "In many ways, it's the last chance one gets to act like a kid. It will be hard to participate in music performances or be on a sports team once I'm out of school, and I will miss these moments the most."
Sarah Lim (Class of 2021), a Life Sciences major and Arts and Humanities minor, shared that she would miss the four years of residential living at the College where she was able to see her friends on a daily basis.
Congratulations to the Class of 2021. We celebrate you and your accomplishments, and we are excited for what is to come in your future!
Find out more about the Awards, Medals and Prizes won by our 2021 graduands here.
Watch the full ceremony here: