By Evan See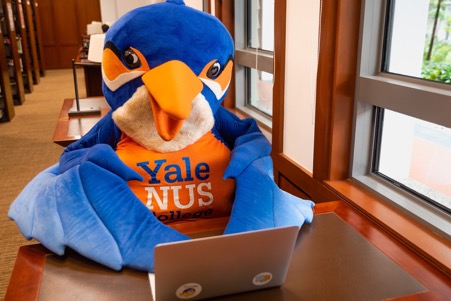 Yale-NUS e-Open House will feature Instagram Live events, sample lectures and more. Image provided by Yale-NUS Admissions
Yale-NUS College will be holding its virtual Open House tomorrow.
Traditionally, the Yale-NUS Open Day has been held annually to provide prospective students with an experience of the College campus and residential environment. However, with the limitations brought about by the coronavirus pandemic in 2020, the yearly affair was moved online. Following the first iteration of a fully virtual Open Day last year, the event, renamed e-Open House, will return this year with events such as sample lectures, Instagram takeovers and talks by students, staff and faculty.
"Our biggest challenge in planning virtual programmes is translating the physical experience of being in and around our amazing community, on our beautiful campus, to an online setting," said Ms Evannia Handoyo, Executive (Communications & Events) for the Office of Admissions and Financial Aid.
The team at Admissions and Financial Aid has worked hard to bring the Yale-NUS experience to the virtual world. In order to keep the level of engagement up, e-Open House will take place across three platforms – Zoom, Instagram Live and Instagram Stories.
"We really want to make prospective students feel like they are engaging meaningfully with students, staff, alumni, and faculty," Ms Handoyo explained.
Participants can attend various information sessions on Zoom to learn about the College's holistic application and financial aid process. For example, there will be a sharing session by Ms Laura Severin, Dean of Admissions and Financial Aid, on tips and guidance for prospective students in their applications to the College.
Other online talks will be held by advisors from the College's Centre for International and Professional Experience about learning experiences outside the classroom, while a panel of current students and alumni will speak about Yale-NUS' signature Common Curriculum, choosing a major and the unique academic experience at the College.
Of course, the information sessions would not give the full picture of the Yale-NUS experience without addressing the College's hallmark residential living component, where students live and learn in an intimate residential community throughout their four-years on campus.   A Zoom panel will be held with Dean of Students Dr Dave Stanfield, Residential Life Officers from Yale-NUS' three Residential Colleges, as well as Residential College Advisors, who will share about the unique aspects of residential life at Yale-NUS.
Over on Instagram, several live sessions will take place throughout the e-Open Day. These offer prospective students a chance to meet and interact with students and alumni from the Mathematical, Computational and Statistical Sciences (MCS) major, the Philosophy, Politics and Economics (PPE) major, and the Urban Studies major.
Alumna Ms Angela Ferguson (Class of 2018), who majored in Urban Studies, will be featured on Instagram Live. Ms Ferguson now works as a Research Analyst at Marsh & McLennan Insights.
"I'm glad to support this year's Open Day as a way of giving back to the school that has given so much to me," she said.
Ms Ferguson hopes she can encourage prospective students to consider what mode of learning they're interested in, and to understand how closely a school's offerings match what they're seeking.
"For me, it was about learning through exploration – in terms of academics, experiences, cultures – rather than immediate academic specialisation or solely classroom-based learning. If you feel similarly, Yale-NUS could be a good fit for you," she said.
For the first time virtually, the open day will also feature two online sample lectures by faculty, both of which draw from Common Curriculum modules that all Yale-NUS students have to complete in their first and second year – Comparative Social Inquiry and Modern Social Thought. Through these sessions, prospective students can get a sneak peek of what the Yale-NUS Common Curriculum is like and experience first-hand the topics, and content our faculty members explore with students in their classes.
Throughout the day, prospective students can also experience a day in the life of a Yale-NUS College student, as two of them take over the College's Instagram account through its Instagram Stories. They will answer questions, and take viewers through their daily routines and the various residential activities around campus.
Although holding an entirely virtual event has its challenges, the Admissions and Financial Aid team is confident that the e-Open House programme line-up will showcase the unique liberal arts and sciences experience that Yale-NUS offers.
"We do miss meeting prospective students in-person! Answering a question in a Zoom Webinar is not the same as having a face-to-face conversation with them," Ms Handoyo said. "That said, we are hopeful that our virtual initiatives can help prospective students and their families understand Yale-NUS' distinctive interdisciplinary education and experience our diverse and vibrant community."
"Prospective students should take advantage of informational and interactive opportunities, with our current students, alumni and staff, to guide their college application decisions," she added.
You can visit the Yale-NUS e-Open House page (here) from now until 20 March 2021 for more about the Yale-NUS experience and application process.