By Daniel Lee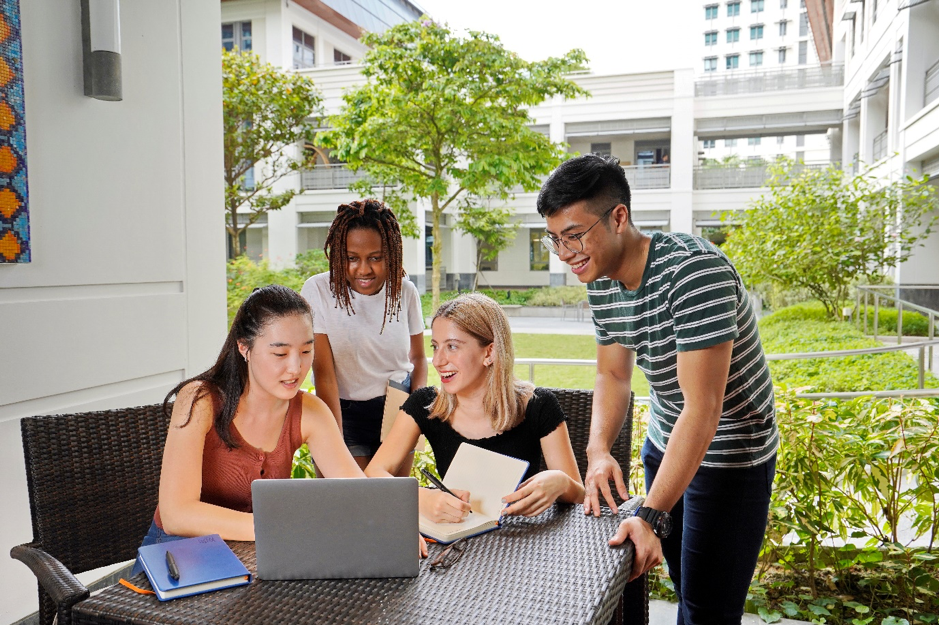 The newly announced Yale-NUS core values aim to guide how the College community behaves and functions, and will also shape the College's direction and policies. Image by Yale-NUS College.
Transformation, Exploration, Respect, Inclusivity and Care. These five newly crafted, community-shaped core values for the Yale-NUS College community were announced earlier in the academic year.
During his First Year Assembly speech to the Class of 2024, Yale-NUS College President Tan Tai Yong revealed these core values that he hoped would guide the incoming class as well as the rest of the Yale-NUS community.
"Values represent our convictions about what is important; they shape our attitudes and guide our behaviour," said President Tan. He added that the creation of these core values would guide how the College behaves and functions as a community, and are intended to guide the College's direction, decisions and policies.
The process of developing these core values took months of deliberation and reflection with all members of the community. According to Director of Human Resources Christopher Anthony, this co-creation process started in September 2018 in partnership with consulting firm Willis Towers Watson.
"These five values have been organically formed through the initial years of our growth and development. Hence, we worked together to distil and articulate these values so that they resonate with the community, in support of our vision and mission," said Mr Anthony, "These organisational values help every constituent and stakeholder in the community navigate, relate, and collaborate with one another, promoting the type of community of learning that we advocate and embrace." He believes that these core values will have a tremendous impact on the organisational culture, spurring the College on to greater heights.
 Matas Vitkauskas (Class of 2022) noted that he already sees these core values exemplified in the community, such as the genuine care shown by his professors. For Matas, the most important core value is transformation. He sees Yale-NUS as a space where future leaders are being made. Looking ahead, he hopes that these core values will anchor the College's commitment to community transformation.
Harry Hwang (Class of 2024), welcomed the addition of the core values to the current vision and mission statement. "They make the College's pursuits feel a lot clearer, and would help students to better understand what we should value in this community," he said.
Of the five core values, Harry found inclusivity and exploration to be of the greatest importance to him. "Especially as an international student, to feel like we're included in this community, regardless of our background, is critical. Despite being so far away from home, it makes me feel valued and respected," he noted.
Furthermore, Harry believed that a college experience should be about exploration. By having this as a core value, he feels that "students will be more encouraged to step outside of their comfort zone, to explore things that aren't necessarily of their interest, and to be more open minded to seeing things from different perspectives."
Assistant Professor of Humanities (Art History) Nozomi Naoi agrees with the importance of intellectual exploration, believing that these core values are reflected in Yale-NUS' pedagogy. "I truly believe that faculty embody the College's core values in their teaching and research. For example, I will be teaching a new module, titled The Birth of the Japanese Department Store, which is part of a new research project on modern design and commercial art that considers the complex negotiations of transmission, reception, and translation of different modes of artistic styles from Europe, America, and traditional arts in Japan. This is an instance of how the College's curriculum works to create students who are sensitive to our interconnected world through interdisciplinary approaches of teaching and learning," she said.
"Yale-NUS's core values reflect the cornerstones of a world-class education. They empower students to be autonomous learners, driven by their interests, while providing the structure and rigour needed to create tomorrow's leaders," added Assistant Professor of Social Sciences (Psychology) Paul O'Keefe.
Staff members, too, have been enthusiastic about the new values. "When I first learnt about the core values, I couldn't help but agree with all five of them. These core values set a greater purpose and direction for the College, with a focus on our unique identity to include and respect one another. I hope that these values sink deeply into every community member as we continue to inspire not just the College, but the society around us," said Executive in the Faculty Affairs office, Jolene Tan.
Since the announcement of the core values, a logo design competition has been launched, as well as an online portal for Yale-NUS staff and faculty to report acts that exemplify these values.
Moving forward, Mr. Anthony hopes that people in the College will live out these values in their daily interactions, such that they "become an integral part of our DNA."