By Billy Tran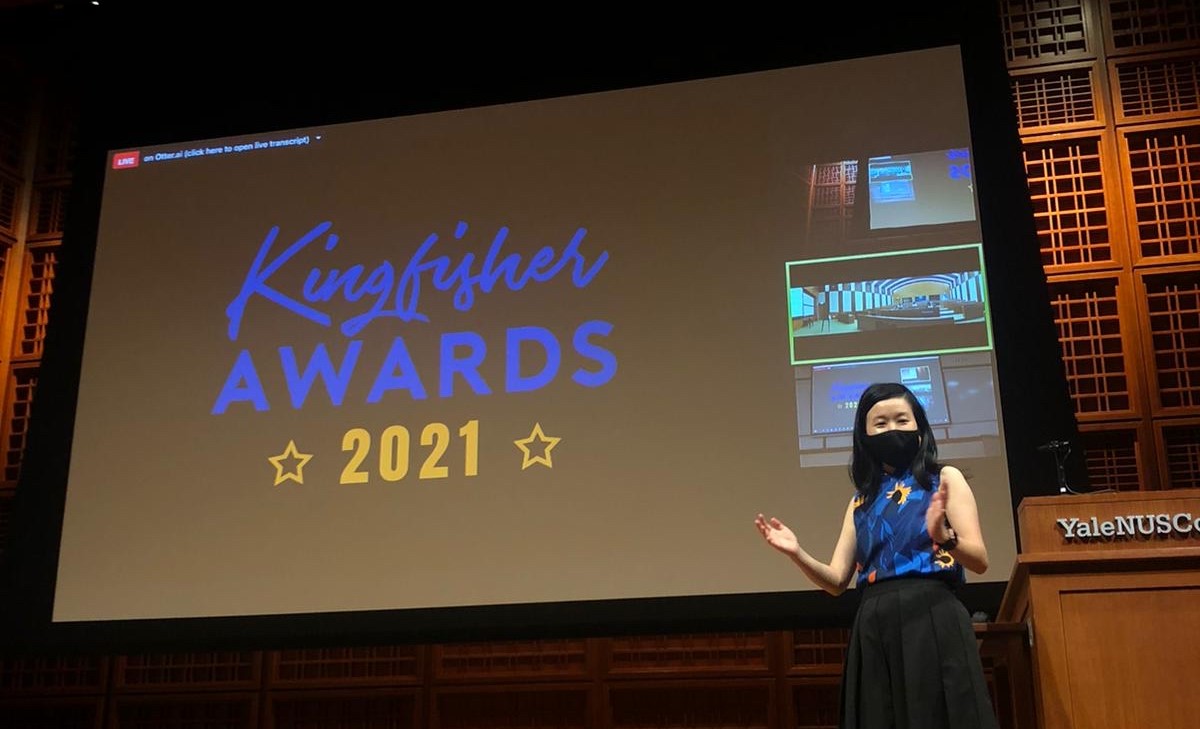 The Kingfisher Awards 2021 ceremony. Image provided by the Dean of Students' Office.
The annual Kingfisher Awards recognises the exceptional contributions of our student leaders, organisations, and staff members to the Yale-NUS College community. For the first time since its inauguration in 2018, the awards ceremony was held in an exciting hybrid format with both in-person and live-streaming components.
Working around the limitations imposed by the COVID-19 pandemic, the Dean of Students' Office had staff members host the event at three separate locations on campus to present the awards in-person. The ceremony was also live-streamed on Zoom for the wider community to tune in. "It was actually quite fun planning the ceremony. We also had an incredibly generous team with so many members of DOS volunteering to help out," Associate Dean of Students Cory Owen shared.
In recognition of their new flagship programme called Social Impact Month, Yale-NUS Womxn in Business won the Outstanding Student Organisation Programme award. The first of its kind at Yale-NUS, the programme consisted of workshops, talks, and panels that helped students bridge the perceived gap between building a career and making a societal impact.
Akanksha Madan (Class of 2023), President of Yale-NUS Womxn in Business, shared, "We wanted to challenge notions about what business truly means. Social Impact Month was meant to be an opportunity for our community to explore how to create meaningful change and create impact-at-scale, through the powerful tools presented by business opportunities." She also reiterated the organisation's commitment to being a dedicated learning space for its members.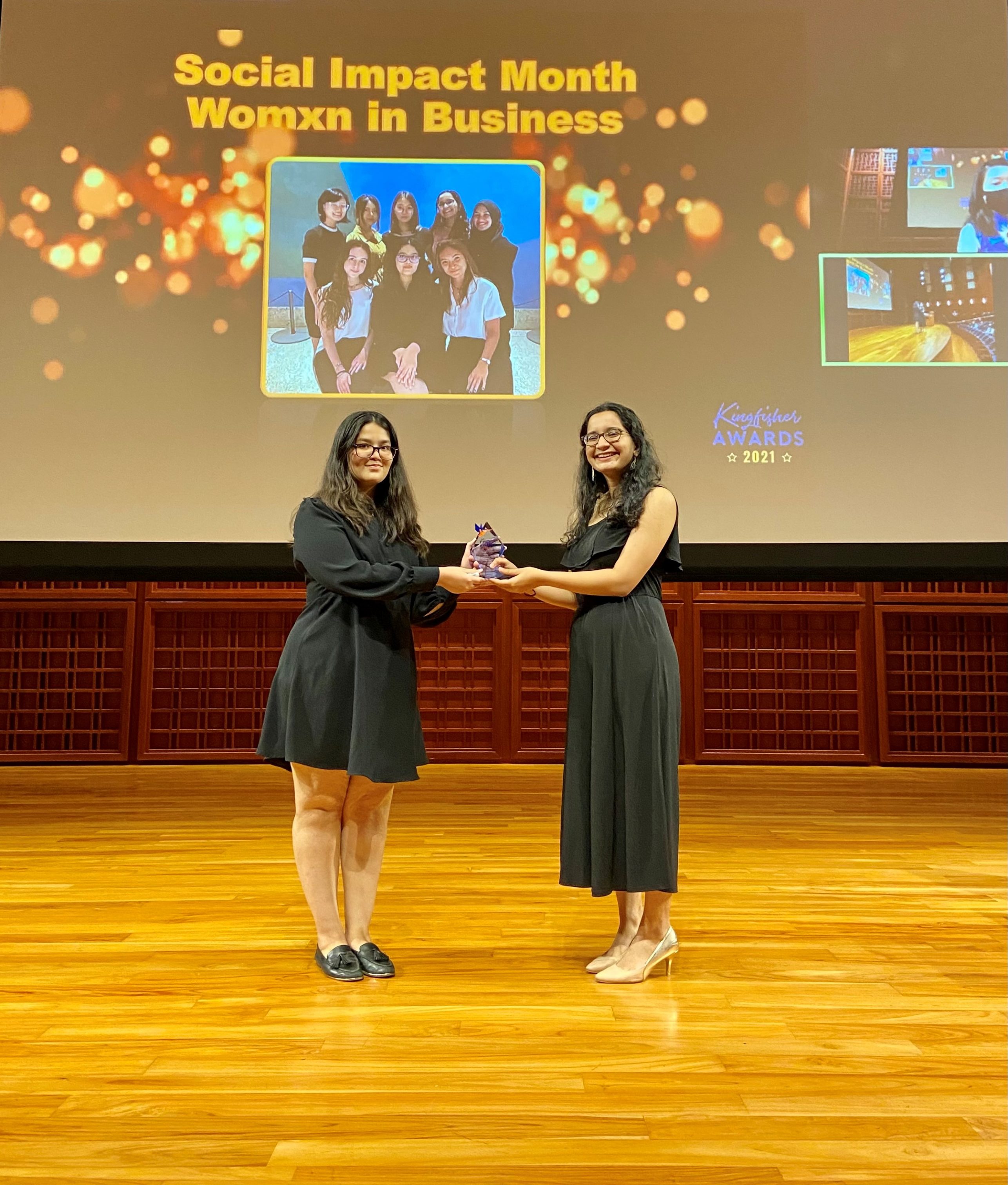 Akanksha (left) and Tanya Sharma (Class of 2023), Head of Entrepreneurship of Yale-NUS Womxn in Business, posing with their Kingfisher Awards trophy. Image provided by Maggie Keng.
With the success of Social Impact Month, the organisation plans to make the programme an annual event. "We hope to develop fresh perspectives every year," Akanksha said. They are also hoping to launch another initiative next year, titled 'Womxn in Business Week', where members can look forward to engaging with successful women across different business fields.
In the past one year, we have seen many student organisations and individuals demonstrating a strong commitment to celebrating our diversity, which is one of the College's core values. The winner of this year's Commitment to Intercultural Engagement Award was presented to Tònes, a multilingual magazine that publishes literary pieces in non-English languages. Their latest issue, Saudade, also incorporated non-literary works like paintings and photograph-poem fusions that presented cultural narratives in unique ways.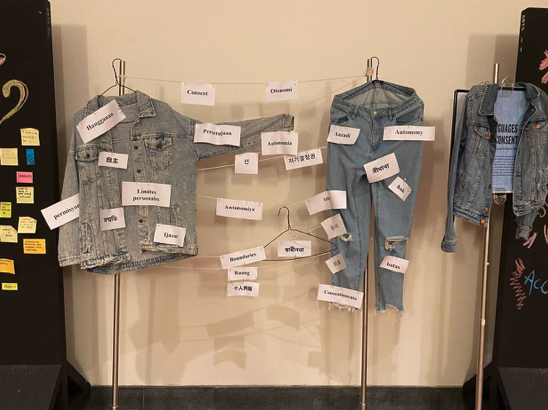 Tònes' exhibition, 'Languages of Consent', for Sexual Wellness Week. Image provided by Annabelle Mou.
Aside from the issues that are published every semester, Tònes has curated various on-campus exhibitions for College events, such as Diversity Week and Sexual Wellness Week. For the former, their exhibition titled 'Is Memory Material?' showcased photographs sourced from the community alongside captions in both English and students' native languages to explore how memories can be translated into tangible material. For the exhibition at Sexual Wellness Week, the team translated terms frequently used in consent, such as "autonomy" and "boundaries", and pinned them onto articles of denim, in tandem with Denim Day (another Sexual Wellness Week initiative).
Editor-in-Chief of Tònes Dou Jingzhi (Class of 2023) said, "At Tònes, we pride ourselves on being a platform for Yale-NUS students to express themselves in different languages. At the same time, we constantly aim to promote multicultural understanding by sharing cultural narratives through different means."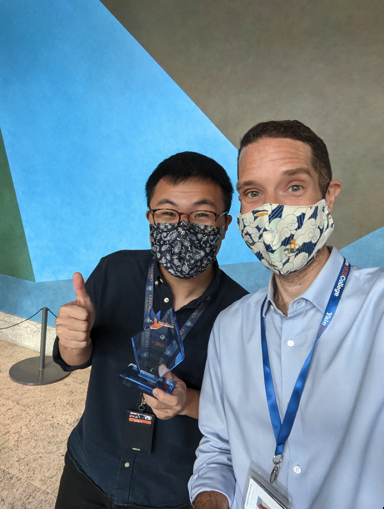 Student Tavis Tan (left) and Dean of Students Dave Stanfield (left). Image provided by the Dean of Students' Office.
Tavis Tan (Class of 2022) was awarded "The Student Organisation Leader of the Year". In the past academic year, he was involved in numerous organisations and projects, including the Yale-NUS Christian Fellowship and as a moderator for the Southeast Asian Society. Most notably, as a group leader in the Christian Fellowship, he served as a mentor to 8 to 12 students, conducting weekly bible study sessions and leading worship sessions as a guitarist.
"What motivated me was the desire to extend kindness, love, stability, and joy to those around me. I strongly believe that a community is made up of the values we embody and the values we extend to others," he shared.
In addition, as a student associate at the library, Tavis planned, organised, and executed a college-wide Halloween event that included a costume contest and trick-or-treating. "COVID-19 posed many challenges to our lives and reduced campus activity, so I wanted to bring some sort of normalcy to campus and inject life back into what was a difficult semester for everyone," he said.
Our students were not the only ones in the spotlight at the Kingfisher Awards. Contributions from staff members, who are essential to the community and its spirit, were also recognised. Manager of Cendana College Maggie Keng, was presented the Unsung Hero Award for her work behind the scenes at Cendana College. As manager, she leads her team of student associates and management assistant officer, and ensures that the day-to-day operations of the residential college runs smoothly.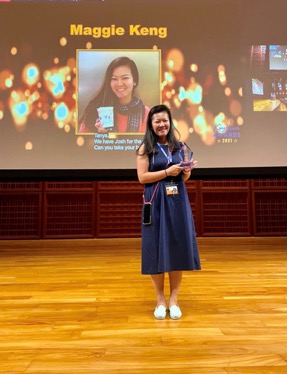 Maggie at the Kingfisher Awards 2021 Ceremony. Image provided by the Dean of Students' Office.
Maggie also works closely with the Cendana College Council (CCC) to organise special community-bonding events, such as the Start- and End-of-Semester Dinners. "Because of COVID-19, there were so many restrictions in place and it just felt so hard organising any community-building events. However, keeping an open mind and exploring the CCC's suggestions, and supporting them has been a highlight for me this year," she said.
With 14 winners from a total of 70 nominations, the Kingfisher Awards rounded up a busy and fulfilling semester amid these unprecedented times. "Such ceremonies serve as a snapshot of the year's successes, and we love highlighting our talented community!" Assoc Dean Owen shared.
The full list of award categories and winners is as follows:
| Award | Winner |
| --- | --- |
| Outstanding Athletics & Recreation Team | Climbing Team |
| Publication of the Year | El Solecitio by Society of Latinx |
| Outstanding Student Organisation | Yale-NUS Southeast Asian Society |
| Outstanding Student Organisation Programme | Social Impact Month by Yale-NUS Womxn in Business |
| Commitment to Intercultural Engagement | Tònes |
| Athletics and Recreation Leader of the Year | Peh Chong Hern (Class of 2024) |
| Student Organisation Leader of the Year | Tan Rui Min Tavis Hartanto (Class of 2022) |
| Commitment to Community and Social Change | Reni Chng (Class of 2021) |
| Student Associate of the Year | Tanya Sharma (Class of 2023) |
| Residential Life Service Award | Jin Hee Lee (Class of 2021) |
| Distinguished Student Leader | Betina Choa (Class of 2021) |
| Advisor of the Year | Norvin Ng |
| Unsung Hero Award | Maggie Keng |