By Ethel Pang
This past semester, some Yale-NUS College students participated in a virtual 'semester abroad' programme with Yale University as they consider post-graduate studies via the Special Programme with the Yale School of the Environment (YSE).
This programme offered by Yale-NUS and YSE is designed for students keen pursuing a career in an environmental field.
In order to be considered for the programme, Yale-NUS Environmental Studies students are required to take a semester abroad at Yale. Due to COVID-19 travel restrictions, this meant that third-year students like Coco Oan and Benjamin Pei-wei Yang (both Class of 2022), who are keen on pursuing the Special Programme, had to do their semester at Yale remotely. They dialled into Yale classes from Singapore and Taiwan respectively.
By integrating the undergraduate curriculum with graduate requirements, the Special Programmes accelerates the Master's degree programme: after four years of undergraduate studies in Yale-NUS, students then engage in a couple years of work experience, before doing their final academic graduate year of study at YSE after which they will be awarded a Master of Environmental Science (MESc) or Master of Environmental Management (MEM) degree.
As someone who wishes to expand into green investment and financing as a potential career path, Coco decided to take the courses Renewable Energy Project Finance and Corporate Social Responsibility Metrics offered by the YSE. At the same time, Coco has also been doing a part-time internship with Thryft, an online second-hand bookstore, to develop its new sister company Lyve, which sells sustainable lifestyle necessities.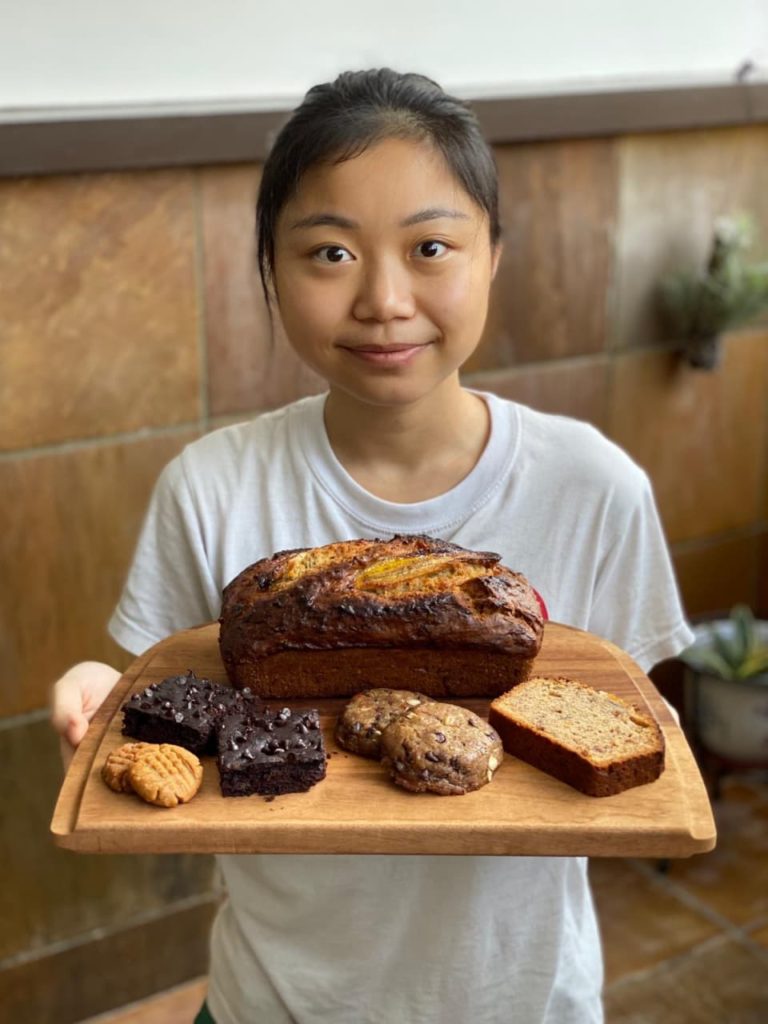 Coco Oan, posing with some of her homemade baked goods. She conducted a bake sale during circuit breaker last year to raise funds for ACRES: Animal Concerns Research and Education Society (Singapore). Image provided by Coco.
In a similar vein, Benjamin has been expanding his interests both through academia and professional endeavours. He returned to his home country last semester due to COVID-19, and has stayed there for another semester since he is doing his Yale semester abroad. In the day, Benjamin is busy with  his part-time internship at the Ministry of Science and Technology to work on carbon pricing research. By the evening, he goes online to attend his classes remotely. He found the classes he took at Yale, many of which were related to sustainable energy and environmental policymaking, have synergised well with his research.
Consequently, both students appreciated the opportunity to dive deeper into their areas of specialisation and interests within the field of environmental studies. The virtual semester also afforded them the opportunity to take graduate level courses focused on professional application in a specialised area, which complements the wide breadth of knowledge they have gained from a liberal arts and science education.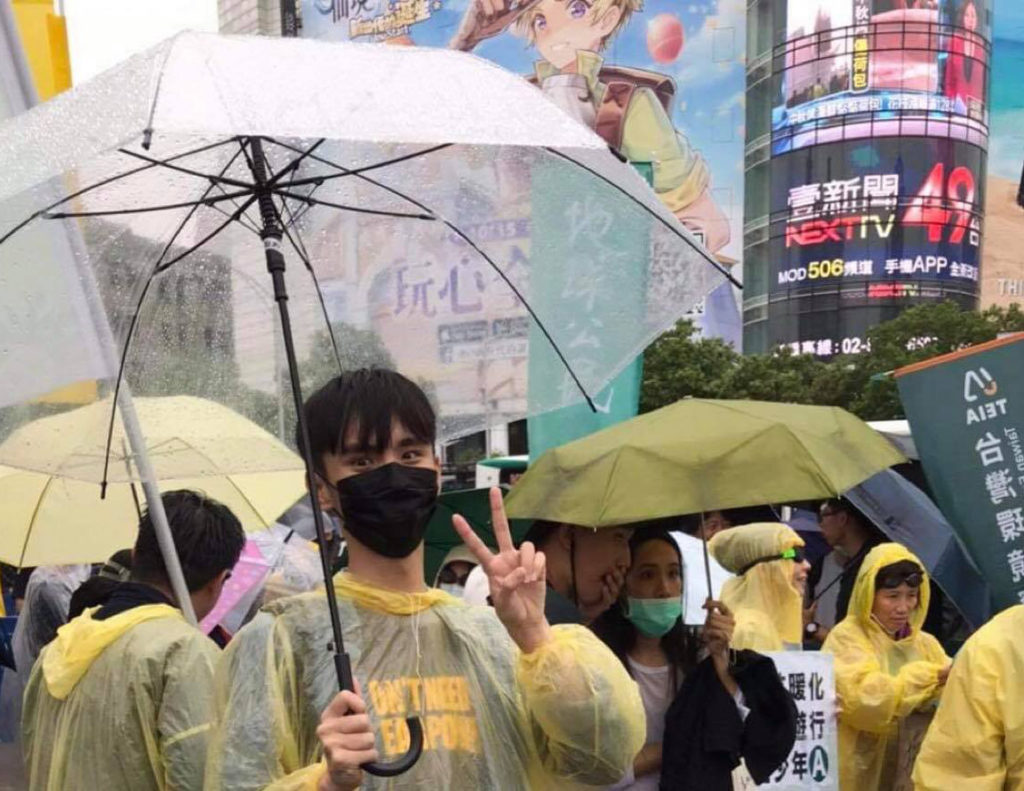 Benjamin Yang, pictured attending Taipei's climate rally last year. As part of the Global Climate Strike which took place in September 2021, hundreds participated in rally despite rainy weather. Image provided by Benjamin.
Benjamin said that his semester at Yale enabled him to appreciate how both perspectives were important in his learning. While his Yale classes gave him much more professional and real-world context, he found that this was balanced and complemented by the broad liberal arts and science education that equipped him with various theoretical frameworks and perspectives.
Benjamin added, "In Yale-NUS, we are used to having conversations relating to decolonisation or equity and justice issues in a lot of our seminar discussions. This is something I readily brought to my classrooms in Yale. Coco and I found ourselves constantly reminding our peers during class discussions to consider the spillover effects of environmental policy on indigenous populations, or other countries other than America, for example."
Concurrently, alumna Chua Wan Ping (Class of 2017) has already commenced her final year of the Special Programme with YSE.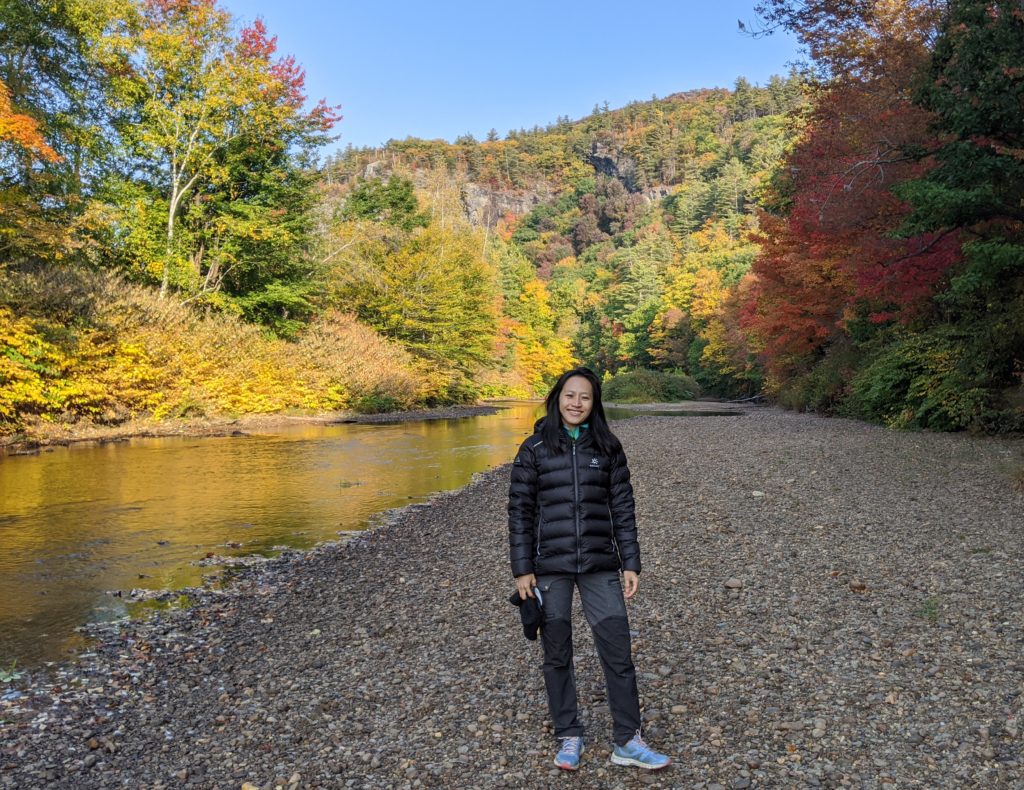 Chua Wan Ping, pictured in Yale. Image provided by Wan Ping.
Wan Ping started on her Master's programme after completing a three-year stint at HEINEKEN, spending two years in its Asia Pacific Graduate Program and a year as an assistant manager in corporate affairs.
At Yale-NUS, the focus of her undergraduate studies revolved around sustainable food policy, and she therefore considers her time at HEINEKEN "very much an extension" of these interests. During her time with the company, she worked in several sustainability roles in Singapore, Ho Chi Minh City and Amsterdam, covering areas like sustainability strategy and communications.
To further increase her exposure to corporate perspectives on sustainability, she has decided to focus on more technical topics like Life Cycle Assessments and Industrial Ecology in her graduate studies.
Reflecting on how her time in the College has prepared her for her future endeavours, Wan Ping shared, "Systems thinking and the ability to think broadly, and [training my ability to] connect the dots was something I truly valued in my Yale-NUS education. It's easily transferable in a corporate setting, especially in empowering me to work with people who come from different backgrounds. It has also given me a solid grounding for graduate school, so I can focus my time on the technical aspects of environmental management."
For the current students Coco and Benjamin, they really appreciated the opportunity to dip their toes into the experience of pursuing a Master's degree in Environmental Management. They also believed their 'semester abroad' experiences have helped to solidify their decision towards applying for the Special Programme.
Said Benjamin about his future plans, "I'm not yet sure if I want to continue pursuing other degrees and stay in academia, or start working, or both. This degree will allow me to figure things out, since if I want to head into the workforce, it's a good degree to have. If I do want to pursue and stay in academia, it's still a foundation that can lead to other degrees. So I think it's that flexibility and malleability that I really appreciate, which is why I wanted to pursue it.