By Melissa Wang | Image provided by Alex Pont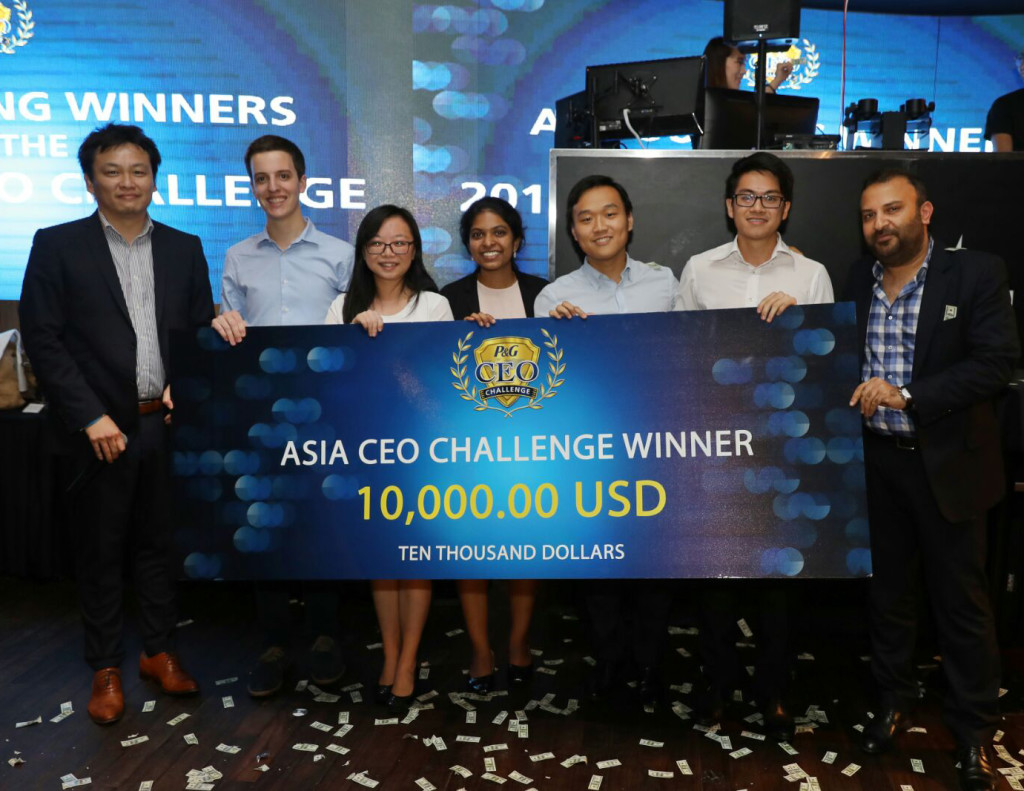 In the last quarter of 2016, two Yale-NUS students brought home the top honours in the prestigious Procter & Gamble (P&G) Asia CEO Challenge. A business case competition and intensive training workshop, participants of the Challenge took on the role of the Chief Executive Officer (CEO) of a leading fast moving consumer goods (FMCG) brand, to learn more about the challenges in the business world and how to solve them.
Alex Pont and Damian Lee (Class of 2018) joined hands with four students from Singapore Management University and Nanyang Technological University to compete in both the Singapore Regional and Asia rounds of the Challenge.
On 3-5 October, their team went up against four other teams in the Singapore Regional round. They had to identify problems in the sales of a consumer household good, and develop a growth strategy to turn around declining sales. Alex and Damian's team won this round, and were successfully able to proceed to the Asia Round, held on 14 – 15 November. This time, they represented Singapore to compete with teams from China, Hong Kong, Taiwan, Japan, Korea, Philippines and Indonesia.
Again, the duo's team triumphed against their strong competitors, and emerged victorious.
"The Asia Round was less quantitative and required more creativity," Alex and Damian shared. "We were tasked to develop a marketing plan for a premium skincare brand, and make the brand attractive to the young millennial consumer."
The team had to develop an understanding of the target group before designing an innovative communication idea, as well as end-to-end marketing and sales plan across multiple consumer touch points. Eventually, their proposal won over the judges with their creativity and feasibility.
"I've learnt about the intricacies of the FMCG business and how to craft winning strategies based on deep consumer insights," Damian revealed.
Alex echoed his thoughts: "This was much more than a case competition. The CEO Challenge included a series of hands-on workshops and lectures by the top P&G Management that enabled us to develop an understanding of Personal Leadership, Strategy Development, the role of Multi-Functional Teams, Brand Management and Product Supply, among others."
Being selected to participate in the highly competitive programme was no mean feat in itself. Alex and Damian went through a rigorous application process, which the Centre for International & Professional Experience (CIPE) at Yale-NUS helped prepare them for. CIPE assisted the duo in improving on their resumes and cover letters before they applied, and also guided them through the process.
Not only did the team win the grand prize of USD$10,000, their participation in the Challenge will also be helpful in their job hunts in the future. All CEO Challenge participants were given priority for an interview slot for P&G Summer Internship Program. In addition, they had the opportunity to learn about the different departments and functions in P&G, as well as to network with P&G leadership and people, including the President of P&G Asia Pacific Magesvaran Suranjan, giving them insights to the organisation and the industry.
Their liberal arts experience at Yale-NUS also allowed Alex and Damian to come up with the innovative solutions that helped them to impress the judges and achieve their success in the P&G Asia CEO Challenge.
"A broad-based education has enabled me to analyse quantitative data, as well as solve problems in a creative manner," Damian noted.
Alex concurred and elaborated:
"I think the liberal arts education that Yale-NUS offers, with its emphasis on interdisciplinary and critical thinking, really prepares one for the kind of problems that people working at P&G might face on a daily basis. Such problems require deep quantitative analysis, yet require innovative and creative solutions. Cracking the numbers alone won't do it, you also need to be able to think outside the box and be innovative."