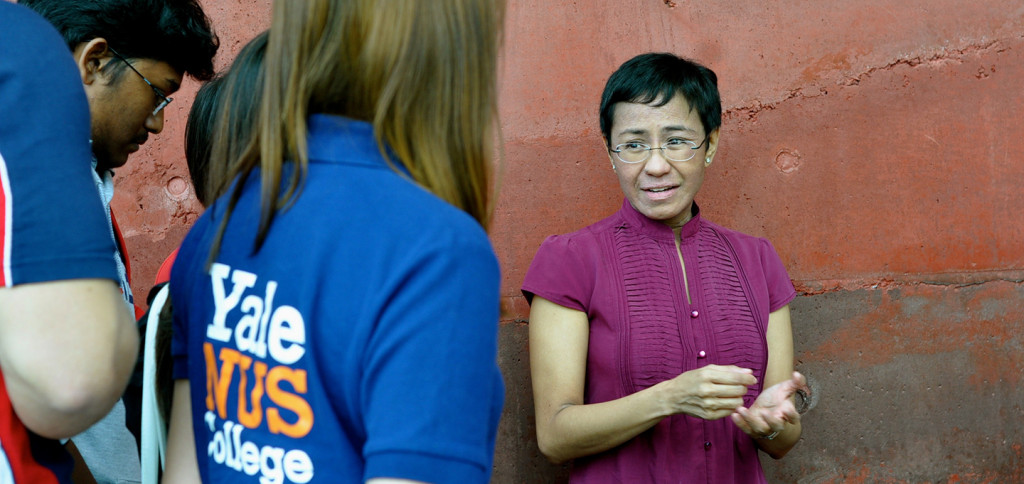 Ms Maria Ressa, Founder and CEO of Rappler, a trailblazing social network news site headquartered in the Philippines, and award-winning journalist, shared a wealth of knowledge, perspectives and experience, after working at the nexus of social media and terrorism, with the Yale-NUS community. She conducted a workshop on social media and citizen journalism for the Yale-NUS community and conducted a lecture titled after her new book "From Bin Laden to Facebook: The Power of Social Networks".
The workshop featured members of the Rappler team — journalist Chay Hofilena, social media guru Josh Villanueva, and reporter Natashya Gutierrez. While Ms Ressa explored the connections between terrorism, social networks, and online social media, the rest of the team contributed their expert opinions on how to leverage on the 'human superorganism' – the totality of human social patterns online – to understand social dynamics and change how people make, receive, and interact with news. With practical advice on how to use online social spaces, students could better understand the world of journalism and social media, a world in which success would require an adaptive and innovative mindset.
The lecture was equally engaging when Ms Ressa took the captivated crowd from the Boston Marathon bombing to Afghanistan, North Africa, and Syria, all in the context of terror networks' social dimensions and evolutions. She explained that understanding terrorism required a foundation of a wide variety of fields, including social network theory, history, security studies, biology, social science, computer science, and psychology. To help students make the connection between their curriculum and real-world issues, she cited three social psychology experiments that students had studied in their 'Comparative Social Institutions' course — those of Asch on conformity, Milgram on obedience, and Zimbardo's prison experiment at Stanford — as major sources of her inspiration. "Splicing things together, and taking vertical silos of knowledge and slashing them in order to gain a better understanding" was Ms Ressa's take on how students should make the best of a liberal arts education.
With easy access to technology, students were also cautioned on how the younger generation has been biologically conditioned by social media to be "on a perpetual emotional high", leaving them "much more emotionally hungry and stimulated than any generation before". This might make students more social, more engaged, and more motivated to act, but could also distract. Aspiring citizen journalists were also enlightened on various current issues such as how to balance free speech with public safety, and what the future holds for traditional journalists.