By Daryl Yang | Images as credited
Having completed their four-year liberal arts degree at Yale-NUS College, some graduates of the pioneer class will be diving straight into the working world.
While some such as Manas Punhani (Class of 2017) and May Tay (Class of 2017) will be joining multinational corporations such as global management consulting firm Oliver Wyman and clothing-retail company H&M respectively, others like Chua Yao Hui (Class of 2017) will be headed to local start-up Carousell.
Yao Hui, who majored in Mathematical, Computational and Statistical Sciences (MCS), will be joining Carousell as a Software Engineer on their Core Marketplace team. Just like how he chose to join the pioneer class at Yale-NUS College, the culture of innovation at the company attracted him.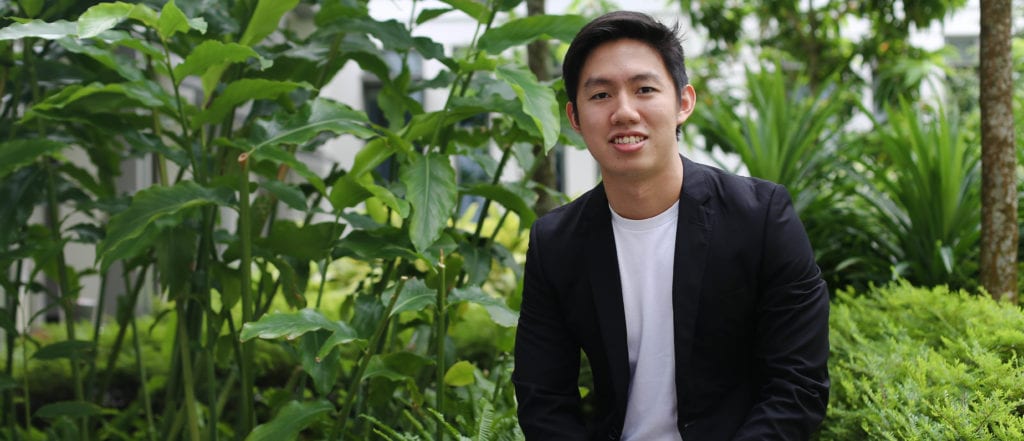 Chua Yao Hui will be taking on his new role as Software Engineer at local startup, Carousell. Image by Aleithia Low. 
"I chose to work at Carousell because I was attracted to its start-up culture and inspired by its social mission. This is an important time for the company as it is expanding into international markets and I'm excited about having to tackle the engineering challenges associated with such rapid growth," he shared.
"My primary responsibility will be to continually optimise the platform so that users can buy and sell items as easily as possible. I will also be supporting Carousell's company-wide effort to incorporate machine learning and data science tools that will streamline the user experience."
It was only in junior year that Yao Hui discovered his passion in computer science and he switched majors from Economics to MCS.
"I started college with the intention of pursuing an economics degree and discovered late in my junior year that my real passion was in computer science. Thanks to the flexibility of Yale-NUS' curriculum, I was able to switch majors and develop a sound grasp of algorithmic problem-solving and software engineering principles in time for graduation," he shared.
For his capstone project, Yao Hui conceptualised and created Homie, a mobile web application designed to empower migrant domestic workers in Singapore (https://gethomie.sg). Yao Hui designed the application with resources that migrant workers can use to address some of the issues they face. For instance, the application has a forum where migrant workers can discuss common issues, as well as a compilation of legal resources should they require it. Yao Hui is currently planning an official release later this month.
"Throughout the development process, I liaised with various stakeholders in the industry and came to understand the importance of communicating effectively with one's target audience in order to achieve product-market fit. From these experiences, I will continue to apply the same principles by making updates to the platform, based on user feedback at Carousell," he shared.
An Environmental Studies major, May will be joining H&M as a Business Trainee.
"I'm really excited because I've been interested in sustainable value chains for a while, and I think this role is an incredible opportunity to learn about H&M's vast supply chain and contribute to its industry-leading efforts to make fast fashion more sustainable," she shared.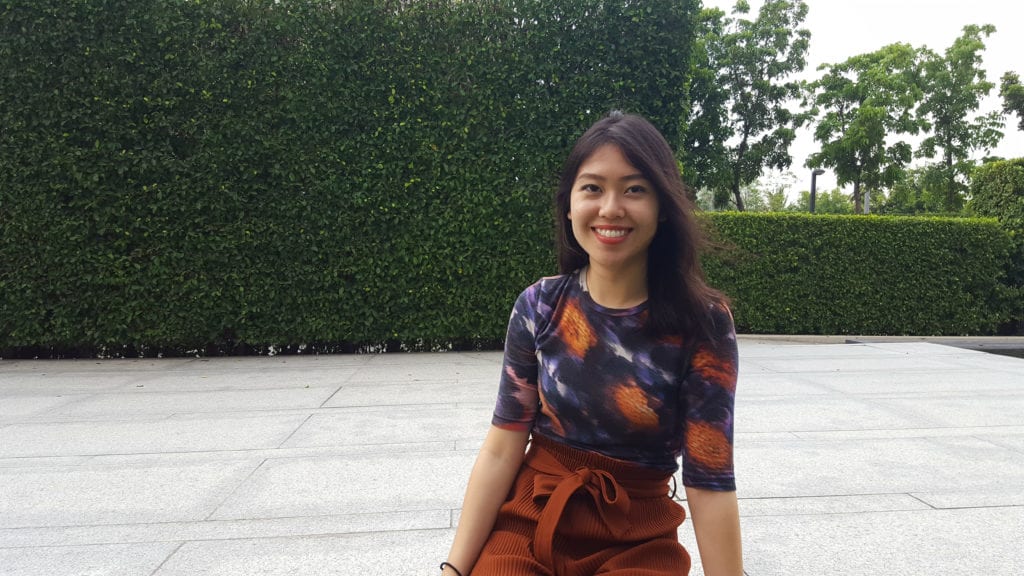 May Tay will be joining the Business Trainee programme at H&M, where she hopes to contribute to making fast fashion more sustainable. Image provided by May Tay.
The Business Trainee programme will see May on rotation along H&M's entire value chain, beginning in the global buying office in Stockholm, followed by a stint with a Production office in Asia, and then with a Sales office in Europe.
May shared that both her academic and extra-curricular experiences at Yale-NUS College have prepared her well as she transitions into her first job with H&M.
"Being part of the first class of Yale-NUS brought out the do-er in me, as I had the opportunity to found clubs, pioneer initiatives and actively support the ongoing project of Yale-NUS. My life really transformed as a result, and I continue to seek challenges and ways to reinvent myself for the better," she reflected.
"Also, my classes in the Environmental Studies major at Yale-NUS have equipped me with invaluable skills of big picture thinking and problem solving. I learnt to step back and think effectively in terms of how systems frame issues and what the most effective solutions entail."
Travel opportunities also helped to broaden May's perspectives in preparation for a career with a global focus. For instance, she went on a semester abroad to Yale University where she attended more specialised graduate classes at the Yale School of Forestry & Environmental Studies. She also subsequently did an internship with The Story of Stuff, a sustainability NGO based in San Francisco, California.
"These experiences piqued my interest in sustainable value chains. At The Story of Stuff, I worked on two campaigns against bottled water and microfibre pollution that showed me how much sustainable corporate value chains can do to safeguard the natural resources and ecosystems so vital to humanity's longevity. The fact that H&M is industry-leading not just in terms of revenue but also in terms of its sustainability goals excites me thinking about how businesses and sustainability can and must go hand in hand."
Another student who will be joining a multinational company is Manas, who will be headed to Oliver Wyman as a consultant in the Singapore office. A leading global management consulting firm that combines deep industry knowledge and expertise, Manas believes his new job will pose similar challenges to those he had experienced at the College.
"Today, more than ever before, the 'half-life' of knowledge is decreasing dramatically – skills that are relevant today, may not be in a few years' time. In such an environment, I think that my liberal arts education at Yale-NUS College has given me the ability to adapt, be flexible and learn and absorb new ideas and skills quickly. Moreover, my experiences at the College as well as in China and the US, through study abroad programmes, have given me the ability to work and assimilate into diverse and dynamic environments," Manas shared.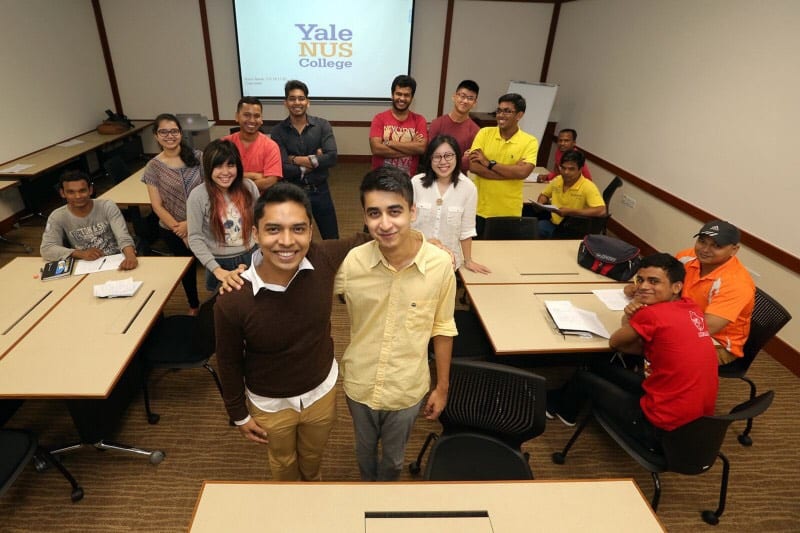 Manas Punhani (front, right) will be putting his liberal arts education to good use in his new role, where he will be required to find innovative solutions to problems. Image provided by Manas Punhani.
As an Economics major, Manas is equipped with the analytical skillset needed to break down large, undefined problems and use raw information and data to find solutions. "I feel that this maps well into the work I'll be doing at Oliver Wyman, where I'll be required to find innovative solutions to some of the most-pressing problems of our clients," he shared.
Manas is also co-founder of SDI Academy, a social enterprise that empowers low-skilled migrant workers and refugees with language, vocational and computer skills.
"SDI Academy helped me find a way in which I could use whatever I had learnt in school and apply it in a real world setting, to change the status quo and deliver positive and sustainable impact. Having built the Academy from the ground up, I have learnt how to pitch to investors, efficiently manage daily operations and form meaningful partnerships with stakeholders. Personally, I think it has helped to bring to surface my leadership skills and my passion for coaching and mentoring," he shared.
Manas has also been admitted to Yale SOM's Silver Scholars Program and he plans to pursue a MBA there in the near future.
One of Manas most memorable experiences was at the end of a first-year Common Curriculum lecture by late Professor of Anthropology Bernard Bate.
"Professor Bate ended his Common Curriculum lecture with the song "We Are Family." Almost immediately, every student got up and began to dance and sing along. It was a surreal experience and representative of my experiences at Yale-NUS – where academic and personal life merged into one another seamlessly."
He added, "For me, this symbolised the very first moments Yale-NUS began to feel like home: it went from being an academic institution with buildings, research facilities, faculty and students to becoming a cohesive and tight-knit community."