By Kelly Ng and Joshua Wong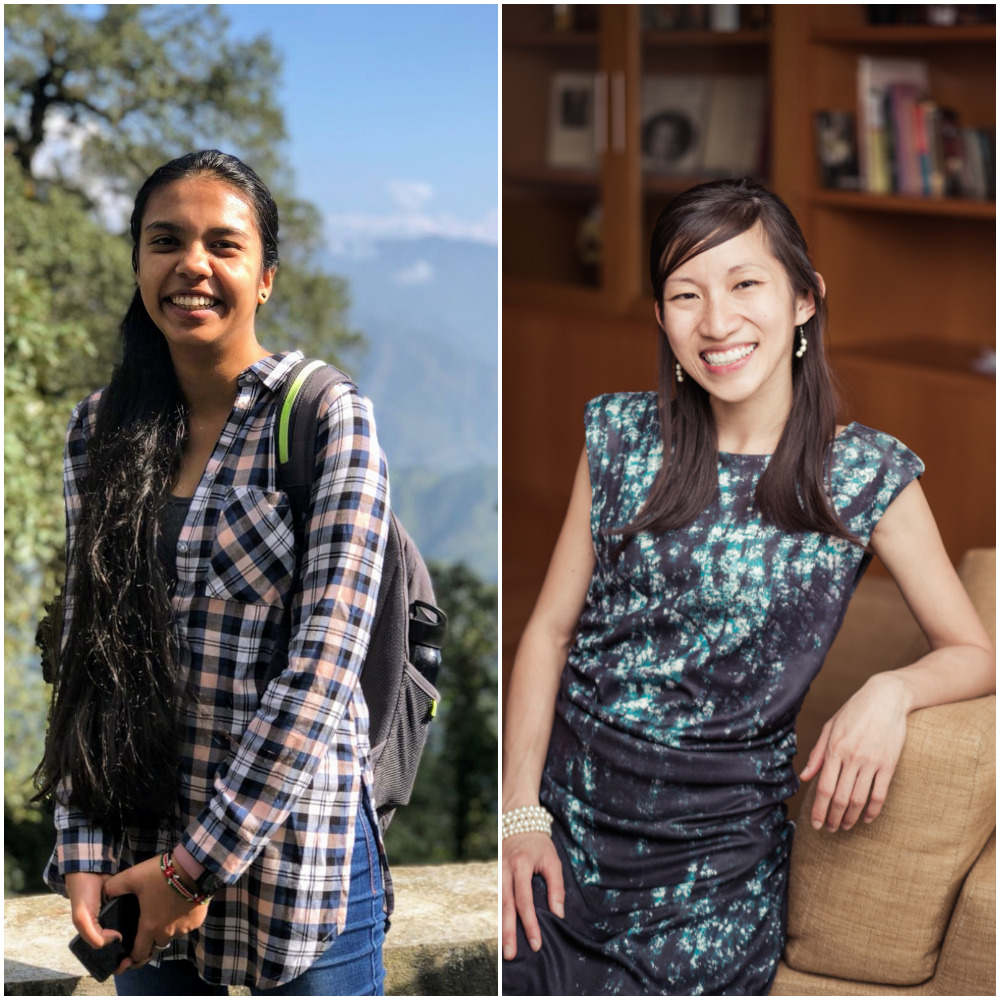 Images provided by Freya Lalani (left) and Assistant Professor of Social Sciences (Psychology) Jean Liu (right).
During the 2020 year-end break, several Yale-NUS College students embarked on short-term research projects with faculty members at the College in projects spanning the humanities, sciences and social sciences. These diverse projects ranged from investigating the hormonal basis of appetite regulation to studying stick insects and analysing language education policies in the Association of South East Asian Nations (ASEAN) countries.
With a small faculty-to-student ratio, Yale-NUS offers students extraordinary and plentiful opportunities to pursue specialised research work with faculty members outside the traditional classroom setting. These projects provide students interested in research careers or specialised topics a chance to deepen their knowledge base, expand their technical skill sets, and make valuable contributions to their respective fields.
Freya Lalani (Class of 2022), a psychology major, worked on a project examining the hormonal basis of appetite regulation with Assistant Professor of Social Sciences (Psychology) Jean Liu. The project seeks to examine how hormones affect eating behaviours, specifically how the feel-good chemical oxytocin, injected into the brain via the nose, affects both the psychophysics of taste—the way gustatory stimuli are perceived and the sensations they create—and the subjective valuation of food: how much people are willing to pay for it.
Asst Prof Liu recently completed a randomised controlled trial to collect data for this experiment, and engaged Freya to perform data analysis to investigate the correlations for it.
"We embarked on this project to find a novel way to address obesity. Currently, non-surgical methods move the needle by only about 1.5-1.8kg, and effects are not sustained for long," said Asst Prof Liu. "Accordingly, we partnered with clinicians in the Singapore General Hospital to see if we could come up with a novel approach combining neuroscience, psychology, behavioural economics, and medicine. We gave the hormone oxytocin to volunteers and monitored whether this could change their appetite, which in time could affect their weight. Of course, we hope our project leads to better obesity treatments in the long run."
Freya found working on this study to be a "truly rewarding experience," providing her with both technical skills and greater confidence in conducting research. "It has given me insight into how an interdisciplinary study is designed and executed. Working on the data analysis for the study has expanded my R Studio and SPSS data analysis and visualisation skills, especially to include some interdisciplinary analysis such as connections between behavioural economics and psychophysics data," she said. "Overall, this experience has expanded my comfort zone with data analysis to gain an intuitive understanding of the analysis fit for a certain study design."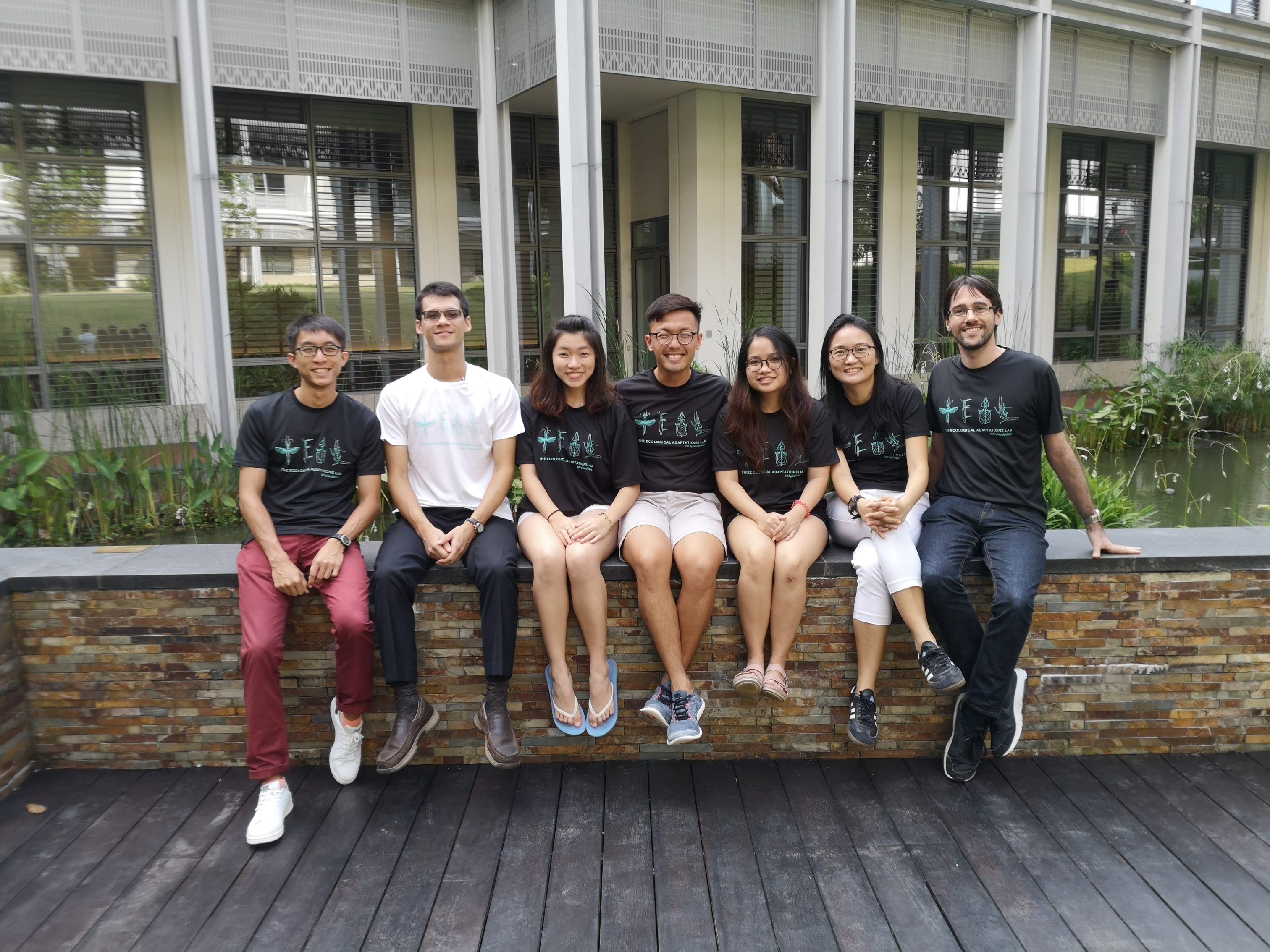 Noelle Ngoc Phan (Class of 2022) is third from right, with Assistant Professor of Sciences (Environmental Studies) Eunice Tan second from right and Dr Sebastian Pohl on the far right. Photos were taken before the implementation of COVID-19 safe distancing requirements. Image provided by Noelle Ngoc Phan.
In the scientific realm, Noelle Ngoc Phan (Class of 2022), an environmental studies student, worked with Dr Sebastian Pohl, a behavioural ecologist and evolutionary biologist, to identify the importance of chemical substances in food choices by using stick insects (otherwise known as Phasmids) as a model system. The project is part of a broader research project led by Assistant Professor of Sciences (Environmental Studies) Eunice Tan that studies the ecology and evolution of Southeast Asian phasmids. According to Dr Pohl, the majority of research on phasmids in Southeast Asia focuses on the taxonomic description of their species; little is known about their ecology, behaviour, and evolutionary adaptations. This research project aims to fill this gap in knowledge and provide more foundational information for future research.
The choice to use stick insects as a model system is not arbitrary. Rather, Dr Pohl explained that most insects live in a world of smell, and hence, many use primarily chemical cues to assess their environment. "Chemical substances can give a direct indication about potential food: Is it edible? What is the nutritional value? In our experiments, we find that phasmids indeed use chemicals to discriminate between different plant species. Moving forward, we want to determine the chemical compounds on which the phasmids rely for their discrimination," he added.
Her day-to-day responsibilities are hectic, but rewarding. Every alternate day, she sets up the experiments, which require a 24-hour waiting time, in the laboratory. On subsequent days, she collects leaves to feed to the insects. Then, she inspects how much they eat and examines the chemical compositions of the leaves using gas chromatography and mass spectrometry (GC-MS).
"Working in a lab exposed me to more hands-on work, honed my practical skills in data management, and trained me to be more creative in problem-solving," she said.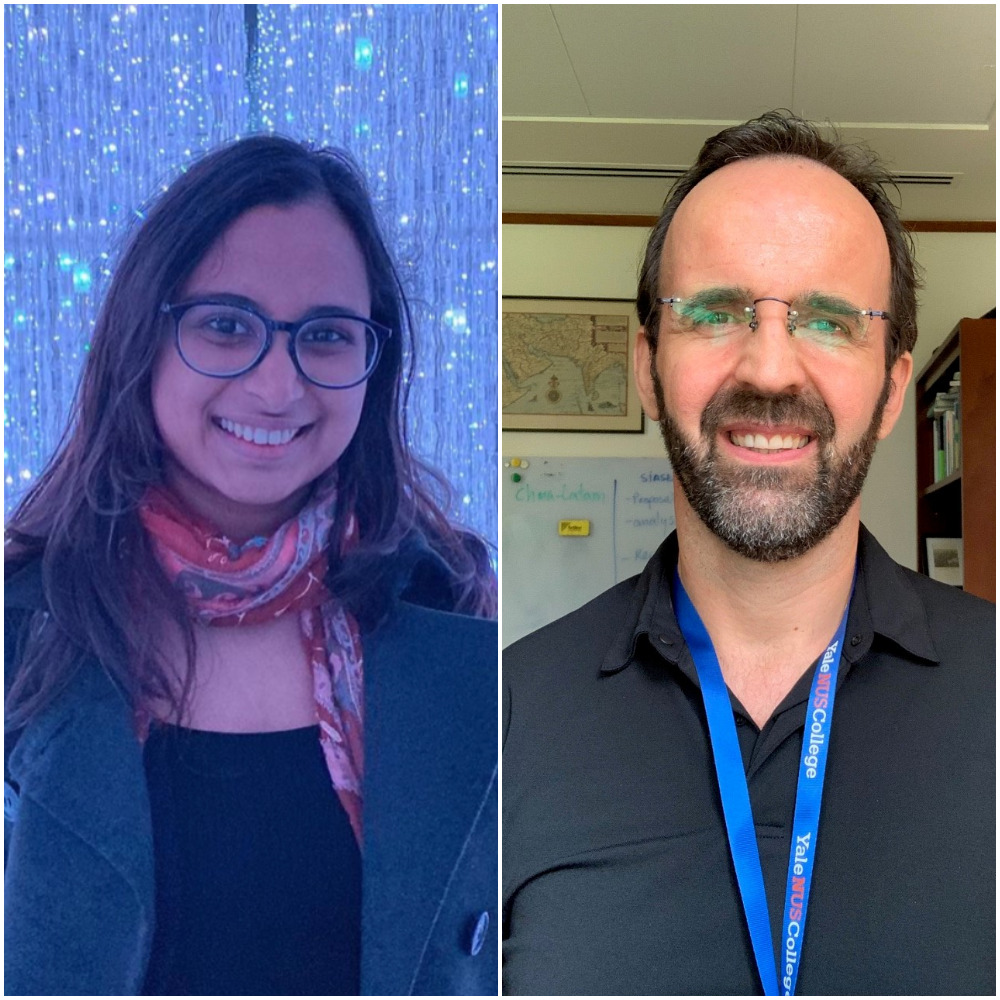 Images provided by Thimali Lihansa Bandara (left) and Dr Eduardo Lage-Otero (right).
Thimali Lihansa Bandara (Class of 2024) worked with Dr Eduardo Lage-Otero, Senior Lecturer in Humanities (Spanish) and Deputy Director of the Language Centre, on the project "ASEAN Language Policies and their impact on Foreign Language Instruction", which aims to explore the relationship between language policy and language choice in the public and private education sectors, with a special focus on the availability of Spanish instruction, in ASEAN countries.
"We chose to focus on ASEAN as it is one of the most linguistically diverse regions in the world. This presents a significant challenge to governments who are trying to build national unity while simultaneously empowering linguistic and ethnic minorities," said Dr Lage-Otero.
Thimali's personal experience of growing up in Sri Lanka and living in different countries inspired her to take up this project. "I have seen firsthand the profound impacts language policy and education can have on a nation, as language and ethnic identity are often inextricably linked. Language—in music and stories—was often my tie back to Sri Lanka when I lived in Dubai, Thailand, and now in Singapore, while the local languages of those places were also my bridge to understanding new cultures," she shared.
Beyond the specialised knowledge gleaned from the research, she learned to be a more intelligent and meticulous reader and writer. "With time, I became better in spotting missing information and questioning information that seem out of place — in other words, to be more critical of what I read, and in turn to be more critical of what I write," she explained.
The faculty members highlighted that the chance to collaborate with students on research projects always proved to be enjoyable and fulfilling. Dr Lage-Otero noted that students often draw from their own experiences to guide the research and improve the questions that they are asking. Echoing him, Dr Pohl added, "I enjoy the enthusiasm that student researchers bring to the projects! They often view the research question from a fresh perspective, which stimulates discussions and can lead to new ideas."