By Wen Kin Lim | Image designed by Min Lim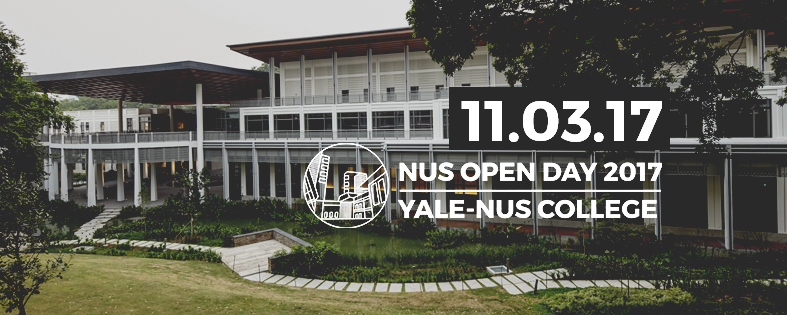 This Saturday, 11 March, Yale-NUS College will welcome visitors for the NUS Open day, and the College has been abuzz with activity in anticipation. One of the biggest events held for prospective students, Open Day will exhibit many of the unique offerings of the Yale-NUS College community of learning.
Various student groups and offices have been collaborating to put together an exciting programme, aimed at demonstrating how prospective students can expect a journey of big thinking at Yale-NUS. Visitors can look forward to diverse student performances at the Amphitheatre, from barbershop singing to ballroom dance, exhibitions of the original research work carried out by Yale-NUS seniors for their capstone project as well as presentations by the Centre of International & Professional Experience (CIPE) office about Yale-NUS' many global opportunities.
On Open Day, prospective students can get a glimpse into the four-year, fully residential undergraduate education at Yale-NUS through touring the campus facilities, taking sample classes so that they can 'Think BIG with us', watching student performances and listening to current students and professors share more about being a part of the first liberal arts college in Singapore.
"Open Day will give prospective students a glimpse of what Yale-NUS is all about, with snippets of the multi-dimensional experience here," shared Assistant Manager of Admissions & Financial Aid Iris Neo.
Ms Neo, who led the planning of Open Day, added," The programme is meant to showcase the holistic living and learning model that students can come to expect when they join the College."
Students who are also applying will also have the opportunity to speak to Admissions Counsellors about putting together their application and how to express their best selves in the application process.
Khwa Zhong Xuan (Class of 2020), first learned about Yale-NUS and its curriculum and opportunities through a previous Open Day. With a strong first impression of the College from the event, Zhong Xuan said, "One of the most memorable moments I had was sitting on a sofa in the Yale-NUS buttery on Open Day, eating ice-cream and speaking to a group of seniors… Hearing their first-hand experiences and honest thoughts about the school made me feel welcomed, as well as assured me that the community in this school was one that I wanted to be a part of."
Zhong Xuan added, "Had I not gone for the Open Day, I may not even be in this school now!"
Visitors will get the chance to speak to several Yale-NUS students about their personal experiences at the College and the range of College activities in which they are involved, on and off campus.
Chandler Beyer (Class of 2020), who works as a student associate with the Admissions & Financial Aid office, said, "I love sharing about Yale-NUS College to visitors because we truly have such a remarkable campus. Whether it be the architecture, the unique facilities in each Residential College, or the friendly faces we see on campus, Yale-NUS College always has a lively, upbeat vibe that welcomes all."