By Daryl Yang | Image provided by Yasunari Watanabe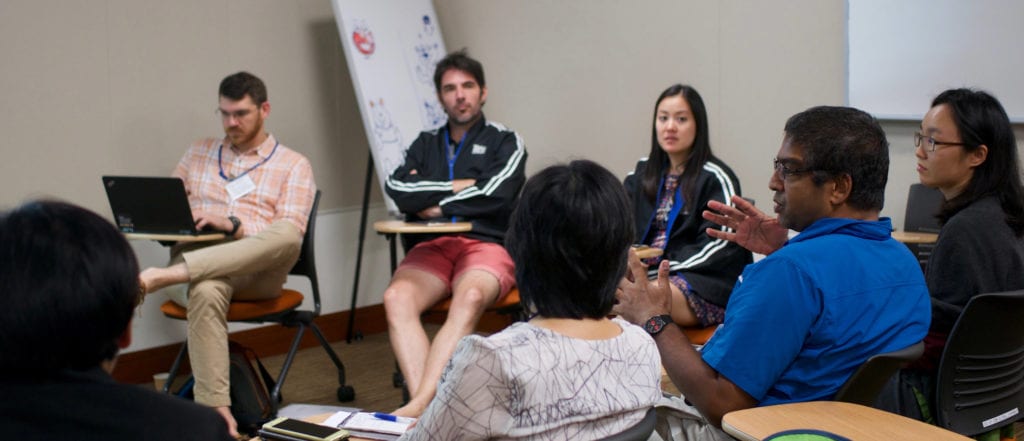 From 3 to 4 March 2017, Yale-NUS College hosted students, faculty and members of the public interested in the growing field of citizen science at the College's inaugural Citizen Science Symposium. Featuring a range of talks and workshops, the event aimed to promote an understanding of citizen science both locally and internationally, with a focus on its application in Southeast Asia.
Organised by the Citizen Science Research Cluster (CSRC) at Yale-NUS College, the keynote speaker for the symposium was Dr Caren Cooper, Associate Professor in the Department of Forestry and Environmental Resources in the College of Natural Resources, and Assistant Head of the Biodiversity Research Lab at the North Carolina Museum of Natural Sciences.
As an avian ecologist, Dr Cooper employs citizen science to help communities use birds as indicators of environmental health. She hosts monthly chat sessions about citizen science on Twitter, and is the author of a recent book titled Citizen Science: How Ordinary People Are Changing the Face of Discovery.
The symposium was well-attended by a diverse range of participants from the region as well as the United States Yale-NUS Assistant Professor of Science Phillip Johns shared. Regional participants came from countries such as Malaysia and Nepal, and included not only fulltime academics but also professionals, students and learned lay experts.
The latter group of attendees were some of the most interesting participants. For instance, one such lay expert who collects data on snow leopards in Nepal, screened a video based on his research, which Dr Johns found "riveting".
Assistant Professor of Science Jennifer Sheridan said this was the first time that a symposium of this scale has been organised on the issue of citizen science in Singapore.
"There have been a number of small symposia on citizen science in the US, and there was a session on citizen science at the Society for Conservation Biology meetings held in Singapore in July 2016," she recounted, highlighting the need to fill the gap in having a symposium of a larger scale, considering the increasing prevalence.
A key takeaway from the symposium was the connections formed between like-minded researchers in the area of citizen science. Participants had the opportunity to share and learn from each other. Dr Johns himself found that some of the technological pitfalls that he had faced in projects on sound monitoring with Professor van Breugel had been "surmounted" by their peers at the National University of Singapore.
"From the Citizen Science Symposium, everyone became more aware of what other people at different institutions are doing and we managed to make some connections," he shared.
Being a part of the citizen science group was a clear option for someone like Dr Johns who was interested to learn more about the rich biodiversity in Singapore when he joined Yale-NUS College.
"I knew when I came to Singapore that I wanted to work with citizen scientists in some capacity to understand the biodiversity in the region better. Some of the animals in Singapore beg for formal study, and Singaporeans are already collecting information on their own," he shared.
Apart from an interest in citizen science through her research, Dr Sheridan has also incorporated citizen science methodologies in her classes.
"In those classes, students set up camera traps in forest reserves around Singapore and added data on the different types of fauna they identify in the recordings to an internal database," she explained.
There are also plans to upload the data collected by her students to an online database. "I have been working with a student researcher to compile and analyse the data to upload all current and future data to eMammal (https://emammal.si.edu/), an online database set up to document mammal diversity in the US and around the world," she shared.
The CSRC is one of four research clusters at Yale-NUS College.  Research clusters are small groups of multidisciplinary faculty who come together to explore a particular research topic. Adopting an interdisciplinary approach, faculty collaborate to develop new insights through their synergetic research as well as organise events such as symposiums and workshops like the Citizen Science Symposium, where they are able to share insights and foster opportunities for collaboration and coordination with other researchers outside of Yale-NUS College.
Members of the CSRC include Assistant Professors of Environmental Studies Jennifer Sheridan and Michiel van Breugel, Assistant Professor of Environmental Policy Angel Hsu, Assistant Professor of Life Science Philip Johns and Professor of Environmental Studies and Geophysics Brian G McAdoo.