By Daryl Yang | Images as credited 
Over the past academic year, students from the Class of 2018 have been hard at work conducting research for and writing their capstone reports. The capstone is a year-long project that Yale-NUS students embark on in their final year to engage with research in their major and produce original scholarship.
While students may choose any topic that interests them, some like Dominic Choa (Class of 2018) may work on a project that is close to home.
Dominic's capstone compares campus sustainability efforts among different liberal arts colleges in Asia and the US.
"I am keen to find out how campus sustainability efforts at liberal arts colleges vary based on their locality, and I am using student-driven efforts as a proxy to measure how much students are empowered and equipped to carry out such changes," he said.
"In my study, I selected Yale-NUS College and NYU Shanghai to represent Asia, and Vassar College and Pomona College as our US peers. I conducted Skype and in-person interviews with students involved in the environmental movements in each college to study how they advocate for more sustainable policies and practices in their respective campuses."
On why he decided to work on this topic, Dominic shared that he was "interested in how the liberal arts model pans out in Asia, and how it compares to its parent figure in the US". "As an Environmental Studies major, I am keen to understand how the knowledge and skills we learn in the classroom are actually being applied on campus. I decided to combine these two interests and use environmental sustainability as a case study to explore this issue," he added.
Dominic found that the approaches that students from different institutions adopt are "very different and dependent on the political climate they are in, and have been brought up in".
"For instance, students in Singapore generally adopt a more collaborative approach in working with the university administrators to implement environmentally friendly policies. In contrast, students in the US are more likely to adopt more confrontational methods that would not work in Singapore."
"It appears that the political education or 'conditioning' that individuals have been brought up in has farther-reaching influences than we would expect, as it shapes their theory of change and how they wish to carry out social change," he explained.
Other students may decide to conduct research a little further away from home, such as Ilya Katrinnada (Class of 2018, in photo below) whose capstone focuses on alternative arts spaces in Aceh, Indonesia, after the 2004 Indian Ocean tsunami.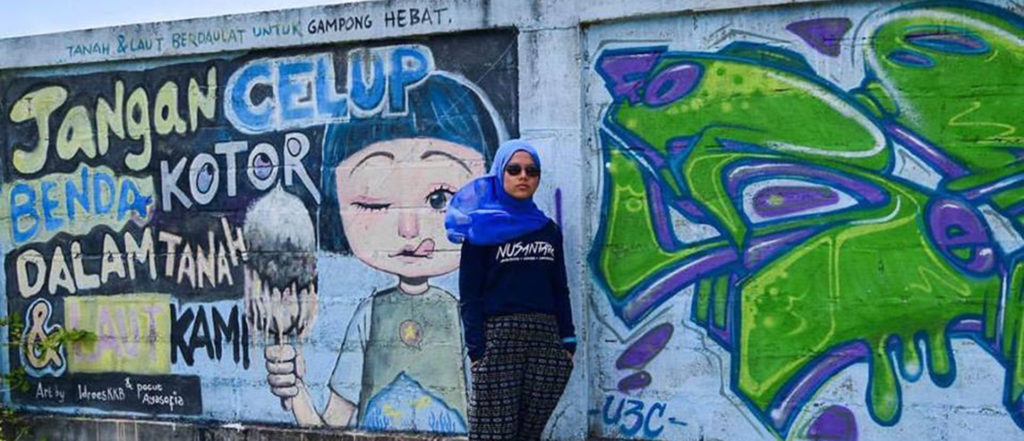 Photo provided by Ilya Katrinnada.
Ilya first visited Aceh in 2015 when she spent two months there for an internship at an international NGO that provided educational resources to low-income children and youths.
"Through that internship, I met a friend who eventually became one of my main interlocutors in my research. He is a member of one of the arts collectives I studied and introduced me to other key individuals featured in my capstone," she said.
An Anthropology major, Ilya shared that she decided to study the arts landscape in Aceh because of an existing interest in the anthropology of the arts.
"This involves analysing what a particular kind of artistic exploration means to the community that practises it. Arts communities that exist in a place where people normally don't expect them to intrigues me even more, because this kind of situations provide a different way of thinking about a particular place," she explained.
Aceh struck her as such a place, given that it is usually portrayed in the media either for its 30-year separatist movement that began in 1976, the 2004 Indian Ocean tsunami, or the state of Islamic conservatism there.
"Through my capstone, I wanted to show that communities there are able to exercise agency and create opportunities for themselves while finding themselves in the middle of these issues, contributing to the betterment of their society (as they see fit) through their arts practice," she shared.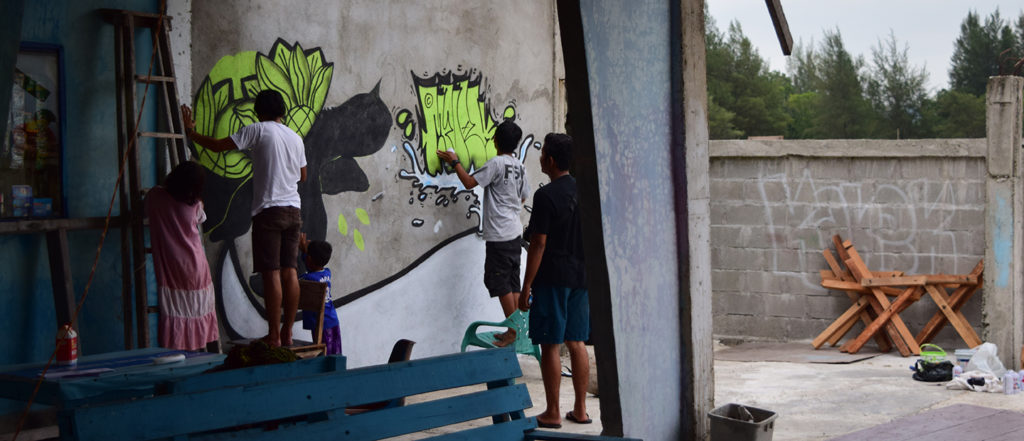 Photo provided by Ilya Katrinnada.
Like Ilya, the capstone topic that Christopher Khew (Class of 2018) decided to pursue can be traced to a summer he spent overseas in his sophomore year. Christopher was in Beijing for a Chinese language programme.
He reflected that the experience "shattered many preconceived notions" that he had about China as a country and led him to read up more on China's history. One aspect of this was Confucianism, which Christopher focused on in his capstone.
As Christopher is on the Double Degree Programme with Law, his capstone combines the study of the law with the liberal arts by examining the relationship between Confucianism and democracy. His paper argues that Confucian ethics can be compatible with the idea of participatory democracy.
Reflecting on his experience, Christopher shared that the multidisciplinary education he received over the past five years at Yale-NUS and the NUS law school helped him prepare for writing such an interdisciplinary paper.
"Being caught between these two worlds is uncomfortable, but it does broaden the learning experience. You become familiar with different styles of writing and reasoning, which definitely helps when it comes to an interdisciplinary project like this," he shared.
Students are guided through the research and writing process by a capstone advisor. For Christopher, his capstone adviser was Assistant Professor of Law Jaclyn Neo from NUS Law.
Some students may have more than one capstone advisor, when their research requires expertise from outside the college. For instance, Sharon Quaye (Class of 2018) decided to do her capstone focusing on public health and secured as her capstone adviser, Associate Professor Alex Cook, Vice Dean (Research) from the Saw Swee Hock School of Public Health, National University of Singapore (NUS).
"I first met Assoc Prof Cook through the Centre for International & Professional Experience because he was working with Yale-NUS for another project. I told him about my interests and we discussed potential topics," Sharon said.
A Life Science major, she eventually decided to study the health and economic burden of Tuberculosis (TB) in Singapore because it also allowed her to explore her interests in health economics. While she found that the overall economic impact of TB in Singapore is not as high as other countries, the patient-incurred costs are quite substantial.
"I also generated initial baseline estimates of the burden of TB in Singapore, which could be used as reference costs for the evaluation of the cost-effectiveness of both new and existing TB prevention, control and treatment programmes, especially in the area of improving diagnosis," she added.
On her greatest takeaway from working on her capstone, Sharon shared that the experience has helped to refine her interests in the field of public health. It also gave her a clearer focus and direction with regard to which specific field she would like to pursue in the future.