By Daryl Yang (Class of 2018) | Image from Adlin Zainal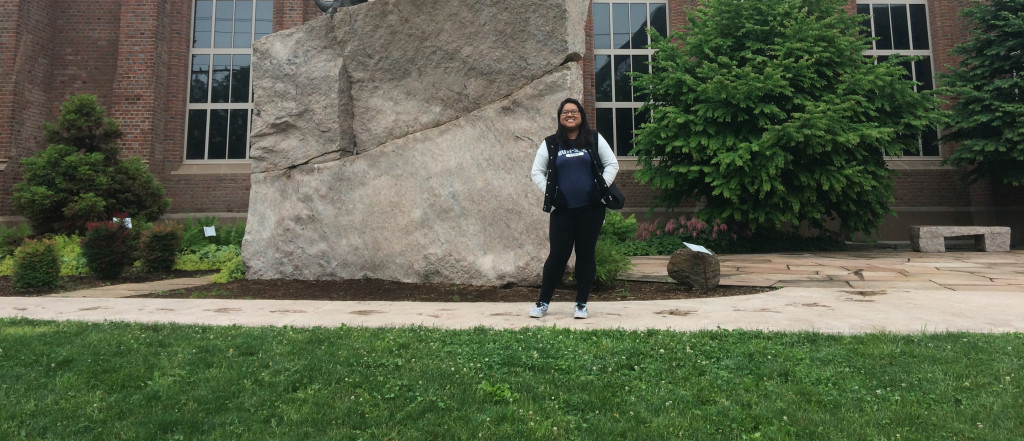 Last summer, Adlin Zainal (Class of 2017) embarked on a journey halfway across the globe to New Haven, Connecticut, for her mystery internship at the Yale Peabody Museum of Natural History. What this meant was, Adlin only found out about what she would be doing for the rest of summer a few days before she flew off to Yale University in New Haven.
The mystery internship was launched in 2013 by the Centre for International & Professional Experience (CIPE) to provide students with experiential learning, with a twist. Depending on the destination of the programme, mystery interns find out about the organisation and their duties shortly before leaving. A signature programme of Yale-NUS College, the mystery internship aims to create a space where students can practise taking a leap into the unknown and cultivate their ability to adapt to new environments.
Renowned for its Great Hall of Dinosaurs, the Yale Peabody Museum of Natural History is one of the oldest and most prolific natural history museums in the world. Established in 1866 to house Yale's growing collections of natural and cultural history, the museum is also known for its Age of Reptiles Mural, a 110-foot (34 m) long depiction of dinosaurs in their natural habitats.
As a Public Programmes intern at the Museum, Adlin was responsible for the organisation's social media initiatives. She managed the social media accounts of the museum and put together weekly reports on how to improve and sustain the museum's social media presence.
She was also involved in a special project to renovate the Discovery Room, an immersive hands-on room with live animals and specimen. She carried out regular tracking studies to understand and analyse how visitors interacted with the exhibits, and drafted a report, which was presented to the team to facilitate their plans to improve visitor experience.
Adlin shared that this internship helped her realise that museums are so much more than their public exhibits. "They're first and foremost places of research and they have vast, vast collections beyond what is exhibited. The exhibits at the Peabody make up maybe 2% of the entire collection they have, and it's incredible the vast amount of exhibits they have in the basements and all."
"The international experience helped me to learn to adapt to different working styles in a completely new environment and become a more independent person. I especially appreciate having the chance to interact with a diverse range of visitors from across the globe during my internship," Adlin added.
Coincidentally, the Lee Kong Chian Natural History Museum officially opened its doors to the public in Singapore while Adlin was interning at Peabody. She shared that her experience abroad helped her to better appreciate the local museum's collections and operations better.
Before the internship, Adlin always had a perception that one has to be intellectual to enjoy museums.
"Going into a museum internship with no prior experience made me realise that there's something in museums for everyone. Being part of the museum team also gave me a newfound appreciation for museums. Whenever I travelled on weekends, I always made it a point to go to other natural history museums in the region. During the internship, whenever I travelled around the region during the weekends, I invariably was drawn to visit other natural history museums such as the American Museum of Natural History in New York, the Museum of Science in Boston, and the Smithsonian Museum of Natural History in Washington D.C."
Besides mystery internships, Yale-NUS' Centre for International and Professional Experience also work with local and global partners from across different industries to provide students with opportunities for learning and contribution. These internships are structured to enable students to gain the most knowledge and professional experience while maximising their contribution to the organisations they work with.