By Daryl Yang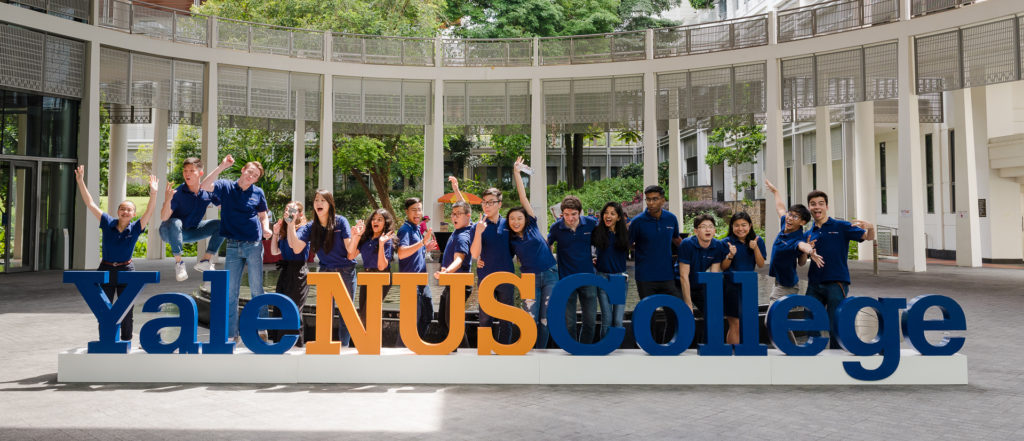 Image provided by Yale-NUS College Admissions & Financial Aid Office.
On 9 March 2019, Yale-NUS College will open its doors to the public as part of NUS Open Day 2019.
Throughout the day, prospective students will have the chance to get up close and personal with members of the Yale-NUS community.
Instead of more formal panel discussions, Jasmine Seah, Director of Admissions and Financial Aid shared that the format this year has been modified so that visitors can get a more personal experience.
Dean of International & Professional Experience Dr Trisha Craig and Dean of Faculty Professor Jeannette Ickovics will be hosting dialogues with visitors, where prospective students and their families can learn more about how the College supports its students in their learning, both inside and outside the classroom.
Visitors are also invited to engage with student volunteers, who will share more about their own experiences with the different programmes that Yale-NUS has to offer. This format ensures that visitors get to hear different perspectives from the diverse members of the College community.
"Because it will be in a more intimate setting, there will be limited slots so visitors who are interested to attend these sessions should make sure to come early," Ms Seah advised.
Ms Seah also shared that this year, the exciting line-up was a result of the collaborative efforts of the College as a whole to showcase the Yale-NUS community as well as the various programmes and initiatives offered here. For instance, the librarians at the Yale-NUS Library will be leading visitors on guided tours of the library to share the different resources and facilities that it has to offer.
Iris Neo, Manager at the Admissions & Financial Aid office, added that visitors should also not miss the crowd favourite event at Open Day, sample classes run by Yale-NUS faculty members.
"This is the most popular programme every year, and we are excited to have sample classes from all three academic divisions," Ms Neo said.
Students interested in the recent debate on inequality should catch Associate Professor of Social Sciences (Politics) Nomi Lazar's class titled 'Rousseau on Inequality' while those worried about climate change can hear from Director of the Division of Science and Professor of Science (Environmental Science) Stephen Pointing, who will give a scientific overview of the issue. Professor of Humanities (Philosophy) Bryan Van Norden will present a class on ancient Chinese philosopher, Zhuangzi, and the notion of a transformed life.
Another aspect of the Yale-NUS experience is the vibrant student life on campus.
"To showcase this, we have invited several student organisations to share their diverse passions at Open Day this year", said Anish Fatimah, Executive at the Admissions and Financial Aid office.
The three groups are I'dECO, PS We Care and Goyac. I'dECO is the College sustainability movement while PS We Care, focuses on peer support. Goyac, which stands for the Good Ol' Yale-NUS Adventure Club, organises expeditions for students who love the great outdoors.
"Apart from these groups, several other student organisations will also be involved in the Open Day activities," Ms Anish added.
For instance, Brewhouse, the College coffeehouse run by students, will also be back by popular demand to serve up beverages for visitors. Several groups will also be putting up performances at the Oculus, such as the Zumba Collective and the Mixed Martial Arts team.
On how prospective students can make the most out of their Open Day visit, Ms Seah suggests that they should plan to spend around two to three hours on campus and attend a few programmes that they are interested in.
"The most important thing to do is speak to our students, faculty and staff and hear from them what the Yale-NUS community has to offer for potential students," she said.
"This personal experience with so many College community members at once is something that you cannot get at any other time of the year."