By Kelly Ng
The start of the academic year kicked off with the Inter-Faculty Games (IFGs), an annual sports championship where 11 faculties from the National University of Singapore (NUS) competed against one another in more than 20 sports.
This year, 19 teams represented Yale-NUS College in the IFGs. The men's and women's swimming teams, and women's football team – all formed only a month before the championships – were among the seven that placed in the top five for all the sports.
The women's football team, consisting of mainly first-year students, achieved fourth place overall. Because all but two of the team's players graduated last year, there was originally no complete team in place for them to compete at the IFGs. Despite that, Olesia Sheremeta (Class of 2022), the current captain, managed to put a team together and trained them.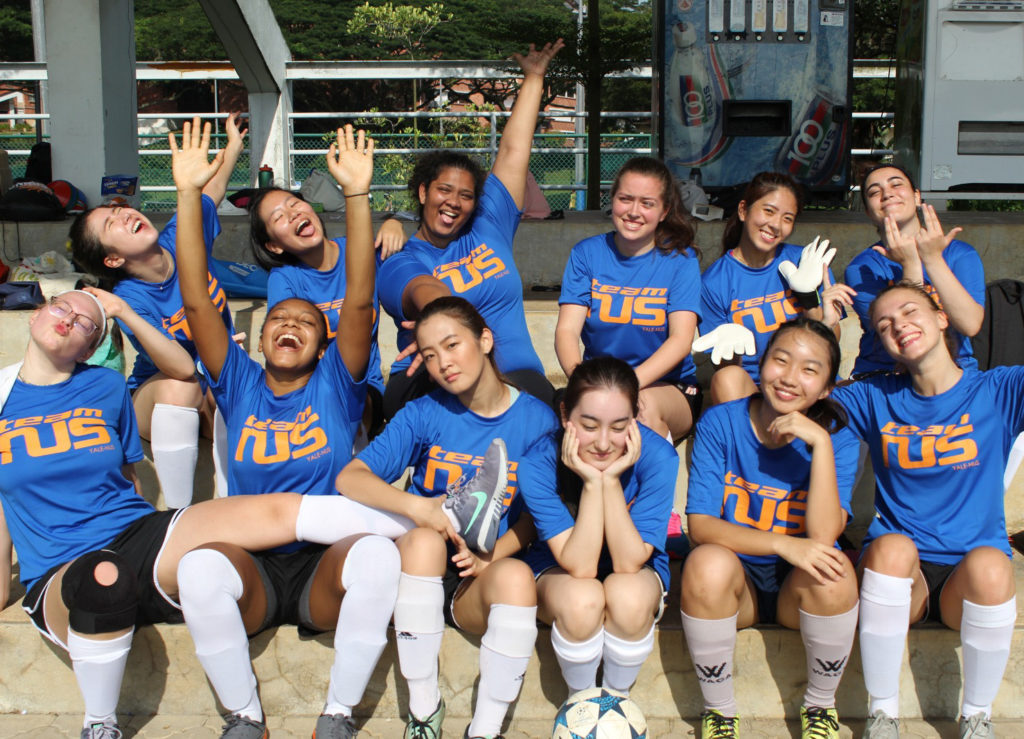 The Yale-NUS women's football team. Image provided by Olesia Sheremeta.
"Since primary school in Ukraine, football has come to be an essential part of my life," said Olesia, who has played football for six years and has been a team captain for two. "When I realised that there was no team for the IFGs, I decided to start one with the help of Celeste Beh (Class of 2020), a member of the previous football team." Olesia said her biggest motivation for coaching the team for the IFGs was her desire to share the same wonderful experience that she had with other Yale-NUS students interested in football.
Tinesh Indrarajah, a Yale-NUS alumnus and current Dean's Fellow at the College, was instrumental in assisting Olesia with exercise routines, field tactics and team building.
"I love football and have always tried to be involved in either helping both the men's and women's football teams with training, playing the sport with them, or supporting them as a spectator," Tinesh said. "When I found out that they were starting the team with new players, I felt that I could alleviate Olesia's workload."
The men's and women's swimming teams, which together make up the Yale-NUS Swimming Team, placed second and fourth respectively at the IFGs. It was a notable achievement given that the Yale-NUS Swimming Team is a completely new organisation.
Michelle Lee (Class of 2022), the current Director of Athletics in the student government, first came up with the idea of forming a swim team when she realised that there were many competitive swimmers among the first-year students she met during her Experience Yale-NUS Weekend (EYW) in April, but that the College had no formal swim team. Acting on the advice of several upperclassmen, she held a recruitment session open to the entire college community.
"As a first-year student, I was initially very apprehensive to send out an open call to the entire student populace," said Michelle. "Nonetheless, I'm thankful that I did and was actually really heartened at the overwhelmingly positive response that I got." Michelle said that she had the opportunity to interact with many upperclassmen who both shared the same interest she had in swimming and who also guided her through the entire process.
After being elected into the Student Government, Michelle handed over the captaincy to Nicholas Koh (Class of 2022) and vice-captaincy to Napat Sakulsaengprapha (Class of 2022) and Al Lim (Class of 2019). She remains an active member of the women's swimming team.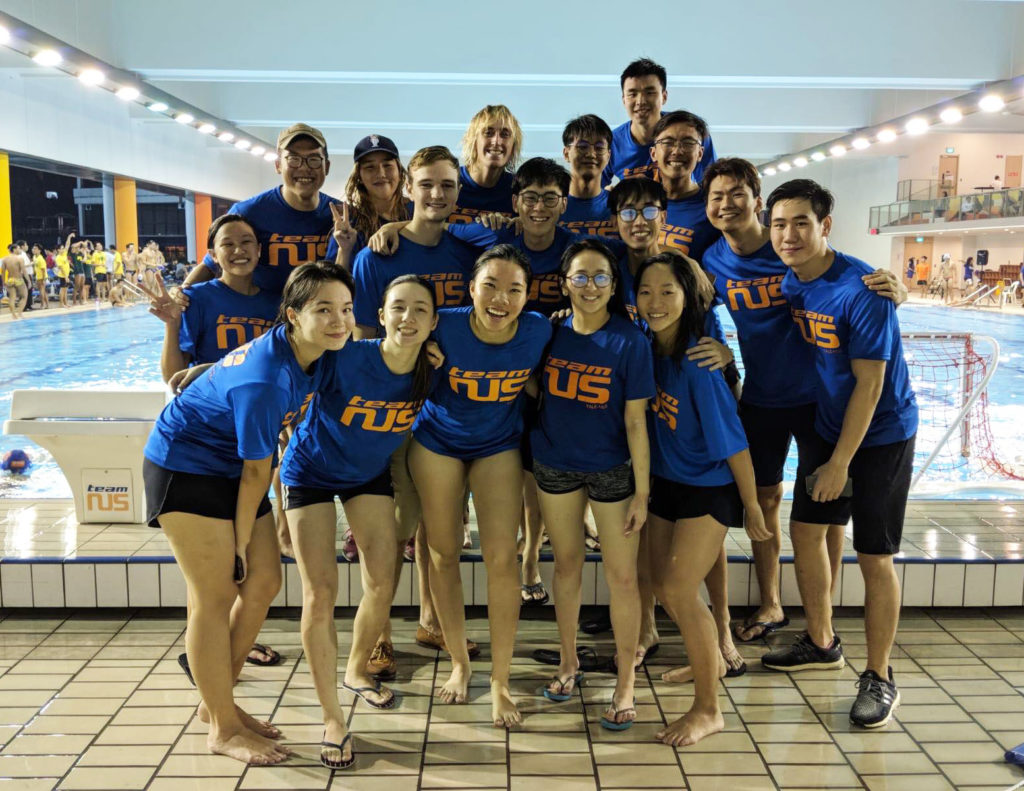 The Yale-NUS men's and women's swim teams. Image provided by Nicholas Koh.
Elaborating on the training process before the IFGs, Nicholas explained that the team would train three times a week at the University Sports Centre. Without any official coach, the students were essentially planning their own training sessions, which consisted of anaerobic and aerobic sets, as well as racing skills that helped prepare them for the competition.
"In addition, because we were a newly formed team, relay spots were also open to anyone who expressed interest," Nicholas said. "Ultimately, this enabled every team member to compete at the IFGs and it really fostered team spirit." Nicholas recalled that one of his memorable moments thus far was hearing the cheers of the swimming team blend in with the team's other supporters during the IFGs. "The memory of that moment still gives me chills," said Nicholas.
Both the swimming team and women's football team have high aspirations for the future. Olesia is hopeful that the women's football team can make it to the top three for the upcoming Inter-College Games (ICGs), while Nicholas is gunning for the swimming team to compete at national and inter-college competitions. "The swimming team is also looking forward to hosting workshops that are accessible to students who are new to swimming, beginners or anyone looking to improve their skills," he said.
For Tinesh, he plans to use his role as a Dean's Fellow to spearhead and facilitate more sports initiatives in the College. He has two key ideas in mind – community outreach programmes and Inter-RC (Residential College) games. Tinesh's idea for community outreach programmes involve the College's sports teams hosting open trainings for students who have not played that sport competitively to attend and enjoy some friendly competition.
According to Tinesh, Inter-RC games are events where representatives from each residential college in Yale-NUS compete to win the Inter-RC Cup. "Some games that have already been hosted for this tournament are the Catan championship, the eating contest, and Trivia Night," he said. "For the next semester, I hope to organise more physical contests, as well as mind-sports matches such as international chess, Chinese chess, contract bridge and poker."