By Lim Tian Jiao
Yale-NUS College's liberal arts and sciences education challenges students to pursue a wide variety of learning experiences. Students learn to build bridges with peers from different academic backgrounds and kick-start projects outside of their direct areas of expertise. With this mindset, two Yale-NUS groups have been recognised for their outstanding tech projects, and have received funding to bring their ideas into fruition.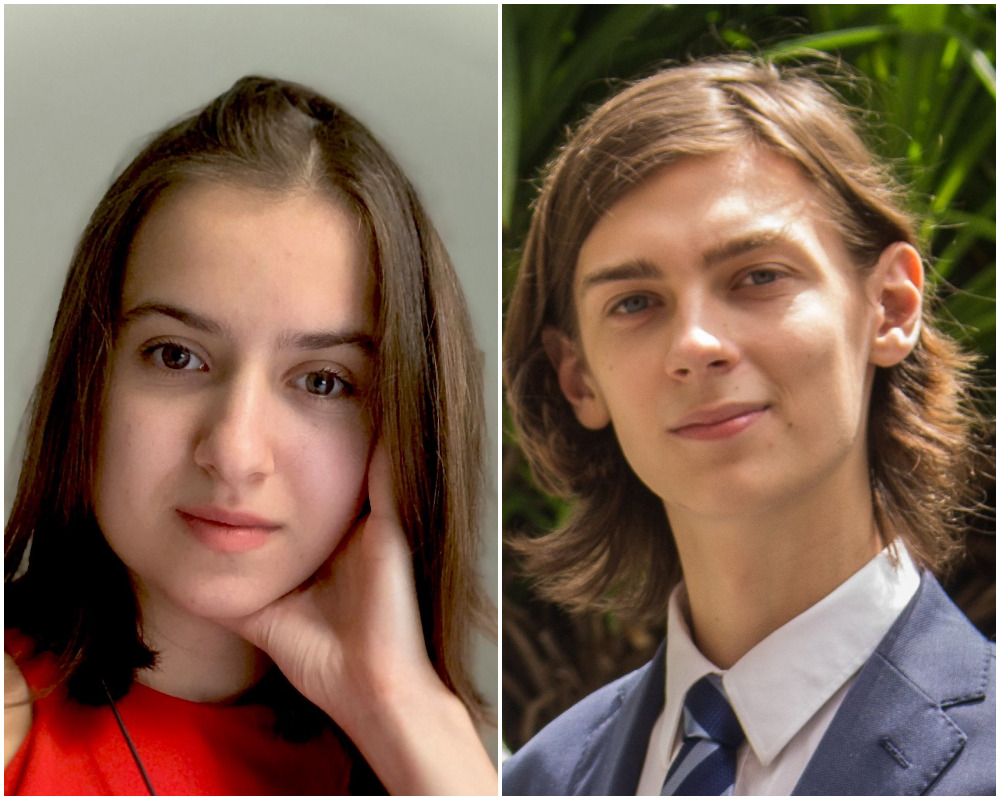 Sofia Sigal-Passeck (left) and Chris Lis (both Class of 2021), have co-founded Uniphage, a biotech startup. Photos provided by Sofia Sigal-Passeck and Chris Lis.
In May 2020, Chris Lis and Sofia Sigal-Passeck (both Class of 2021) founded Uniphage, a biotech startup. Uniphage aims to use artificial intelligence (AI) to create customised bacteriophages (a specific type of virus infecting only bacteria) to eliminate all bacterial diseases, starting with the agricultural sector.
The idea for the project came about as growing antibiotic resistance increases the threat of bacterial diseases worldwide. "Bacteriophages only affect bacteria and can't cross-infect other organisms, making them a great way of targeting bacteria-caused diseases while not harming surrounding organisms. But it's hard to find a  bacteriophage with proper characteristics to be used as a cure against a specific kind of bacteria.," Chris explained. "Applying AI to create specific biophages (organisms which derive their nourishment from another living organism, including bacteriophages) is a mostly unexplored area, but our work so far is very promising."
Work on the project began over the mid-year semester break, when Chris, a Mathematical, Computational & Statistical Sciences major interested in AI and Sofia, a Life Sciences major interested in using biotechnology for social impact, decided to collaborate on research. "Initially it wasn't even about start-ups. We've worked well together before and just wanted to explore a problem that caters to our skillsets," Chris said. "But we quickly realised that a start-up would be the best way to carry our ideas forward."
Upon solidifying the idea, the founders enrolled in various competitions, grant programmes, and fundraising events to develop Uniphage. The start-up has gone through the American National Science Foundation-backed I-Corps Immersion Course at the Bay Area Node, and iGEM EPIC (International Genetically Engineered Machines Entrepreneurship Program Innovation Community)'s Fast-Track Programme — the final stage of the iGEM programme, for which less than a third of participating start-ups qualified. Uniphage also participated in a pre-accelerator programme by GROW, Southeast Asia's first agri-food tech accelerator, which allowed them to tap into GROW's expertise and international investor and partner network.
"It's surreal how fast the project is going," said Chris. "It's really amazing to have people believe in you and your idea. And this project has significant potential impact — if everything goes well, it could change the world, providing solutions to previously incurable diseases."
The start-up has since participated in competitive programmes in Singapore and America, receiving a SGD$10,000 grant for early-stage research and development from NUS Enterprise (the entrepreneurial arm of the National University of Singapore, or NUS). In October 2020, Uniphage also clinched the Tech for Good award at the Elevating Founders Asiathe flagship startup event of ConnectTechAsia, Asia's leading Infocomm Media and Technology exhibition.
In November 2020, an expanded Uniphage team — including Matas Vitkauskas (Class of 2022) and Cheng Kai Lim (a PhD-Master of Business Administration student from NUS) won the NUS Hult Prize competition. They will automatically advance to the Regional Finals stage of the Hult Prize, bypassing 20,000 applicants around the globe. The Hult Prize challenges young people to solve the world's pressing social issues through creating for-good for-profit start-ups.
With the boost from this funding, the Uniphage team has completed their first iteration of a working AI model. They hope to run laboratory tests and have a minimum viable product ready by the end of February 2021. The ultimate plan: developing a full team and laboratory in their target market — likely California — by early 2023, and subsequently expanding their concept beyond agriculture to tackle diseases in livestock and humans.
"Uniphage is something we are fully committed to," said Chris. "Realistically speaking, the project is still in its early stages. But we are very excited to see where this will lead us."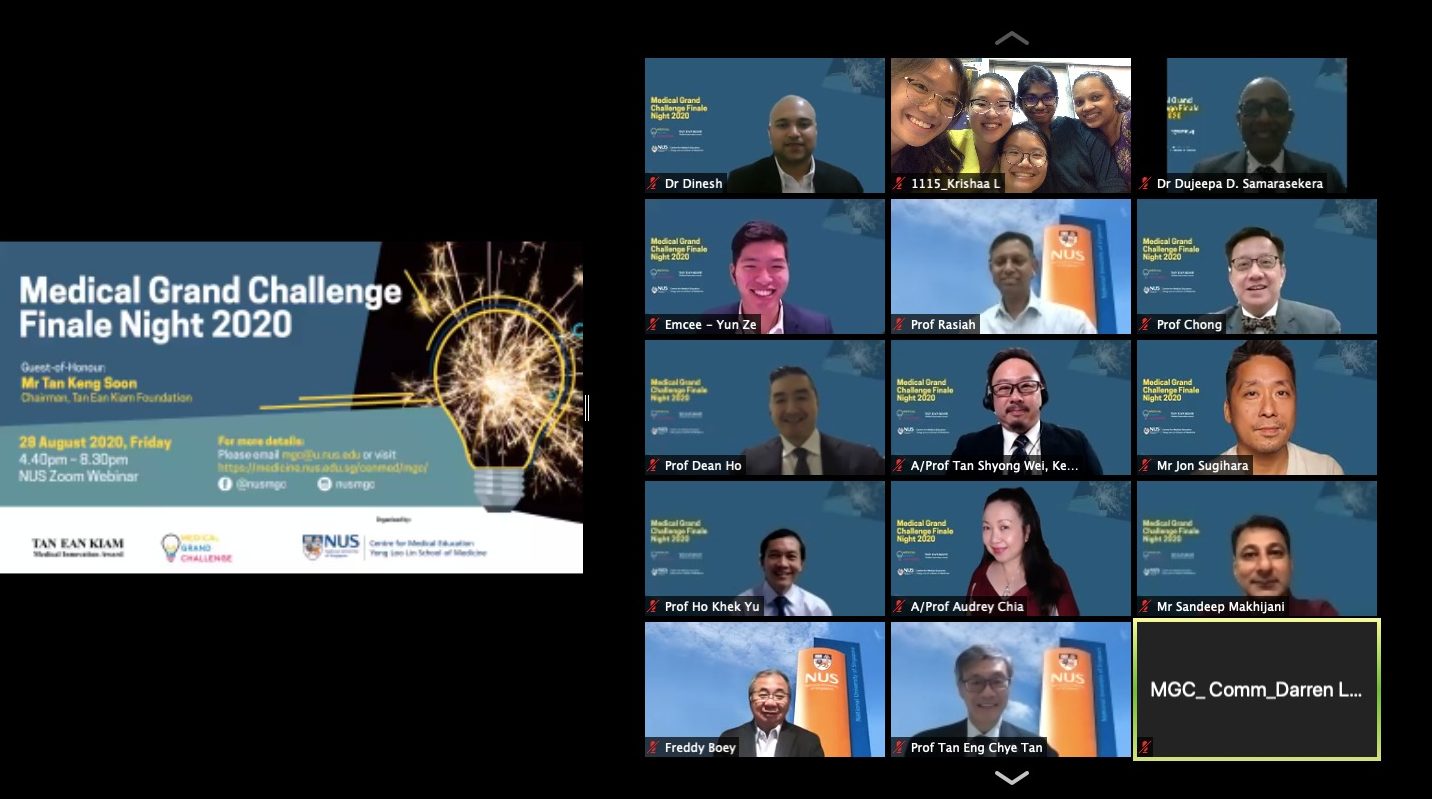 Lindy Quek (Class of 2023), pictured in the middle of the top center Zoom panel with her team during the Finale Night of the NUS Medical Grand Challenge.
Meanwhile, Lindy Quek (Class of 2023) and a team comprising herself and four NUS students won second place in the open category of the NUS Medical Grand Challenge competition for their work in developing a telehealth mobile application. The team won a SGD$15,000 grant and is currently working to further improve the app.
"Over the semester break, my friends and I signed up for the competition as we were all interested to learn more about medical innovation," said Lindy, who is on the Yale-NUS & Duke-NUS Liberal Arts and Medicine Pathway.
"My team was attached to a family doctor who wanted to improve his practice with telehealth. We worked together to implement an app that brings different care providers onto the same platform to care for chronic disease patients beyond the clinic."
During the Challenge, Lindy's team was tasked with researching the user adoption process for the app. Between June and September, the team had to quickly pick up skills in business proposition, surveying target groups, and pitching. The project culminated in early September, with a proposal and video pitch.
"As we didn't have prior experience in these areas, we had to figure things out as we went along," Lindy said. "Having supportive and driven group members and working out what to do together was definitely very helpful."
With their win, Lindy's team is now sourcing for technology partners to collaborate with them in developing the app. They plan to roll out the app in phases over the next few years, continually refining it in the process.
"Ultimately through this app, we hope to create a sustainable ecosystem of healthcare professionals and patients," said Lindy. "We hope this will empower individuals to take charge of their health, such that healthcare providers can intervene and manage patient's chronic conditions as possible or even prevent them!"