By Daryl Yang | Image by Weave for Yale-NUS College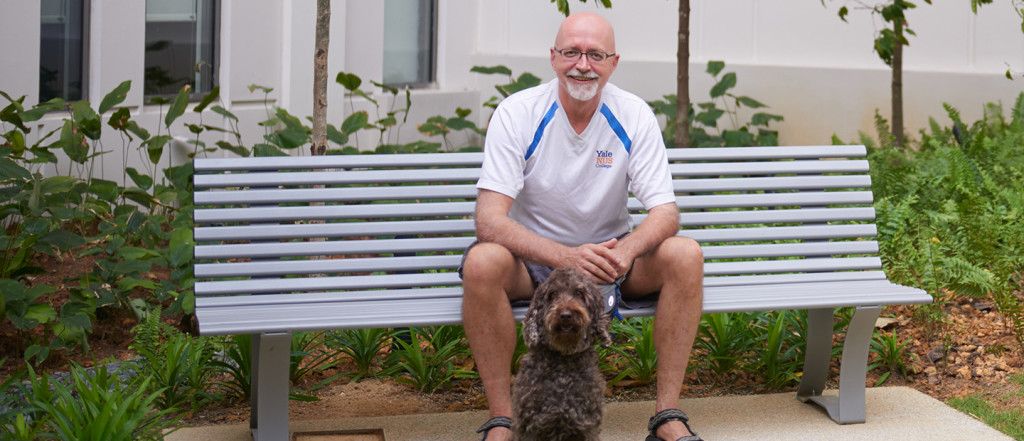 Cendana College's newly-appointed rector, Associate Professor Neil Clarke, and his dog Pedro
At Yale-NUS College, each of the three residential colleges (RCs) – Cendana, Elm and Saga – forms a tight-knit community of students, faculty and staff. Each RC is helmed by a Rector and Vice Rector who live in the colleges with their families and play significant roles in the residential life experience.
This semester, Associate Professor of Science Neil Clarke has taken up the leadership of Cendana College as Rector. Cendana's inaugural Rector, Associate Professor of Humanities Derek Heng, stepped down at the end of last semester.
Rector Clarke received his Bachelor of Science in Molecular Biophysics and Biochemistry in 1980 at Yale University, and completed his PhD in Biology in 1987 at Massachusetts Institute of Technology. He holds concurrent appointments as Senior Group Leader in Computational and Systems Biology at the Genome Institute of Singapore, and Adjunct Professor of Biochemistry at the National University of Singapore (NUS). Rector Clarke is also the Head of Studies of the Life Sciences major at Yale-NUS.
His wife, Cynthia, and daughter, Melanie – and dog, Pedro – are already part of the Cendana community as Rector Clarke has been a residential faculty fellow this past academic year. His two other daughters, Wendy and Serena, are currently studying in the US.
On his first thoughts on becoming the new Cendana Rector, Rector Clarke shared that he wished the position hadn't been open at all in the first place.
"Derek was an excellent inaugural rector, a good colleague and friend; it is sad to see him and his family leave," he said.
"However, given that Derek did leave, I'm thrilled to be taking his place. Both Cynthia and I were students at Yale many years ago and believe very much in the residential college model. To be asked to help nurture the development of a Cendana culture is a great honor."
Rector Clarke noted that the Cendana community has been "amazingly energetic and creative in building the social life and physical space of the college" and hopes that aspects of Cendana College will continue to be driven by student interest and action.
"With respect to the intellectual life of the college, I'd like to give students more of a say in the inviting of Rector's Tea speakers," Rector Clarke shared, referring to the speaker series held by each Rector in their respective RCs. "There are lots of people in Singapore who are ten or 20 years older than our students who would provide interesting perspectives – but being much closer in age to our students than I am, there's a good chance [that students would] be more likely to know who these people are than I am."
The sense of adventure that permeates Yale-NUS excites Rector Clarke most about being a part the College. "It's such a privilege to be able to help build a new institution with young people who are so bright, interesting and independent," he shared.
On his plans as Rector, he related his vision of the job: to be the one "encouraging creativity, advising and smoothing out bureaucratic issues".
"I've got some ideas for promoting greater interaction among faculty and between faculty and students and will be trying out some of these ideas next semester," he said.
Having heard some students jokingly refer to Cendana as 'pulau Cendana' ('Cendala island' in Malay) because it is furthest away from the other two RCs on campus, Rector Clarke is convinced that the nickname is a result of the other colleges' envy.
"The fact is, of all the colleges, we're closest to the gym, the Multi Purpose Hall, the dance studio, the science labs, the Fab Lab, the art studio, and the Black Box.  We're also closest to the bus stops on Clementi and Dover Road," he said in jest.
Student Min Lim (Class of 2018) is looking forward to Rector Clarke's appointment with the start of the academic year.
"I am going to miss Professor Heng, not only as Rector but also as my major adviser," she said. "Nonetheless, having been taught by Professor Clarke before, I'm fully confident that he is going to be a great Rector. Professor Clarke was always friendly and open to consultations even after office hours and I really appreciate his concern for the students in the college."
In his free time, Rector Clarke enjoys playing hockey and exploring new places.
"I love travelling of all kinds, but especially to sites of historical or natural interests. My family and I are all divers, though we only go on dive trips every couple of years," he explained. "[We] have been in Singapore for 11 years now and we have travelled extensively in the region: India, Myanmar, Thailand, China, Taiwan, Cambodia, Vietnam, Malaysia, Indonesia, Japan, Korea, New Zealand, and Australia."