By Daryl Yang | Images as credited
Before members of the Class of 2017 could count down to their graduation from Yale-NUS College, they counted down to the deadline for their capstone projects.
A unique aspect of the Yale-NUS curriculum is the original capstone project which all students undertake with the guidance of Yale-NUS faculty and other subject matter experts. In completing their capstones, students hone the disciplinary and general intellectual skills necessary to conceive, design and execute a year-long, self-directed project within their major. Each student is mentored by a faculty supervisor.
Associate Dean of Faculty Khoo Hoon Eng shared that through the capstone projects, students can bring together the varied strands of their learning from different modes of inquiry in the Common Curriculum and focused ones in their major.
"After experiencing three years of undergraduate studies at the College, the capstone projects allow students to hone the skills they have learnt in order to conceive, design and execute a year-long, self-directed project within their major. By picking a topic that the student finds compelling and for which they are prepared by prior academic work and other experiences, the capstone project becomes the student's own. It allows the student to engage with research in their discipline, produce scholarship and communicate their results by demonstrating independence, creativity and critical analysis that are the key elements of a liberal arts education," Associate Professor Khoo highlighted.
For Aleithia Low (Class of 2017), an Arts & Humanities major, her experiences throughout college led her to embark on writing a creative non-fiction work on Vietnam.
Aleithia decided to make use of the capstone to reflect on her experiences that began in summer of her freshman year. She was awarded a Social Impact Fellowship by the Centre of International & Professional Experience (CIPE) to teach photography at a children's home.
"There were many questions I had left unresolved upon my last time leaving Hanoi, after completing two months teaching photography there. How does memory work? How do I remember a place? Do I have a right to claim some sort of belonging, as a foreigner, to a city I feel an affinity with? I also constantly wondered what had become of the children I worked with, if they would learn enough to move beyond the village and lead a self-sufficient life," she shared.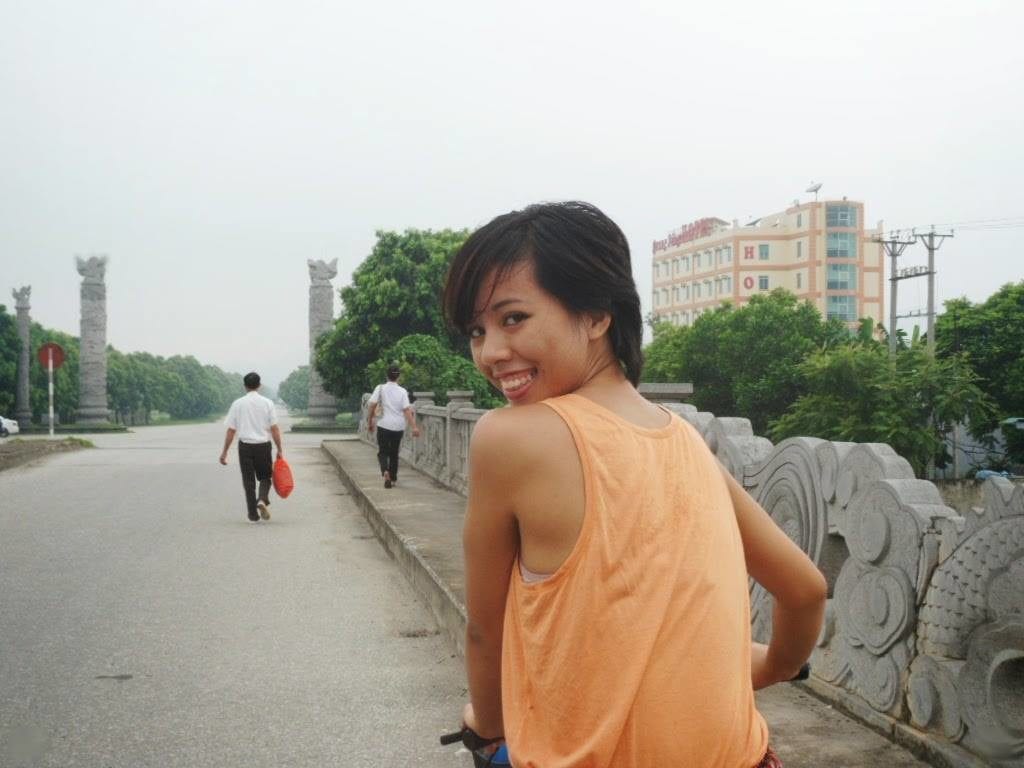 Aleithia on her adventures in Vietnam. Image provided by Aleithia Low.
Aleithia subsequently returned to the same village every year and she also visited other parts of Vietnam, such as Ho Chi Minh and Dong Nai, so that she could see first-hand how the Vietnam War affected the country in different ways.
Given these experiences, combined with classes she had taken at Yale-NUS such as 'Introduction to Creative Nonfiction' taught by her capstone supervisor, Director of the Yale-NUS Writing Programme and Professor of Humanities Robin Hemley, and 'Anthropology of Human Rights', she decided to use writing as a medium for her capstone project.
"A lot of this is about me, but also about the way that Hanoi and those who suffered the effects of Agent Orange are written about and portrayed. For the latter, they are often very reductively depicted in grotesque, incapacitated forms, which is very typical of the images disseminated for human rights campaigns. Photographs and stories like that are not untrue, but they are not the whole truth. While I can't claim to achieve "the whole truth," I hope to go beyond that, even if I may err in doing so," explained Aleithia.
She has also been taking language classes in Vietnamese at the National University of Singapore. "While my command of the language is still faltering, it helped to facilitate much deeper interactions with some of the people I met and wrote about," she noted.
Mathematical, Computational and Statistical Sciences major Dylan Ho (Class of 2017) decided to embark on a unique project, quite different from that of his peers.
"My capstone is a little ambitious, and it is quite different from others. While many seniors wrote papers or did research and investigations, I created a new augmented reality game for Yale-NUS students to play within the Yale-NUS campus."
Called 'Yale-NUS GO', Dylan's project drew inspiration from an augmented reality game that was released recently: Pokemon GO. According to Dylan, while the game was hugely popular when it was first released, there was a significant decrease in users within weeks due to game design flaws.
"Pokemon GO had millions of downloads the day it came out and immediately topped the charts in Google Play Store and Apple App Store worldwide. While its influence was massive, 80% of its users stopped playing the game within weeks. Why is this? I think Pokemon Go made many game design mistakes that made it un-fun."
Hence for his capstone, he decided to explore the question: "Can I make a game to address these mistakes and make a better game?"
One key aspect is the multiplayer feature of the game. "Pokemon GO markets itself as a multiplayer game but you cannot actually do anything with your friends in the game. One thing I wanted Yale-NUS GO to be able to do was to go on adventures with your friends to foster a greater sense of community on campus."
An avid gamer, Dylan explained how his game will work: "Let's say there's an invasion at Elm College. I can invite you to create a party and we get a mission to go to Elm College to fight that invasion. When we complete the mission together, we get rewards. Hence, there's a better sense of community and a better multiplayer aspect to the game." More than just a capstone, Dylan hoped that his game will also become a part of the Yale-NUS community-building experience.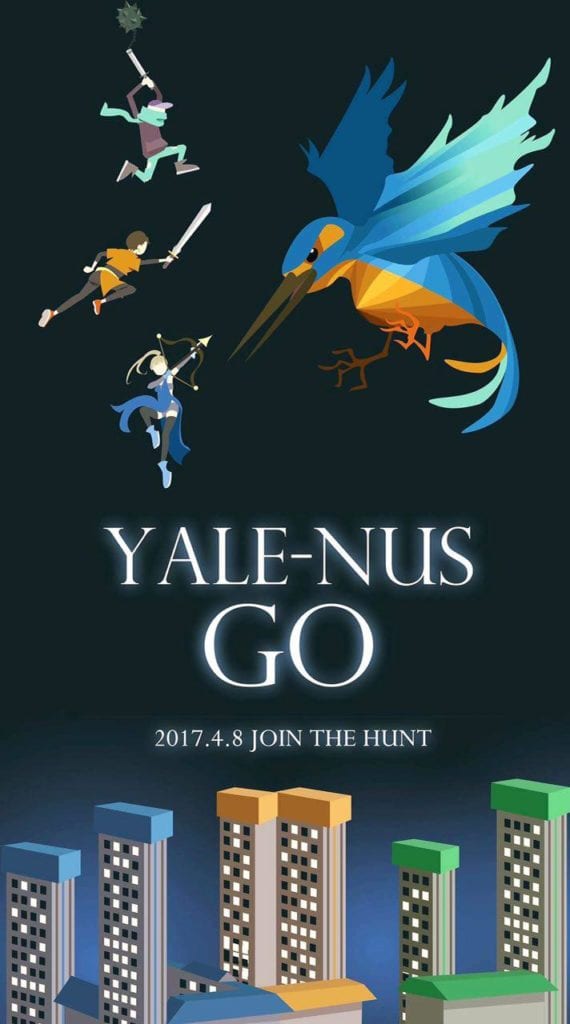 Poster of an on-campus event for the developed game. Image provided by Rebecca Huang.
While the game may sound like just fun, there was significant work behind it. Dylan shared that his Yale-NUS experience and mentorship under supportive Computational Science faculty have equipped him with "a great foundation to work on whatever I want to".
His study abroad experience piqued his interest in game design where he created many of his other game design projects. "I gained a lot of game design experience when I was on exchange to Harvard, where I cross-registered at a game design course in MIT. When I was there, I met a lot of good game designers there who gave me more inspiration to work on game design."
Creating a game is also not all coding and hard science. Dylan worked closely with another Yale-NUS Student, Rebecca Huang (Class of 2019), to develop the artistic aspects of the game. "She helped me create the art assets for my game. I'm a programmer and my artistic sense is laughable. I'm very glad I had someone who could draw and design to help me out with this project."
As an Anthropology major, Maggie Schumann (Class of 2017) studied the implementation of Singapore's 2012 regulation of rest days for migrant domestic workers.
According to Maggie's research, the Ministry of Manpower (MoM) regulated domestic workers' rest days for the first time in 2012, when it entitled domestic workers to a weekly day off but included an option to negotiate away rest days for extra financial compensation. However, according to previous quantitative research that examined over 20,000 bio-data, it was found that many domestic workers, particularly first-timers from Indonesia and Myanmar, do not utilise the weekly rest days.
"Through a total of 40 qualitative interviews with domestic workers, employers, and agents, my capstone explains why many domestic workers do not request or obtain a weekly day off and concludes by suggesting changes to the regulation so that all domestic workers have meaningful access to a weekly day off," Maggie explained.
Maggie's capstone supervisor was Assistant Professor of Sociology & Public Policy Anju Paul, who is herself, an expert in migrant domestic workers' issues. Dr Paul completed her PhD research on the migration patterns of Filipino migrant workers in Singapore and expanded her research focus to other national groups such as Indonesian domestic workers. She has been working on a new book, Multinational Maids, on emergent stepwise migration patterns adopted by Filipino migrant domestic workers.
"Dr Paul has mentored me throughout my four years at Yale-NUS. My interest in migrant workers in Singapore was sparked by her Week 7 project, "Migrant Nation', in my first semester, and in my second year, I began working for Dr Paul as a research assistant. In year three, I launched an independent project under her supervision, and that project grew into my capstone research. I have no idea where I would be without her support, wisdom and encouragement," Maggie reflected.
Professor Khoo also noted that faculty involvement in the capstone projects is crucial to its success. She explained, "While the students are encouraged to conceive, design and execute their own project, they will still need guidance from faculty to prepare and find necessary resources, get feedback on the project's viability and advice on overcoming difficulties as the project gets underway."
She added: "The faculty is the guide and facilitator to ensure that the student can successfully demonstrate independence, creativity and critical analysis in carrying out the capstone project and communicating the results to a variety of audiences."