Written by Kelly Tan | Image provided by Spandana Battacharya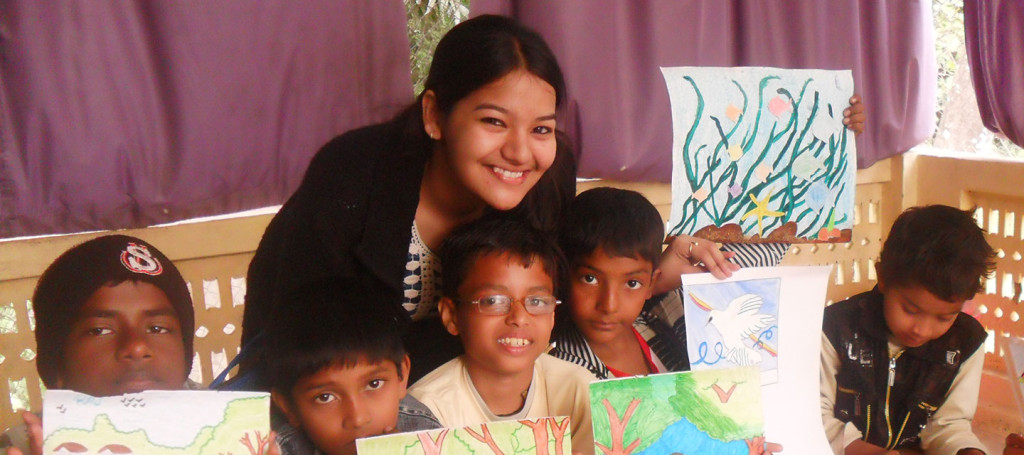 Growing up in India, Spandana Bhattacharya (Class of 2017) was involved in activities not usually associated with young students, showing discipline beyond her years. At 12, she was already contributing to Yamuna, an international newsletter published by Gandhi Smriti, India's Ministry of Cultural Affairs, that covered social issues through children's voices. While there as bureau chief, she initiated a chapter in West Bengal with over 15 students writing about issues of social importance. Her curiosity for things that are happening around her grew, and very soon, she became deeply involved in the The Statesmen, one of India's oldest English newspapers. As chief coordinator of the children's section "Voices", she wrote over 50 articles on topics as varied as popular culture, music, social changes, travelogues, global and local issues and their impact on the world of children. Her work was recognised with awards for Best Writer and Best Coordinator.
When Yamuna had to shut down due to budget constraints, Spandana was naturally sad to see it go. She shared that she couldn't get out of her mind, how valuable a platform Yamuna had been, for children who had a view on issues. To keep the spirit of Yamuna alive, Spandana went about gathering like-minded students to start her very own children's newspaper in India in 2011. As an initiative of the Gurudev Rabindranath Tagore Foundation, The Peace Gong promotes volunteerism and media literacy education towards a culture of peace and sustainable development by bringing together children and youth from diverse cultures, backgrounds, regions and communities. The Peace Gong went global in a short span of two years and Spandana's biggest achievement to date is when it received the MY World Partner Recognition Award (2013) by the United Nations Volunteers (UNV), for the volunteerism category.
So where does the girl find the discipline and motivation to accomplish so much so young? Spandana shares about how far she's come and where she is heading.
Tell us more about The Peace Gong and the efforts that went into starting it.
The Peace Gong began with a belief that as the future citizens of the world, the youth have a huge responsibility to make a difference. I basically wanted to advance a generation that is more aware of its duties than the one before. All around me were like-minded students who wanted to make a change and express their take on social issues but were just in need of a profound platform and exposure. I reached out to friends nationally and internationally and started bureaus in India and abroad. And together, we created The Peace Gong – a children's newspaper that aims to provide a platform for children's voices on societal issues. Our first issue was launched in October 2011 in association with the Food and Agricultural Association (FAO) and in our subsequent issues, we partnered with United Nations Volunteers (UNV) and Rehabilitation Council of India, Ministry of Social Justice and Empowerment.
Is your youth ever an issue when working on this project?
In the beginning, as an 11th grade student, pursuing effective reporting on critical national issues like food insecurity, volunteerism and people with special abilities felt like reaching for the stars. But through my journey with The Peace Gong, I interacted with numerous individuals whose stories and struggles inspired me to continue on my journey. When I visited markets to conduct surveys, I became aware of the struggle of vendors as they deal with rising prices and the real challenge was to convey their points of view through my articles. I also felt especially challenged while writing about my volunteering experiences at a home for the children of correctional homes' inmates. I confronted the importance of having an open mind while dealing with difficult situations and embracing the happy side of life in not so happy circumstances.
I am currently working as a mentor to the new editorial team so that they can further develop their effective reporting skills as child reporters. In the same way that I was challenged, I want to challenge other youth to think about their roles in society today and to dare to step up and make a difference.
Are you happy with the results of your hard work?
At every stage, I believe we achieved more than our vision and soon we had formed a highly motivated global team that believed in the importance of social change and volunteerism. While representing The Peace Gong as a social and national connector at the "National Deliberation on Communication for National Integration" (2013) held at Vishwa Bharati University, Shantiniketan, India, I was deeply moved by the positive reception of our work. We partnered with United Nations Volunteers (UNV) to mark the IYV+10, the 10th anniversary of the International Year of Volunteers and with our second edition, we had initiated bureaus in six nations, along with chapters in 12 states in India. We soon became the first newsletter by Indian youth, to have successfully launched Braille and Talking Paper editions. I was highly motivated when we interviewed the then President of India, Smt. Pratibha Patil in 2012, when she expressed her appreciation of our work and offered suggestions to make The Peace Gong reach out to more students globally. I am truly inspired and heartened by the UN's appreciation of our work, especially the efforts of the child volunteers and reporters in Kashmir. I believe this recognition will enable us to spread our vision and motivate like-minded students and across the globe.
Any tips for others doing social work?
Firstly, have a deep understanding about the issues you are reporting on and also feel the plight of the people who are affected by them. Secondly, get committed in a group because when you have an equally motivated group that believes in your cause, you can reach out to a bigger audience.
What are you looking forward to next?
I am currently working on expanding The Peace Gong's global presence and look forward to working with my new friends at the College to expand our international bureaus. I have also started working on PANOPT – the Yale-NUS newsletter showcasing the academic and creative vibe of the College, with co-editor Joyan Tan. I have been practicing the Indian classical dance 'Bharatnatyam' (Kalakshetra form) since I was seven and did my Arengetram (a graduation ceremony in the form of a two-hour long performance) in 2009. I have also been exposed to several other Indian folk dance forms. I am very excited about sharing my love for Indian classical and folk dances at Yale-NUS.
—
Here are links to news reports on The Peace Gong and its latest issue:
UNV Executive Coordinator presents the MY World Volunteerism Award
Building bridges of friendship among kids  -The Hindu
Braille version of children's newspaper released
Peace Gong rings out for volunteering