Written by Clare Isabel Ee | Images as credited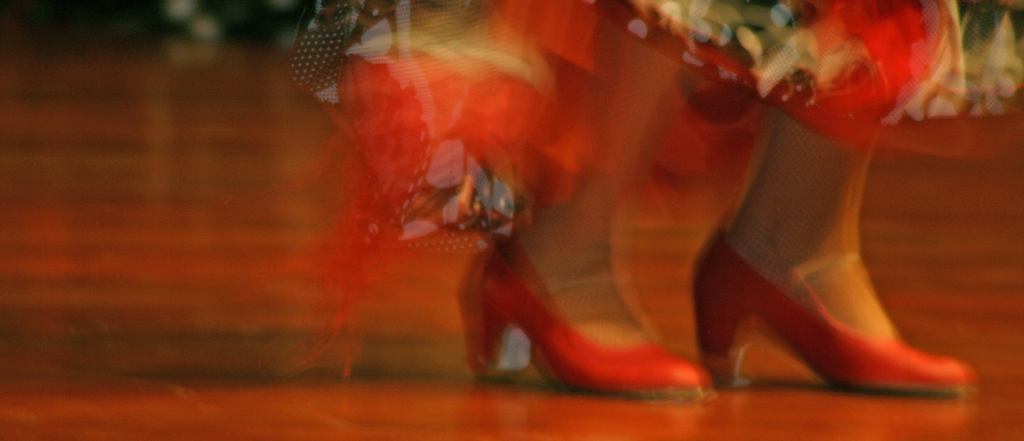 Image from Morguefile
'La Feria de Abril' or 'the April fair' is known as a joyous, weeklong celebration of Easter in Seville, Spain.
For a week in April 2016, the April fair came to Yale-NUS College with music, food, dancing, and all things Spanish.
Spearheaded by Yale-NUS Lecturer of Spanish, Ms Raquel Peña-Gutiérrez, in collaboration with two Spanish lecturers from the National University of Singapore (NUS), La Feria de Abril at Yale-NUS was brought to the College to enhance students' learning of the language.
"You cannot separate language and culture. I think it's also more fun for them to learn by experiencing culture such as music, food and dance, instead of just focusing on grammar and so on," explained Ms Peña-Gutiérrez.
"It's important they learn that this language is alive – many people speak Spanish and they're living this language," she added. "So it's their opportunity to get in contact and live this language, at least a little bit. It helps to keep them motivated."
In the past academic year, Yale-NUS' Spanish programme has enrolled around 40 students, while NUS' programme has seen 140 students, with varying levels of classes on offer.
The events held during La Feria de Abril were open to all of Yale-NUS and NUS, and included Spanish film screenings, performances, photo exhibitions, a panel dialogue with Latin ambassadors, a flamenco workshop and even a karaoke competition.
Cheryl Cosslett (Class of 2018), who assisted Ms Peña-Gutiérrez in organising some of the events, shared that she found doing leisurely things with her peers in Spanish did benefit her grasp of the language and culture.
"I loved the karaoke competition because regardless of our level of Spanish, we all could have fun together and be exposed to Latin/Spanish songs with our own friends," Cheryl said.
"Spanish songs themselves have become an effective method for me and for others in Ms Peña-Gutiérrez's class to learn the language, and just seeing how people come together in the event reminds me that Spanish is so relevant and widely spoken, even in Yale-NUS."
The College also marked the 400th death anniversary of literary figure Miguel de Cervantes with various events held around campus, including an exhibition on his works in the Yale-NUS Library, a talk by Assistant Professor of Humanities Andrew Hui followed by a performance celebrating Cervantes' work, and a screening of the film Lost in La Mancha. Cervantes is widely accepted as the greatest writer in Spanish history and is perhaps most famously known as the author of Don Quixote.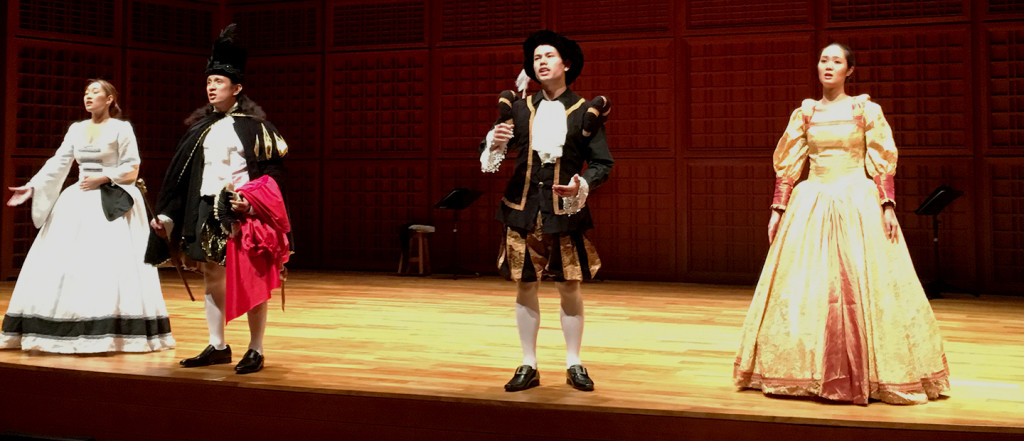 Performing The Curious Lives of Shakespeare and Cervantes written by Ms. Asa Palomera. Image by Raquel Peña-Gutiérrez
Ms Nina Melero, one of the NUS lecturers who has been working with Ms Peña-Gutiérrez to organise these events, explains that while they hope to impart some knowledge and practise of the language through these events, the priority is on community-building.
"We hope that these activities can help create a small community of people interested in Spanish on campus, independently of the centre in which they have enrolled," Ms Melero said. "We would like the students to know each other, and to make them aware of the fact that the lecturers from both [NUS and Yale-NUS] centres are there for them."
For Cheryl, a student passionate about learning Spanish, these events bring her closer than ever to the language and culture.
"Cultural events like these remind me why I'm studying Spanish in the first place; there is so much interesting contemporary culture in the Hispanic world that I otherwise would be missing!" she said.
"From food, to songs, movies, and dances, they all make me more excited to go to Spain this summer for my language scholarship."