By Kelly Ng
'Healthy' and 'Sustainability'" have emerged as buzzwords in the food and agriculture industry in recent years. Organic, farm-to-table, vegan, raw, local – these are all words that have permeated the food scene in this era of diet consciousness and climate awareness.
On 6 March, Yale-NUS College Assistant Professor of Social Sciences (Environmental Studies) Marvin Montefrio, together with Richard Wilk, Distinguished Professor Emeritus at Indiana University, Bloomington, launched a special journal issue in the 23rd volume of Food, Culture & Society, to share knowledge on food trends in the Asia Pacific region. Food, Culture & Society is the flagship academic journal of the Association for the Study of Food and Society based in the US.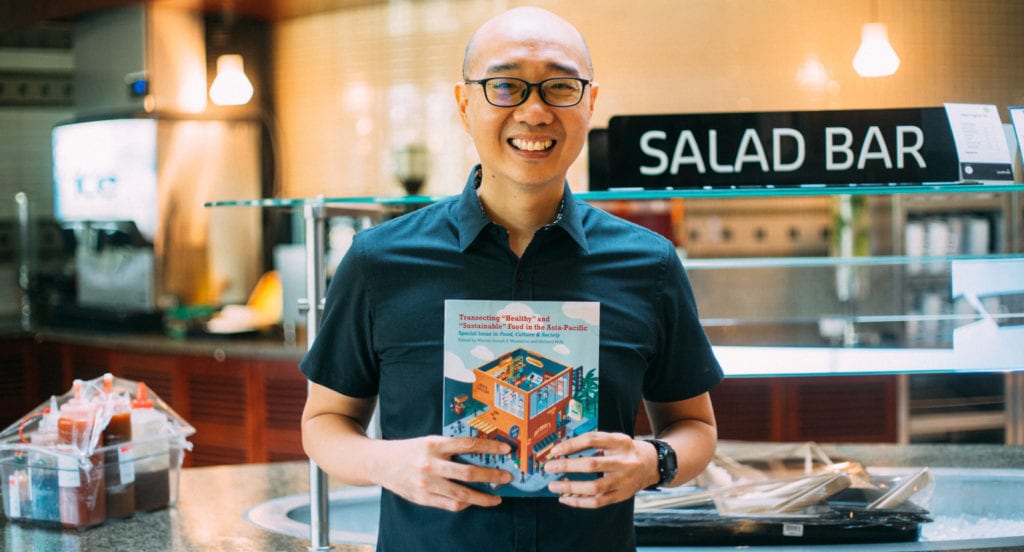 Asst Prof Marvin Montefrio (in photo), together with Prof Richard Wilk from Indiana University, launched a special journal issue in the 23rd volume of Food, Culture & Society, to share knowledge on food trends in the Asia Pacific region. Image by Darren Ang for Yale-NUS College.
From investigating local food movements in Manila, Philippines to Ayurvedic commodities and healthy eating in North India and food safety in Singapore, the journal is the first of its kind to critically examine and compare three of the most current issues in food scholarship – health, sustainability and safety – in a singular geographic region.
The special issue is the outcome of a workshop and public forum hosted by Yale-NUS College in 2018, in collaboration with the Asia Research Institute (ARI) of the National University of Singapore (NUS). The events brought together scholars from diverse disciplines across the region to discuss critical issues in food and its future trends. Following the events, Asst Prof Montefrio and Prof Wilk spent a year curating and editing the special issue, which features eight of the papers presented at the workshop.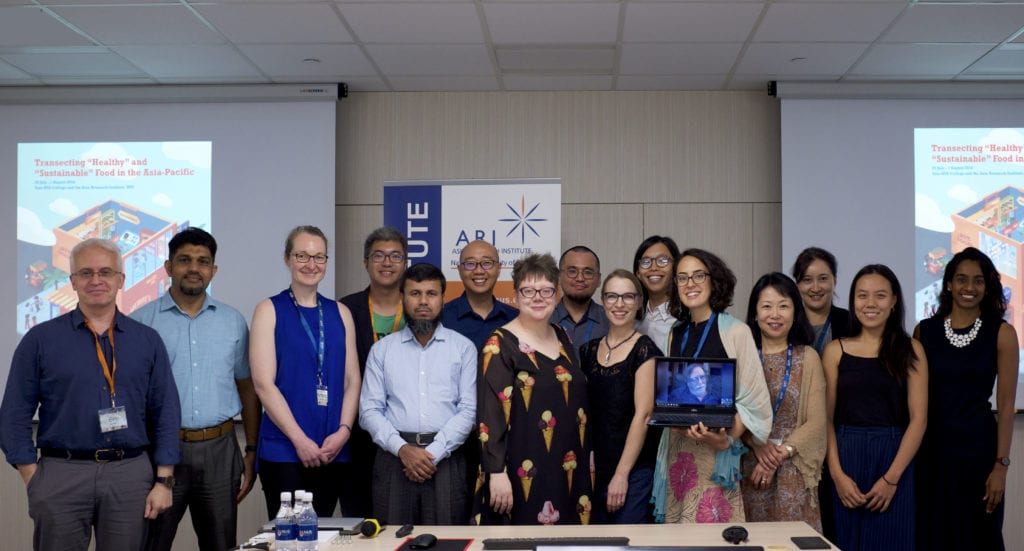 Asst Prof Marvin Montefrio (back row, second from left) and participants at the 'Transecting Healthy and Sustainable Food in the Asia Pacific' workshop, organised by Yale-NUS College and Asia Research Institute of NUS on 1 August 2018. Image provided by Asst Prof Marvin Montefrio.
Together with three other academics from the University of Macau, China and De La Salle University in Manila, Philippines, Asst Prof Montefrio penned one of the papers in the special issue, which examined locavorism in the Philippines. Locavorism builds on the broader notion of food localism or localisation where the supply chain between food producers and consumers is shortened. In the context of globalising food discourse, the interaction between local and foreign food cultures are often described by two dominant ways of thinking. He and his colleagues argue that most cases of cultural encounters are actually assemblages of both.
"One is that ideas from the West dominate local food cultures, such as when Euro-American culinary trends become widely adopted in former colonies. The other is when Western and Eastern (or global and local) food cultures hybridise to form something entirely new (e.g. Euro-Japanese fusions, Eurasian cuisine in Singapore, etc.). The resulting 'new' is now celebrated, distinctly framed not as a legacy of Western imperialism or colonialism, but equal interactions among cultures," Asst Prof Montefrio elaborated.
The case of local food in Manila presents a good example of the seemingly pleasant but equally tense interaction between Euro-American food. Asst Prof Montefrio pointed out that the combination of Western ideas of locavorism and Philippine food ways has resulted in seemingly benign fusions (e.g. European-inspired Filipino dishes that use predominantly indigenous Filipino ingredients), as well as contradictory culinary creations (e.g. Filipino dishes that claim to be 'local' but use a lot of imported superfood ingredients, like chia seeds and quinoa).
In another paper that engages with the ideas of food globalisation and hybridity, Dr Venera R Khalikova, a cultural and medical anthropologist from the Chinese University of Hong Kong, examines the ideologies of Ayurvedic consumption in North India. She discusses how Ayurveda commodities strategically balance the two worlds of ancient indigeneity and global modernity, and introduces the concept of 'gastro-bilingualism', which broadly means '"speaking the languages of local and global food cultures", to explain the rise in popularity of Ayurvedic food.
Closer to home, Dr Nicole Tarulevicz from the University of Tasmania, looks at the issue of food safety in Singapore through three historical examples – pure food advertising, anxiety about botulism, and the prohibition of saccharin. Her paper investigates the infrastructure of food safety through the lens of globalisation, and the way that knowledge and anxieties about food safety in Singapore were informed by international media coverage. Using historical examples, Dr Tarulevicz examined how Singapore's long engagement with the global pantry illustrates contemporary complexities in the food system, while at the same time cautions against an assumption of universal globalisation.
Looking ahead, the future of 'healthy' and 'sustainable' food in the Asia Pacific is set to further develop and morph.  Here at Yale-NUS we look forward to more exciting contributions to food scholarship as the scene grows.