By Melissa Wang | Image by Weave for Yale-NUS College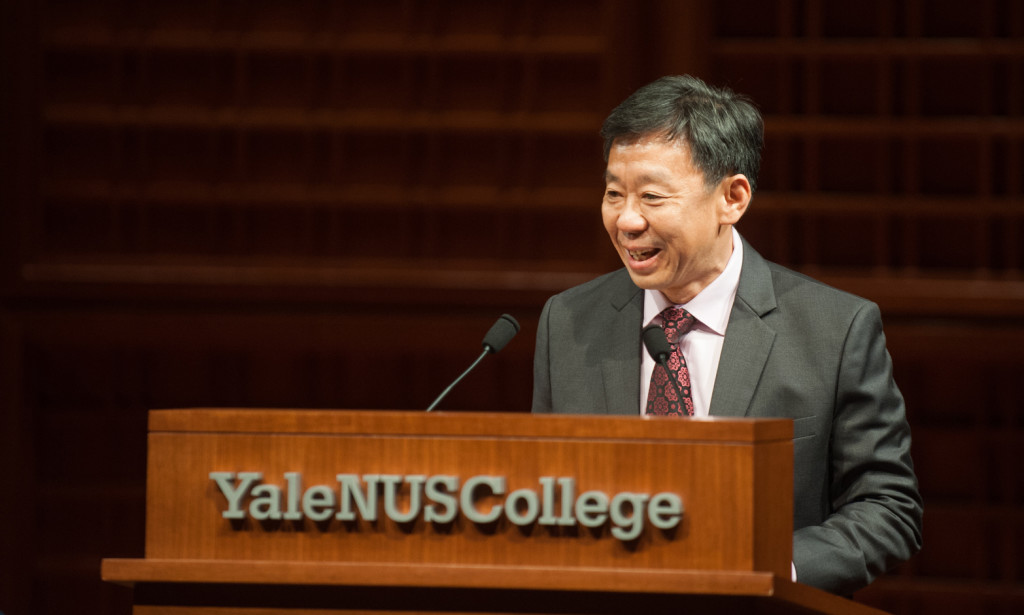 What is the relevance of liberal arts education for Asian development? – This was the question Yale-NUS College President Tan Tai Yong sought to address at his public lecture, organised by The HEAD Foundation on 26 April.
President Tan, who officially took office on 1 July 2017, noted the common misconception that the liberal arts was a synonym for fine arts.
"The full title is actually liberal arts and sciences, and we take pains to explain this to our students, because they should not assume that coming to Yale-NUS, they are going to be studying only History, Philosophy and Political Sciences. We do have the Physical Sciences, Life Sciences and Mathematical Sciences," said President Tan.
Sharing more about what the liberal arts model aims to achieve, he highlighted the broad-based, multidisciplinary learning that liberal arts students are exposed to, and how the focus is not just on the subject that is studied, but the purpose of studying those subjects.
"It is meant to provide training for critical reasoning, debate and dialogue – attributes that an educated person would need to be an active participant in civic life," President Tan explained.
He added, "This, if done correctly, will develop a person to the fullest."
Noting how the liberal arts model has thrived and flourished in the United States, President Tan also underscored the increased interest in such a model of education in Asia, where there has been a growing trend of diversification from specialised courses to a broadening of scope. In Singapore, there has been increased efforts in providing different pathways for students with different aptitude, to provide them with different ways to excel.
"The liberal arts model is one such pathway," President Tan said, adding that this was not only important to Singapore, but also to other fast-growing economies like Singapore.
Citing Yale-NUS as an example, President Tan underscored how our curricular and co-curricular programmes, work together to cultivate creativity, curiosity, adaptability, resilience and critical thinking in our students.
"It is not just what goes on in the classroom, but also what takes place beyond, which is why a great deal of effort is invested in developing opportunities for students to have experiential training," he shared.
Touching not only on what students learned through the liberal arts, President Tan also stressed the importance of nurturing an ethos of service in students, building in them a "moral compass".
President Tan has firmly believed in this approach and emphasised its importance since joining the College as the Executive Vice President (Academic Affairs) in 2014. In his welcome speech to the Class of 2019 at the First Year Assembly in 2015, he asked the freshmen to "imagine a college whose purpose, among others, is to prepare them for active roles in civic life; whose curricula and courses challenge students' imaginations and develop their civic competencies; whose co-curricular activities offer multiple opportunities for students to engage in public work". He reiterated this point when he was announced as the new President for the College earlier in March this year.
He added, "This is our grand aspiration. We shall persist with that aspiration, and that ethos of service must find permanent place in the Yale-NUS DNA."
During his term, President Tan hopes to deepen engagement and strengthen ties with both founding partners, Yale University and the National University of Singapore, and looks forward to working with the College community to "make Yale-NUS a leading light in the world of liberal arts and sciences".
—
Watch the highlights of President Tan's talk here.