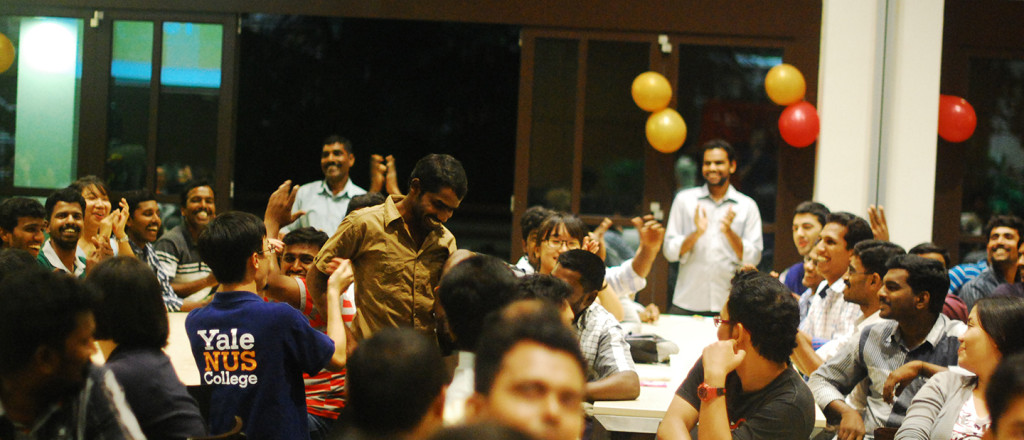 Images provided by CAMPOS
On 21 February 2014, students from the Committee of Appreciating and Meeting the People on Site (CAMPOS) held a Chinese New Year dinner for those involved in the construction of the Yale-NUS campus. It was a fun-filled night that saw hundreds of workers, managers and staff mingling with the Yale-NUS community over good food and conversation. Tiffany Sin shares her reflection after the event.
—
"Do you have a best friend?"
That was the first question Mahir, the worker I sat next to during dinner, asked me after I told him I was not from Singapore. Though it took a while for the conversation to lose its awkwardness, it was this connection that made the last few months of planning and meetings all worth it.
The CAMPOS Chinese New Year Dinner was on the Friday before our mid-semester holiday, and we hosted over 600 workers, managers, and staff of the future campus' construction site at the dining hall shared by the College of Alice and Peter Tan and Residential College 4 (RC4). The night included performances by students and workers, food, gifts, and lots of laughter.
The entire dining hall was transformed. Red hongbao lanterns and brightly colored balloons hung along the windows, all of which the Decorations committee had spent many a late night stapling together. Even in the hours leading up to the event, all the students involved in the planning – whether in decorating, fund raising, programming, or logistics – were running around RC4 to help with the finishing touches. Some students, like Regina Hong and John Reid, were even cutting lottery tickets in the morning, before rushing off to catch their flight to Kyoto a few hours before the dinner started.
But it was all worth it when the guests began arriving, and everything fell into place.
As the three emcees, Valerie Peng, Xie Yi Hao, and Rajasekar, began the program, the crowd eagerly applauded to every statement made, despite the language barriers.
At one point, Yihao told the crowd, in Mandarin, to hold off on eating the food. Mahir told me as he applauded: "We don't understand, so we clap!"
When Rajasekar translated the statement in Tamil, I applauded and grinned to Mahir, "Me too!"
Some 20 metres away from where I sat, two tables erupted in song – a Mandarin song.  As I looked among the large group of Bangladeshi workers, I spotted a fellow student, Amanda Lee, her arms waving like a music conductor as she belted a classic Chinese nursery rhyme, Liang Zhi Lao Hu (Two Tigers) line by line, joyously leading the newfound friends around her.  There were similar sights all around the dining hall: students and guests grinned at each other over buzzing conversation, while they waited for the performances to start.
The performances ran smoothly, with everything from a Yale-NUS a cappella group, The Wallets, singing a folk song medley, to a smashing lip-sync performance of "We Will Rock You" by five talented air-guitarists (construction is just their day job). When Amanda walked up on stage and joined in on 'Ease On Down', a group dance number, the tables of workers she had sat with pointed, clapped and whistled loudly in support. Phone cameras around the room were raised as numerous audience members recorded the special event.
After the performances, we enjoyed dinner, and as food quickly disappeared from the stations, conversation again filled the room.
"My best friend is in Saudi Arabia. I miss him very much. We try to call, but sometimes we forget – every night I think of him," Mahir told me.
Indeed, the community building our school campus is not so different from the community building our school culture – homesickness is only too relevant to our diverse student body.
The topic soon moved to whether or not we preferred Singapore to our home countries (on both accounts, yes) to a comparison of eating utensils (i.e. hands versus cutlery), to a short lesson on Bengali greetings.
The enthusiasm flourishes throughout the lucky draw, as winners proudly held up ironing boards and food baskets over their heads to the thunderous applause of the crowd.
Our table took a quick photo, and goodbyes were exchanged.
"I will not forget you," Mahir said with a smile. "You are my friend."
The guests filed out to return to the site, though some stragglers stayed back as a mini dance party began on stage between the performers from both sites. The night ended on a high, and many students stayed behind to help with the cleaning up.
"It was definitely a success! It didn't feel top-down at all," said Sara Amjad.
Yihao added, "I'll be joining CAMPOS. Now I see the point of it – it's really cool."
A few days later, I bumped into the leader of the "Rock You" performance on the bus. While he was busy talking happily to someone on his phone, we nodded and smiled, and waved goodbye as we both got off at Clementi.
While CAMPOS busies itself to become an official group and begins planning for future events, the relationship between the site and the students has changed.
Today, we are friends.