By Michelle Lee
Having access to a road is to have a gateway to the world. For people in the rural villages of Nepal, a safely constructed road – something we tend to take for granted – means access to markets, education, healthcare, and social community.  But in Nepal, road construction can also complicate the understanding of the disaster landscape as people become reliant of a resource that is often damaged by the annual monsoon rains.
This was the central idea behind Professor of Science (Environmental Studies and Geophysics) Brian G McAdoo's 'Roads in Nepal' project, which focuses on relationship between the country's vulnerability to climate change, earthquakes and other natural disasters and rapid road construction. Prof McAdoo's initial research, which sought to prove a correlation between new roads being built and increasing numbers of landslides, drew inspiration from the diverse areas of expertise of his colleagues around him. He credited this to the way the faculty offices are not grouped together by subject area, but by Residential Colleges. Yale-NUS has three Residential Colleges – Saga, Elm and Cendana – spaced out across the campus, which houses the various faculty offices.
"The amazing thing about this project is that since we're in this interdisciplinary, liberal arts and sciences environment, this project was really a combination of ideas from different people," Prof McAdoo explained.
"I was talking with Assistant Professor of Science (Biochemistry) Jan Gruber about this project – because we're both in Elm, we often chat in the morning over coffee in the College office. I asked him, how do we prove this correlation between roads and landslides? He told me about a technique they use in genetics. I basically took this technique and applied it to the spatial analysis of the road network in Nepal."
Assistant Professor of Social Sciences (Political Science) Rohan Mukherjee's research on the Belt and Road Initiative (BRI) also helped Prof McAdoo better understand the issue's political and economic dimension. The Belt and Road Initiative (BRI) is a development strategy by the Chinese government to invest in land and sea transportation infrastructure on a global level. Due to Nepal's geography in relation to the BRI, there is a heavy amount of Chinese involvement in its recent road construction efforts. Talking with Asst Prof Mukherjee about the political and economic dimensions enabled Prof McAdoo to understand why people might have economic incentives to build more local roads to take advantage of this increased investment, which may ironically make them more vulnerable if the new roads are cut off by landslides.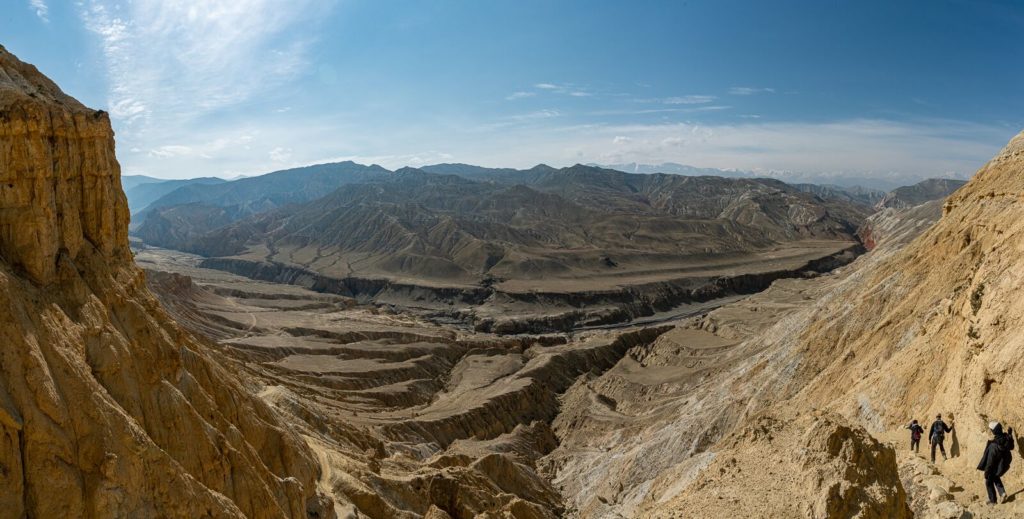 Yale-NUS faculty and students trekked through the mountainous landscape of Nepal's "Hidden Kingdom" of Upper Mustang to conduct research on rural communities. Image taken by Tom White.
Prof McAdoo also collaborated with Instructor of Humanities (Documentary, Photojournalism and Visual Communication) Tom White on the project. From 15 May to 8 June 2019, the duo, along with Yale-NUS students So Kuon Alaukik Pant and Sakshyat Khadka (Class of 2021) headed to Nepal to expand on their research. Their trek followed a proposed road corridor along the Kaligandaki river to study its potential environmental impacts, stopping at rural villages along the way.
Mr White, a photojournalist and documentary maker, has been collaborating with Prof McAdoo on an interactive virtual reality platform, VR4DR. This virtual reality platform allows experts to virtually explore disaster prone areas and watch videos of local residents sharing their experiences with natural disasters, allowing for a more complete view of how communities build resilience and reduce losses in the face of disaster. So far, the platform has documented tsunami-prone neighbourhoods in Padang, Indonesia, with the environmentally at risk villages of Nepal as the next stage of the project.
When asked about his most memorable moment on the trip, Mr White shared, "There are few things that can compare with mountains to remind you of how vast and harsh and beautiful the world can be, and meeting the people who live in this environment and hearing from them is always enlightening. No matter how many times I sit across from a stranger willing to tell their story, I never tire of the privilege. To experience that in such an extreme environment was quite something."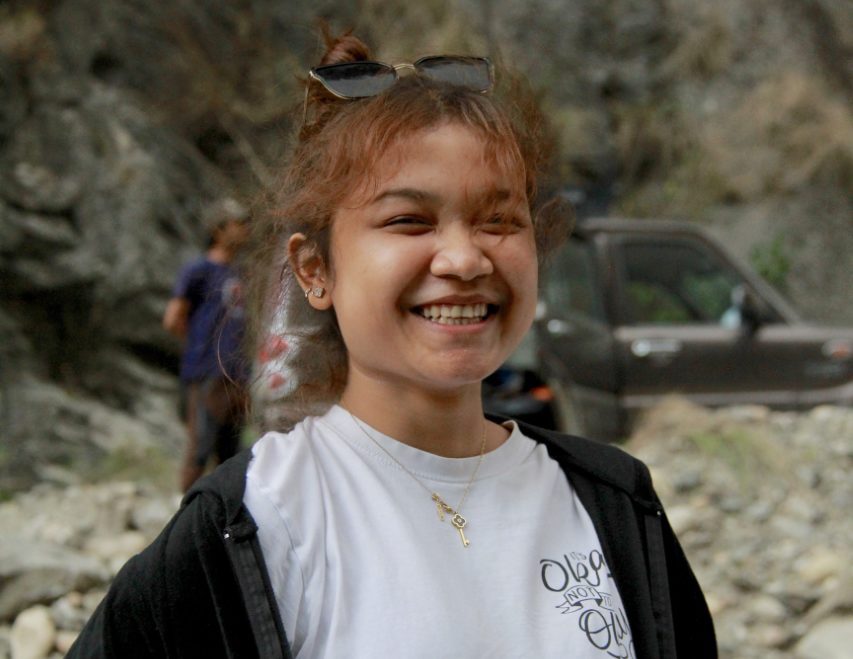 So Kuon (Class of 2021) is on the Summer Research Programme by CIPE. Image provided by So Kuon. 
So Kuon (Class of 2021), who is on the Summer Research Programme by the Centre of International and Professional Experience, came on the trip to assist in taking 360-degree videos and photos to build the virtual environment. For So, the trip was a way for her both to learn more about the environment and to develop her technical expertise.
"I hope to expand my area of knowledge to understand more about how we coexist within nature and prepare for natural disasters like earthquakes, which is one of the main topics we discussed during this research. At the same time, I could also be exposed to more technical skills of coding and data processing in producing the VR environment."
Summing up the importance of this project, Prof McAdoo conveyed a feeling of urgency and the need for action when it comes to helping rural Nepalese communities prepare themselves for future impacts. He shared that his research is motivated by earth scientists' predictions that a massive earthquake will happen in Nepal sometime in the future, and his desire to help rural Nepalese stay as safe as possible.
"Seismologists are expecting a massive earthquake, and it's ready to go. But we can't predict exactly when. We need to study how the environmental, political and economic scenes make villagers more vulnerable. So that when it happens, they'll hopefully be better prepared."
"When the earthquake hits, many houses in the remote regions are just going to crumble. It makes my heart sink. But it is our job as students of the liberal arts to help to define these problems and find out who we need to work with on solutions. We can talk to engineers, funding agencies, NGOs, and politicians, and start putting out ideas to make these places less vulnerable to the earthquake when it happens."