By Clare Isabel Ee | Images as credited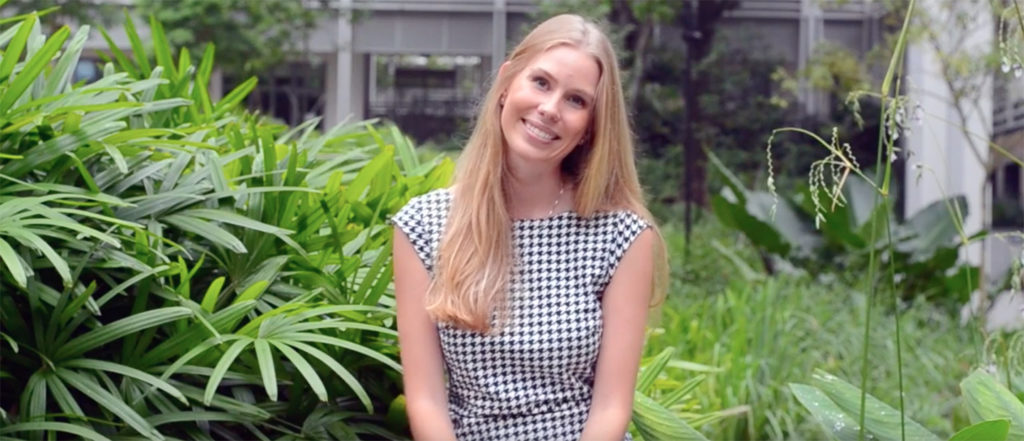 Mollie Saltskog (Class of 2017) 
A member of the inaugural Yale-NUS Class of 2017, Mollie Saltskog, has been accepted to the second class of Schwarzman Scholars, a highly competitive master's degree programme at Tsinghua University, Beijing, China. She will enrol for the course in August 2017, soon after completing her undergraduate degree at Yale-NUS College.
"It feels incredible. Incredible and unreal, at the same time," shared Mollie, who was one of the 129 scholars selected through a rigorous and thorough process.
"I am beyond excited to work on further developing my leadership skills. I want to better understand how I can make use of my leadership skills in order to empower and inspire other people to join in an effort, and how I can keep working on cultivating my leadership skills throughout the rest of my life, both in a professional and personal setting."
While she did not originally plan to pursue postgraduate education immediately after graduating from Yale-NUS, Mollie was elated to discover the Schwarzman Scholars programme which "ticked every box" on her wishlist for a master's degree.
A fully funded, year-long master's programme founded by Blackstone Co-Founder, Mr Stephen A Schwarzman, the Schwarzman Scholars programme is designed to meet the challenges of the 21st century and beyond. Enrolled scholars will live on the state-of-the-art Schwarzman College at Tsinghua University for a year of immersion in an international community of thinkers, innovators and senior leaders in business, politics and society. The programme aims to give Schwarzman Scholars the chance to develop their leadership skills and professional networks while pursuing a degree in Public Policy, Economics and Business, or International Studies.
The selective admissions process includes a round of interviews with a distinguished group of interviewers, including Jared Cohen, Founder and President of Jigsaw, Alphabet Inc.; David Petraeus, Former Director of the CIA; Brian Mulroney, Former Prime Minister of Canada; Jeremy Wright, Attorney General for England and Wales; Shelly Lazarus, Chairman Emeritus of Ogilvy & Mather; Rona Fairhead, Chairman of the BBC Trust; Cathy Engelbert, CEO of Deloitte; Lionel Barber, Editor of the Financial Times; among many others.
Dr Trisha Craig, Yale-NUS College's Dean of International and Professional Experience said: "We are thrilled that the Schwarzman Scholars programme has selected a member of our first graduating class for admission. Like those who become Schwarzman scholars, Yale-NUS students are internationally-minded, adaptable and engaged. We expect the very talented members of our inaugural cohort, such as Mollie, to be leading global voices in their chosen fields in years to come. The Schwarzman Scholarship, by providing intellectual rigour, extraordinary real world experiences and deep mentoring, offers students an incredible opportunity as they forge that path."
Mollie, who hails from Sweden, is currently majoring in Global Affairs at Yale-NUS, and will be studying International Studies at Tsinghua University.
"Mollie's drive, her commitment to leadership, and her academic intellect make for an interesting combination of talent," commented Dr Nancy Gleason, Senior Lecturer of Social Sciences and Acting Head of Studies for the Global Affairs major.
In 2015, Dr Gleason guided Mollie on an Independent Reading and Research module, investigating female roles in al-Qa'ida affiliates – for which she was awarded the Emirates NBD Middle East Essay Prize.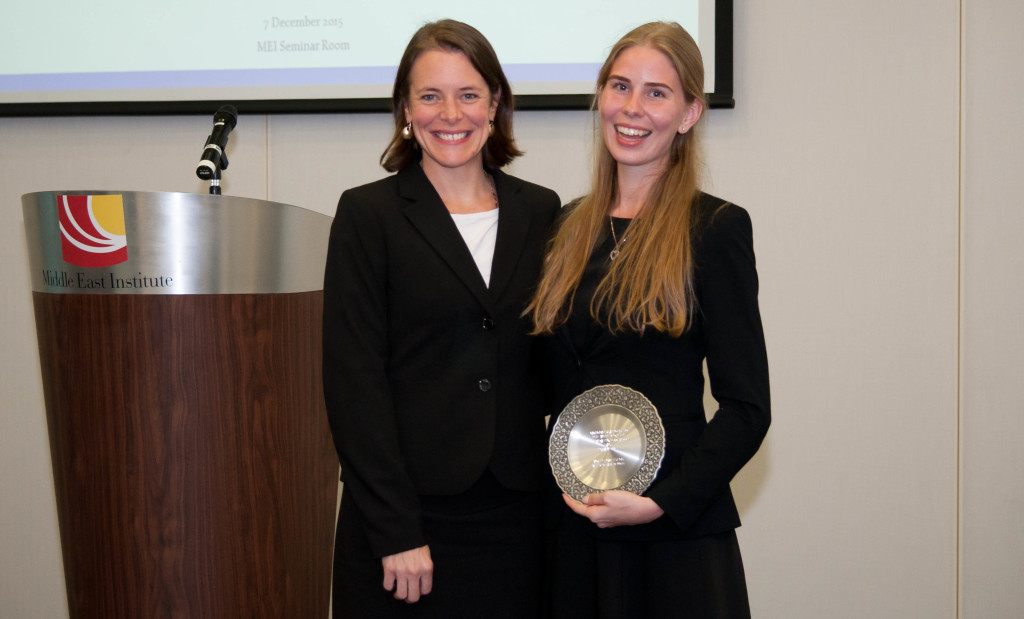 Dr Nancy Gleason (left) with Mollie Saltskog (right) at the Emirates NBD Middle East Essay Prize ceremony. Image provided by the Middle East Institute
It was during her time at Yale-NUS College that Mollie realised she was interested to work on transnational issues and challenges on a global scale.
Assistant Professor of Social Sciences Chin-Hao Huang, who taught Mollie in the Chinese Foreign Policy module last semester, has observed her "astute passion for her research", having mastered and applied theoretical concepts into her research and tested them for their logical consistency with empirical observations in the ongoing conflicts in Syria and the Middle East.
"Over [the past semester], I have come to be impressed with her inquisitiveness, her eagerness to learn and explore new theories and ideas, and her willingness to challenge her own and others' assumptions and preconceptions," said Dr Huang, who describes Mollie's research as "theoretically important and also of policy relevance".
"In short, Mollie has enormous promise and I have no doubt she will be a successful scholar in the Schwarzman programme and for years to come," he said.
During her upcoming final semester at Yale-NUS, Mollie will focus on completing her capstone project, which seeks to evaluate Jabhat al-Nusra's operational capabilities post-al-Qa'ida affiliation.
"Studying Global Affairs at Yale-NUS College in Singapore is a unique opportunity to prepare for the discontinuities of our changing world while being at the main crossroads of Asia," explained Dr Gleason. "We have developed a curriculum that teaches students to problem-solve, applying interdisciplinary tools from across the social sciences amongst an exceptional international body of students."
As part of the inaugural batch of Yale-NUS students, Mollie says her time at Yale-NUS has been "transformative".
"First, to live and learn in a global environment has broadened my perspectives and changed how I view the world. Second, pursuing a liberal arts education, which is not commonplace in Sweden, made me discover what I am truly passionate about. Third, being part of the inaugural class and helping to build a new community of learning has allowed both my entrepreneurial spirit and leadership skills to flourish," Mollie explained.
She added: "Being a Schwarzman Scholar feels like the next natural step for me."
Visit http://schwarzmanscholars.org to find our more about Schwarzman Scholars.