By Jeannie Tay | Image by Wayne Xu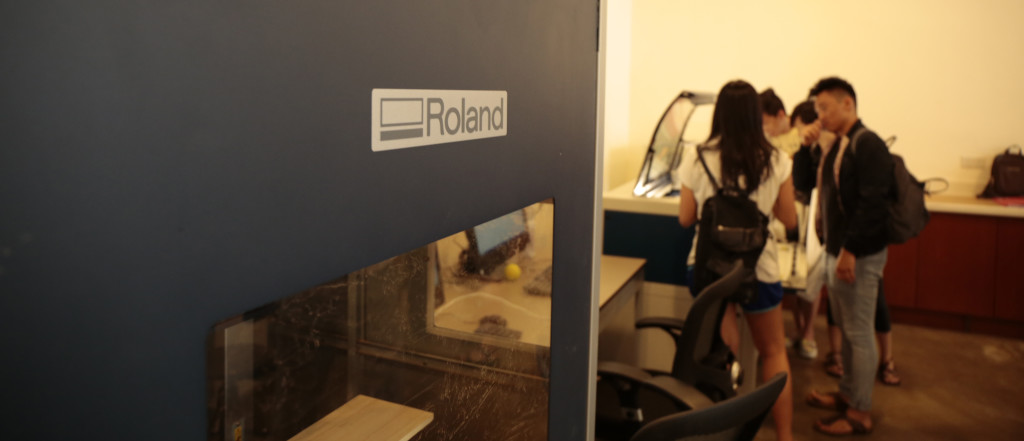 A new 'maker space' for creativity, design, invention and entrepreneurship was launched last month at Yale-NUS College.
The Fabrication Studio, or more fondly known as the 'Fab Lab', is a space for students who want to do some tinkering for course projects, or explore technological pursuits outside the classroom.
The Fabrication Studio is equipped with state-of-the-art fabrication tools such as a computer numerical controlled (CNC) mill, laser-cutter, 3-D printers and sewing machines. It also has soldering and electronics stations, and a 'Thinking Space' for students to hang-out and discuss as they work on their projects.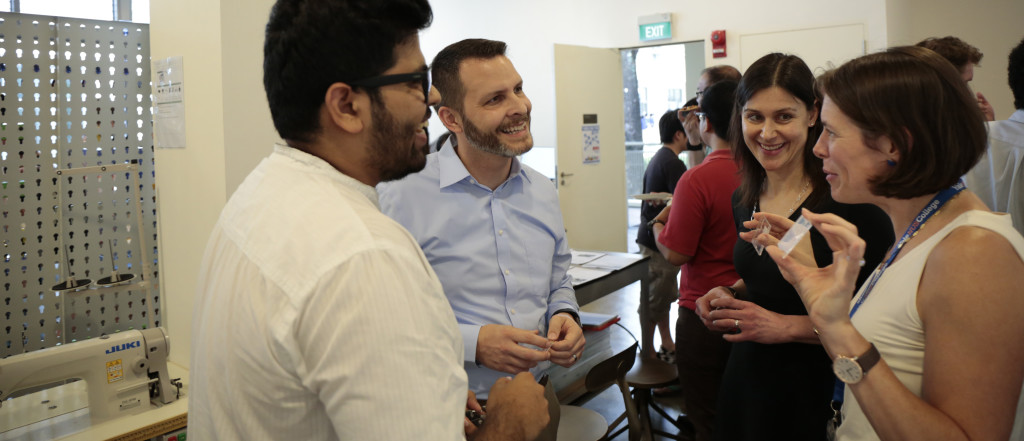 At an open house event organised by the College's Educational Resources and Technology (ERT) department, the Yale-NUS Community had the opportunity to check out the new Fab Lab, and see demonstrations of what the space has to offer.
"Maker spaces are becoming increasingly integral to the learning experiences of students – from school students to college students, and we hope that this new space can help to promote a 'Maker Culture' within Yale-NUS," says Mr Gurjeet Singh, Associate Director, Arts & Media, from the College's ERT team.
This maker space has proven popular with faculty and students. For this semester, the Fab Lab was the learning space for an animation course and students use the animation stations to work on their projects. The space also has gone further to aid the creation of props and publicity materials from the College's Halloween event to the upcoming performance of Qing – a production on the Sook Ching massacre during the Japanese Occupation in Singapore.
Hrishi Olickel (Class of 2018), who is currently working on an independent research project with Dr Jan Gruber, Assistant Professor of Science (Biochemistry), is a regular at the Fab Lab. Hrishi's project aims to study the role of Chaotic Circuits in secure random number generation. Using the studio's equipment, Hrishi is attempting to evaluate whether an artificial source of randomness can provide better quality numbers than cosmic radiation or weather systems.
Passionate about programming and the technology industry, Hrishi is co-founder of a student group called YNC Hacks and he can often be seen hanging out at the Fab Lab to work on his curriculum-related and co-curricular pursuits. The space provides a perfect avenue, well equipped with tools, for him to explore his interests, and study deeper into concepts learnt in class.
"So far, I have been using the Fab Lab as a space for concurrently setting up and executing multiple projects. In my opinion, the Fab Lab has been a great addition to the Entrepreneurship and Maker culture at the college. It lets students learn and use tools that would be out of their reach as individuals, as well as supporting long-term project building," adds Hrishi.
Faculty members like Dr Jan Gruber also welcome the new space, which allow learning to take place beyond the typical classroom. Dr Gruber felt that the Fab Lab is particularly useful in promoting learning as there is usually not enough time within a classroom or a laboratory setting, to allow students to do further exploration on their projects.
"The space is driven by students to develop their ideas. It also allows them to take a concept that they learnt in class and embark on an independent discovery," says Dr Gruber.
The Fab Lab to open to all aspiring 'makers' within the Yale-NUS Community, be it students, faculty or staff, who wish to try their hands at designing or creating objects. The College's ERT department also runs workshops to help interested users learn how to use the machines at the studio. Check out https://arts.yale-nus.edu.sg/events/ to get updates on these workshops.