By Diyanah Kamarudin | Image by Dave Lim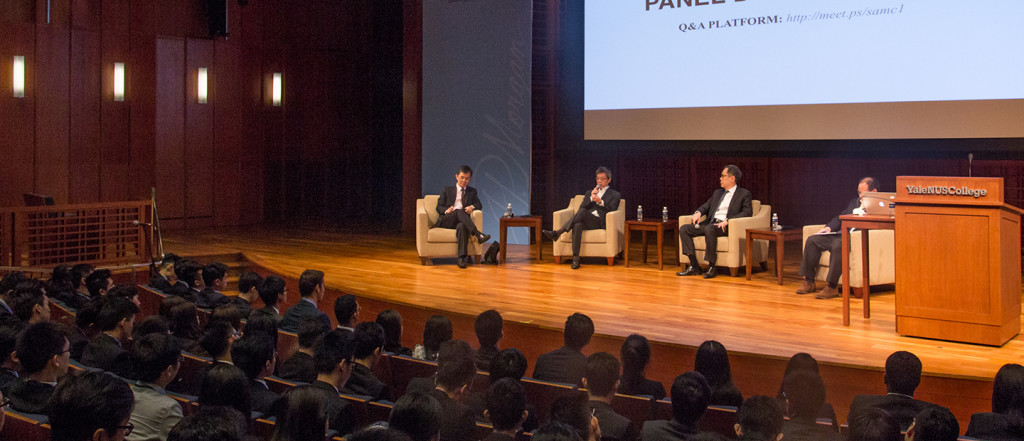 On 22 February 2016, Yale-NUS College hosted the inaugural Singapore Asset Management Conference 2016.
The one-day conference, an initiative by the Yale-NUS Student Investment Group (YNSIG) and sponsored by J.P. Morgan, seeks to expose undergraduates in the Asia-Pacific region to the growing asset management industry in Singapore.
"We picked the asset management industry because of Singapore's position as the Pan-Asian asset management hub," said Gordon Goh (Class of 2018), president of YNSIG, and one of the co-organisers of the conference.
"Prior to SAMC, we had not heard of such a large-scale undergraduate conference on asset management and we thought that this was a gap that we could fill," he added.
For many in the organising team, consisting of a mix of first- and second-years, this conference was the first time they were organising an event on such a large scale.
Keith Ang (Class of 2019), the Head of the Logistics Team for the conference, said, "It was rather nerve-wracking at points when certain vendors were on the verge of reneging on arrangements, but I think that a committed team and meticulous planning go a long way in ensuring the success of an event."
Their hard work and efforts paid off, with around 230 delegates from local public universities, Hong Kong and the United Kingdom.
The conference began with an Opening Address by Mrs Doris Sohmen-Pao, Executive Vice President (Institutional Affairs) of Yale-NUS College. This was followed by a keynote address by Mr Steven Billiet, CEO of J.P. Morgan Asset Management. Mr Billiet gave an enlightening introduction to asset management and growth opportunities in the industry to the delegates present.
Two other keynote addresses were given by Mr Bryan Yeo, Managing Director of GIC Private Limited, and Ms Carolyn Neo, Director and Department Head of the Financial Centre Development Department at the Monetary Authority of Singapore (MAS). The day also saw two panel discussions, the first by portfolio managers, and the second by private bankers on wealth management.
It was a packed schedule for the delegates and organisers ensured that every moment of the conference was a useful learning moment. During lunch, for example, the delegates networked with HR representatives and senior management personnel from seven firms to learn more about internship opportunities or roles within each firm.
The day concluded with a breakout workshop organised by a team from J.P. Morgan. During the workshop, delegates were split into teams to discuss two case studies. Each team then gave a short 3-minute presentation to J.P. Morgan analysts on their chosen asset allocation. At the end of the session, five teams and a number of delegates who performed exceptionally were invited to attend a private dinner with the J.P. Morgan team for their exceptional performance during the workshop.
"I wanted to take the chance to learn about a new field within finance, whilst also supporting my fellow Yale-NUS students in their big venture," said one of the delegates, Rakesh Prabhakaran (Class of 2017) on why he signed up for the conference.
"The dinner was surprisingly fruitful," he added, as one of the delegates selected to attend the dinner. "The senior management present at the dinner were all very receptive to our questions and ideas. There was a good mix of HR representatives and staff from different departments, which helped me learn more about how J.P. Morgan operated their asset management services."
In light of the successful conference and positive feedback garnered from both the participants and sponsors, YNSIG is extremely keen on making the conference an annual event.
"The expectation is definitely that we should run it again," said Gordon.
For this inaugural SAMC, the team secured the support of BNP Paribas, CFA Society Singapore, Franklin Templeton Investments, GIC Private Limited, Securities Investors Association of Singapore (SIAS) and UBS AG.