Written by Clare Isabel Ee | Image from Willie Khoo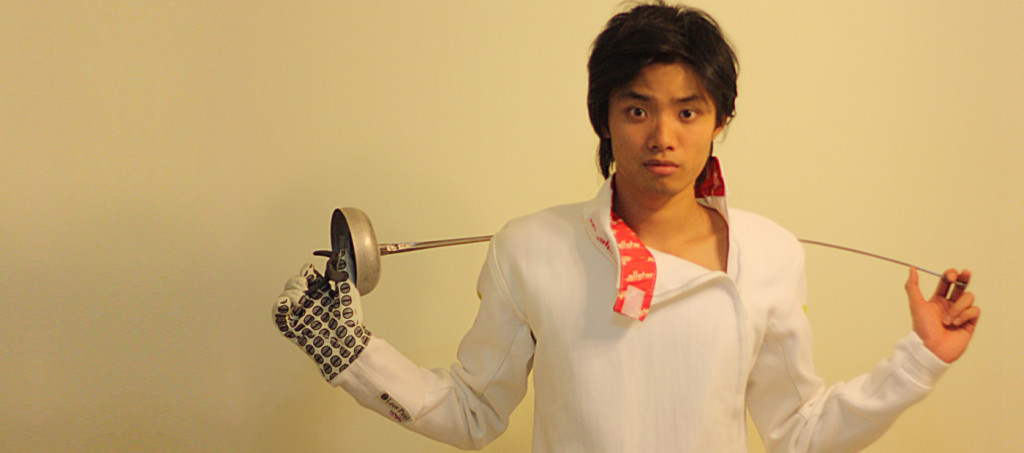 2014 is a significant year for Willie Khoo. Not only will he transition from being a freshman to a sophomore at Yale-NUS College, he is also currently the top fencer in Singapore and is a member of the national fencing team.
"There is nothing quite like the incredible tension, the nervous, boiling energy and screaming adrenalin that comes with competing, especially at an international level," Willie shared. "Fencing for the Singapore team has brought me all over the world, from well-known destinations like Paris, Istanbul, Budapest, Shanghai and Seoul to lesser-frequented ones like Kazan, Jersey, Kuwait, and Wakayama."
He likens fencing to an intricate game of physical chess. A fencer, he said, must rely on a mixture of tactical and technical skills. Good instincts are also irreplaceable in this sport, where split second decisions can be key to defeating an opponent.
In 2007, Willie was first introduced to fencing while learning French in high school, and has continued to train and compete up to a global level since then.
"In fact, I was built for it," the expert fencer said with a smile. "My tall stature gives me the advantage of a longer reach, while my lean frame provides less surface area for opponents to target."
Willie most recently achieved a Bronze during the Southeast Asian Fencing Championships 2014, which placed him at the top of the list of Singaporean fencers.
But his path is not an easy one. As a passionate fencer and enthusiastic university student, there have been times when he has had to choose between fencing and College activities.
"I'm expected to train five times a week in the evenings and each session lasts five hours, including transport time. This instills in me an incredible amount of FOMO [Fear Of Missing Out] because night-time is when all the fun and studying happens [at Yale-NUS]," he said. "Personally, I would like to be more present and involved in Yale-NUS activities and am currently working out a compromise with my coach."
Next year, he is excited to compete in the 2015 Southeast Asian Games that will be held in Singapore, and hopes to clinch a medal.
"This is the first time Singapore is hosting the games since 1993 so I expect it will be a very grand affair with extensive media coverage," he said. "The home-ground advantage will be huge and I would hate to disappoint the supporters."