Written by Clare Isabel Ee | Images by Alyson Adrianne Rozells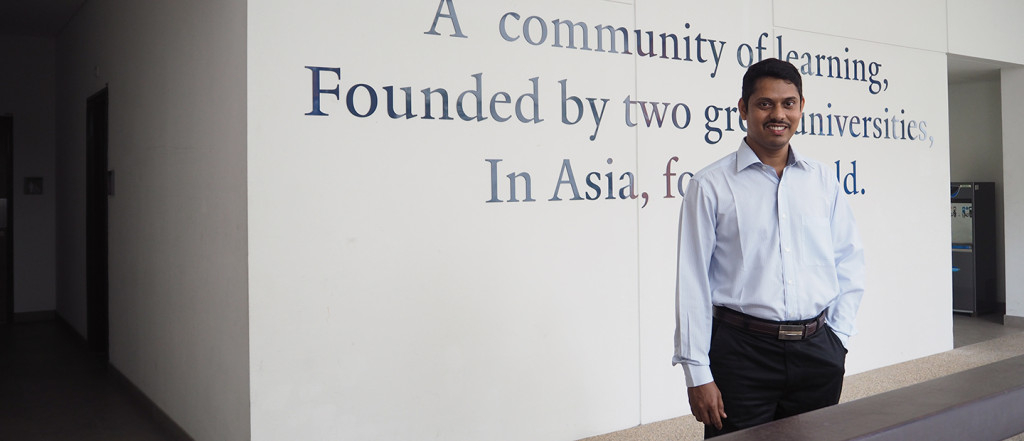 Nearly 12 years ago, Mr Prasanna Mohan came to Singapore to work as a construction worker. As the sole breadwinner of his family back home in Chennai, India, he was ready to work hard and persevere through whatever tough times that could come his way. 12 years on, he retains that work ethos as a specialist associate at Yale-NUS who looks after the maintenance of the College.
At the NUS Excellence Day 2015, Mr Prasanna was recognised for his hard work and dedication with the NUS Quality Service Award – Service Advocate, an annual award that affirms an individual's outstanding service attitude and unqualified commitment to service excellence.
"I'm happy. Really, really happy," said Mr Prasanna with a smile. "My main motivation behind my work is my family: my wife, my daughter, my parents. I always think of them first. I want to do my job properly, because I'm the one supporting them."
Mr Prasanna's vacation time is always spent in Chennai with his wife, Kalaivani, and their three-year-old daughter, Harinee.
At work, he is known for his positive 'can-do' attitude, a quiet and humble demeanour, and a smile on his face.
He explained: "Every day, I do my tasks and whatever else comes my way. I don't want to be the kind of person who says 'This is not my job' and then not do some things. I want to work hard and do things well."
His supervisor, senior manager Mr Eugene Tan, who nominated him for the Quality Service Award, is extremely glad that Mr Prasanna's efforts have been recognised.
"As a supervisor, I'm very proud to have Prasanna in my Facilities team," shared Mr Tan. "I nominated him for one simple reason: he deserves it. He's very hardworking and diligent, and strives for perfection in every task, big or small. He takes pride in his work and I appreciate that immensely."
Mr Prasanna attributes his development at work to Mr Tan, whom he sees as his mentor.
"Eugene has always supported me in my work – he takes time to teach me how to do things properly and well. He's a very good boss and a very nice person. He's always pushing me to do things at a higher standard and helping me to improve my skills and methods of work."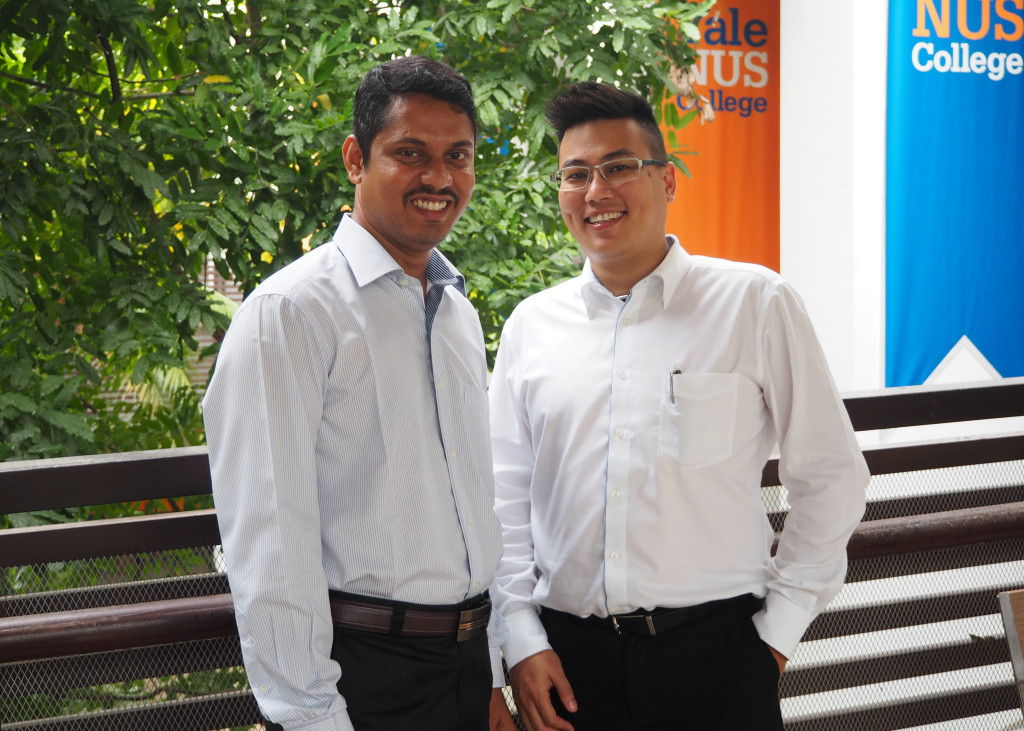 Mr Prasanna Mohan (left) with his mentor and supervisor, Mr Eugene Tan (right)
When he first arrived in the early 2000s, the first company he worked for went bankrupt and he was told to return to India. With his thoughts on the small fortune spent on coming to Singapore, Mr Prasanna instead found a construction job at another company.
"My father told me not to worry about the money, but to keep working hard and not give up," he said. "After I worked for another year, I obtained a National ITE Certificate in Building and Services Technology and then started to work in slightly higher positions. But this job [at Yale-NUS] is the biggest role I've had so far. I never thought I could get a job at a big organisation like this."
This year, Mr Prasanna is anticipating the challenge of moving Yale-NUS from its temporary home, Residential College 4 (RC4), to its permanent campus. But for now, much of his time is spent looking after RC4 while the rest of the community lives, studies and works here.
So the next time you see Mr Prasanna walking down the hallway or solving a maintenance issue in a classroom, remember to give him a handshake and a big 'congratulations'!