By Lim Wei Da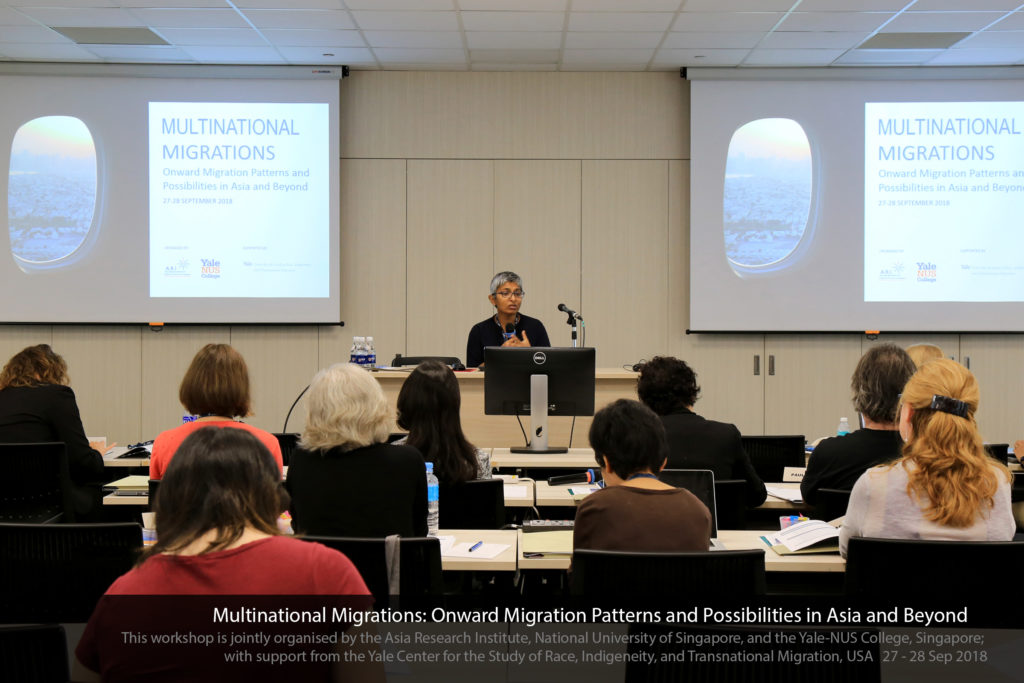 Associate Professor Anju Mary Paul at the workshop. Image provided by Asia Research Institute.
In September, Associate Professor Anju Mary Paul co-organised a workshop that brought together scholars researching patterns of multinational migration across migrant categories and regions, with a focus on journeys that originate, terminate or pass through Asia.
'Multinational Migrations: Onward Migration Patterns and Possibilities in Asia and Beyond' was jointly organised by Yale-NUS College and the Asia Research Institute (ARI) at National University of Singapore (NUS) and co-sponsored by the Yale Center for the Study of Race, Indigeneity, and Transnational Migration (RITM).
"As far as I know, it's the first conference co-sponsored by all three entities," Assoc Prof Paul said. "It's an international conference bringing people from all over – the US, Europe, Australia, various parts of Asia, and even one scholar from South America – to talk about the phenomenon of multinational migrations." 
While she has taken part in many conferences and workshops hosted by ARI, this is the first time that she has assumed the role of an organiser for one.
Assoc Prof Paul said the workshop arose out of an understanding that a single-origin-single-destination model for thinking about international migration is inadequate today. Migration scholarship, she said, must recognise how migrants often travel across multiple countries, sometimes voluntarily and, other times, involuntarily. Her 2017 book Multinational Maids: Stepwise Migration in a Global Labor Market focuses on such migration patterns adopted by Filipino and Indonesian migrant domestic workers.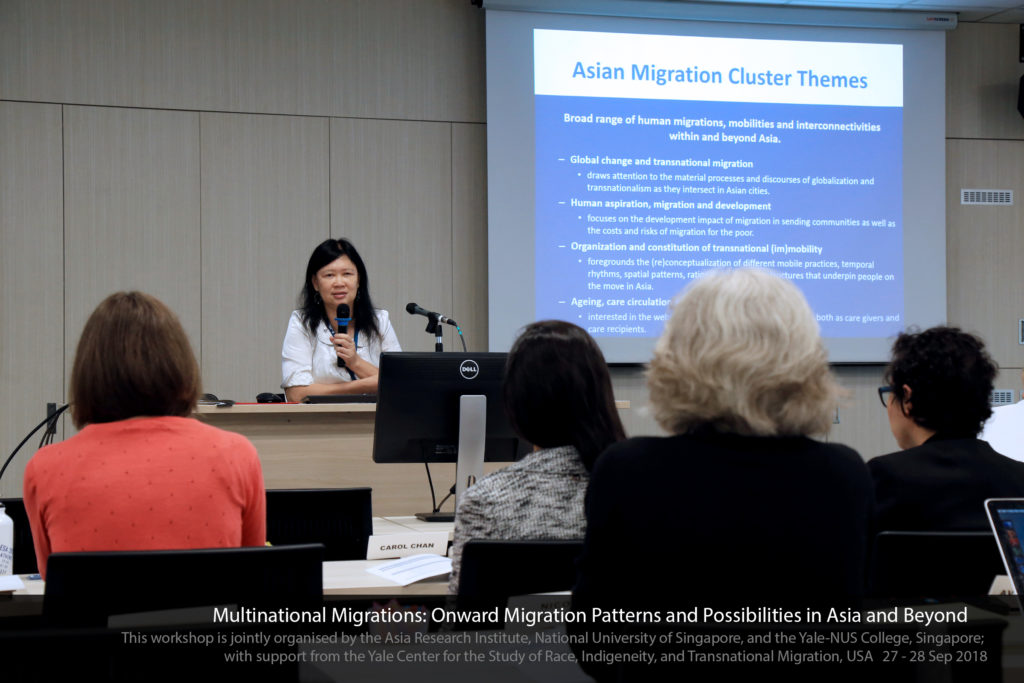 Provost's Chair Professor Brenda Yeoh. Image provided by Asia Research Institute.
"ARI has a migration research cluster led by Provost's Chair Professor Brenda Yeoh. The ARI migration cluster is a world-renowned centre for research on Asian migrations. At Yale-NUS College, we have formed a research group, Race, Ethnicity and Migration (REM), where we workshop book chapters and article drafts, and organize documentary screenings and talks. We also have several faculty in the Humanities and Social Sciences who study different aspects of migration in various world regions and time periods."
The research strengths of faculty at Yale-NUS and NUS nicely complement the research foci of Yale faculty, Assoc Prof Paul said.
The two-day workshop allowed for the sharing of ongoing research on different categories of onward migration that have been observed around the world, as well as in-depth discussion about the consequences of these emergent migration patterns for the individual migrants, and their sending, intermediate and receiving communities.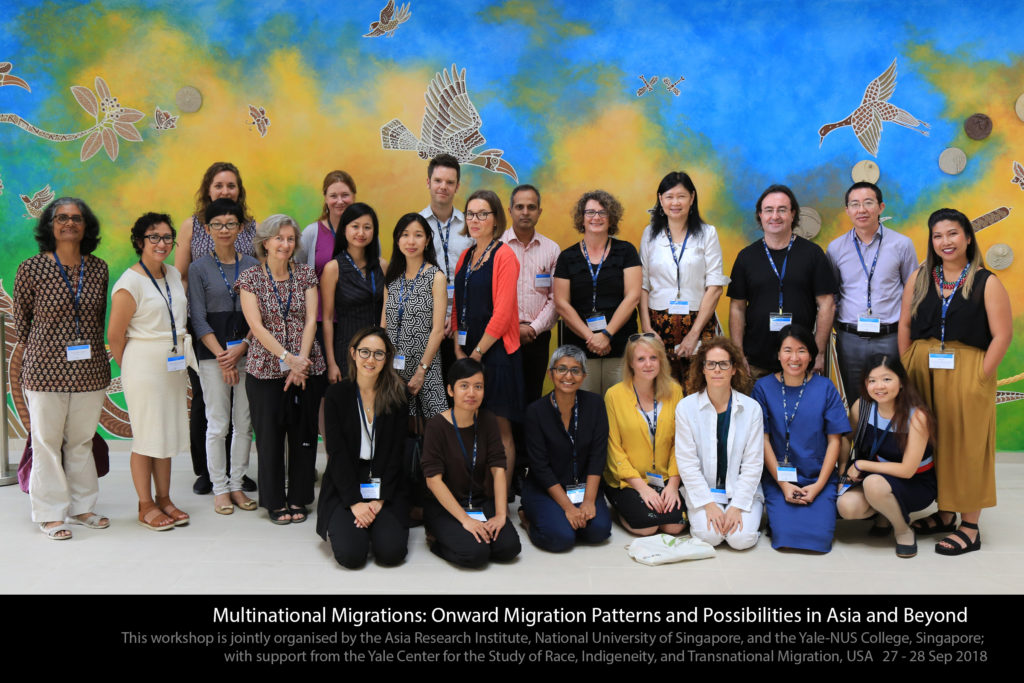 Image provided by Asia Research Institute.
Six panels over two days covered different categories of migrants who have been observed engaging in multinational migrations (including healthcare workers, domestic workers, students and academics) and also drilled down into related themes and topics, including the transnational structures that enable multinational migrations to occur, and the role of aspirations, hopes, and emotions in the adoption of such migration patterns.
Dr Carol Chan, a Singaporean postdoctoral fellow at the Interdisciplinary Programme for Migration Studies at Universidad Alberto Hurtado in Chile presented a paper exploring the multinational mobility and citizenship practices of ethnic Chinese who moved to Chile after having lived in one or more Latin American countries.
Another researcher, Professor Gracia Liu-Farrer from the Graduate School of Asia-Pacific Studies, Waseda University, Japan, presented her paper, which focused on interviews with skilled migrants in Japan and Germany who have experienced multiple mobilities. She examined their narratives about their choices of destinations, decisions to move and to stay, and future orientations.
Assoc Prof Paul said she hopes to make such co-sponsored conferences a regular occurrence and to host Yale migration scholars in Singapore in the future.
She will also be working with Professor Yeoh to publish papers from the workshop in special issues of academic journals.