By Wen Kin Lim | Images provided by Google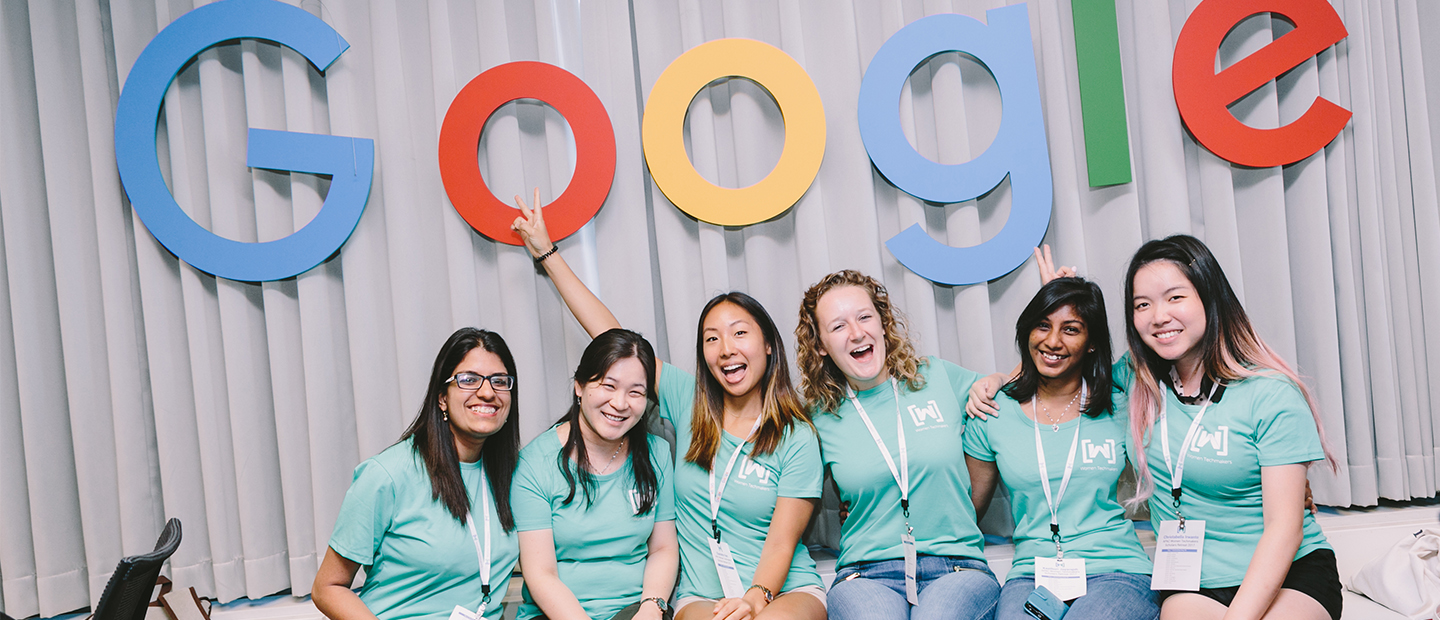 Chandler Beyer (fourth from left) pictured together with other scholars of the Google Women Techmakers Scholarship
In July 2017, Chandler Beyer (Class of 2020) was awarded the prestigious Google Women Techmakers Scholarship. Selected from amongst a strong pool of applicants in the Asia Pacific region, the scholarship provides Chandler with networking opportunities to a global community of women in technology. She also received a cash award and an exclusive invitation to a week-long Women Techmakers Scholars' Retreat at the Google office in Seoul, South Korea.
The scholarship aims to promote greater gender equality in the field of computer science by encouraging young women to excel in computing and technology and become active leaders in their field. University students, from various degree programmes, were selected based on their impact to diversity, academic background and leadership ability.
A rising sophomore at Yale-NUS, Chandler intends to major in Mathematical, Computational and Statistical Sciences (MCS), with a focus on Computer Science. She first became interested in technology when she participated in and explored different pathways of computer science in a seven-week programme organised by American multinational telecommunications giant AT&T.
Chandler, along with the scholars from the Asia Pacific region, attended a four-day retreat in Seoul where she had the opportunity to meet other international scholars and Google employees (or popularly known as Googlers) and participate in coding workshops.
Chandler shared, "My favourite part of the retreat was definitely getting to meet all of the other scholars from around the world. I was so blown away by their talent and genuine passion!"
A typical day of the retreat involved panel discussions from former scholars about their achievements, information sessions on Google's programmes and projects, table tennis games with Googlers and coding workshops. During meal breaks, she happily indulged in traditional Korean cuisine with her new friends.
"This scholarship has opened many doors for me, which I thought was never possible! I have never felt so honoured and humbled to share an experience with such a gifted group of young women," shared Chandler.
Initially, Chandler was nervous about applying for the scholarship, as she would be 'competing' against older and more experienced students, including some who were doing their PhDs. "In the end, I decided to apply and it actually turned out that a lot of the other scholars told me they had the same fear in applying themselves," Chandler shared. "I think this is important to highlight because young women tend to doubt themselves and their skills more often than not. I hope to lead by example and show other young women that they can do whatever they aim to do! I also hope that this scholarship and the programme will help me further share the importance of gender diversity in not only the technology industry, but in all industries"
Chandler is also a co-founder of the Women in Business student organisation on campus, which encourages greater representation of women in the technology, finance and entrepreneurship fields through industry exposure and professional development. They will be hosting the 'Women in Tech' conference that would take place on 1 November 2017. This event will explore how modern technology shapes our world, the importance of information technology in the 21st century and wrestling with gender inequality in this industry.