By Diyanah Kamarudin | Images as credited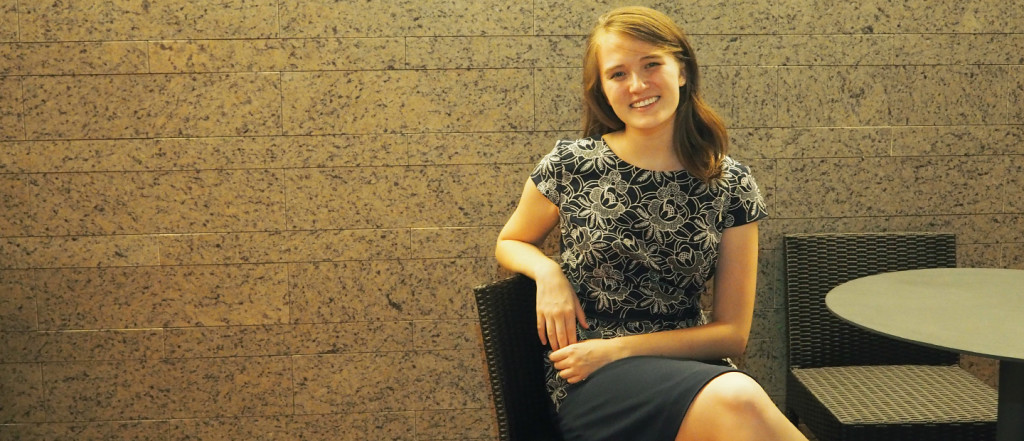 Image by Alyson Rozells
While most of her peers were moving on to study in American universities, Angela Ferguson (Class of 2018) decided to take a leap of faith and pursue higher education in Singapore instead at Yale-NUS College.
Her essay on her experience, titled 'The death of comfortable education', recently clinched first place in the university category of the International New York Times (INYT) Writing Competition. Angela's essay was published in the INYT Asia-Pacific print edition, and she received a glass plaque and an Amazon gift card for her win.
The annual contest, which began in 2009 in Hong Kong, encourages students to engage in global affairs issues by reading the newspaper daily. This year's topic was on "Global Education".
Angela, who is currently doing an internship locally at a communications firm, sat down with us to tell us more about her experience winning the competition.
What inspired you to write about your experience moving from suburban Ohio to the bustling city-state of Singapore?
Angela: I think that coming here was definitely the best thing to ever happen to me. My personal journey since coming to Singapore to pursue higher education just so happened to fit that topic of 'Global Education', and [coming here] has opened my eyes in more ways than I can say.
I decided I wanted to share that experience because a lot of people who have moved around a lot or have been exposed to many different cultures would have had similar experiences. The process of learning more about the world and my place in it is something that is not unique to me – many people have experienced that, and I think that I just wanted to voice it out.
What was your initial reaction when you found out that you had won?
Honestly, I was very, very surprised. I feel very lucky because I know that there were many entries from Asia-Pacific in the university category. I also feel thankful to INYT for establishing such platforms for students to express themselves about these kinds of topics.
Have you received any feedback from readers about your essay?
No, I've not. (laughs) But I guess I will say that it's been really incredible to see the school's community response—everyone has been incredibly supportive and I am really grateful for that.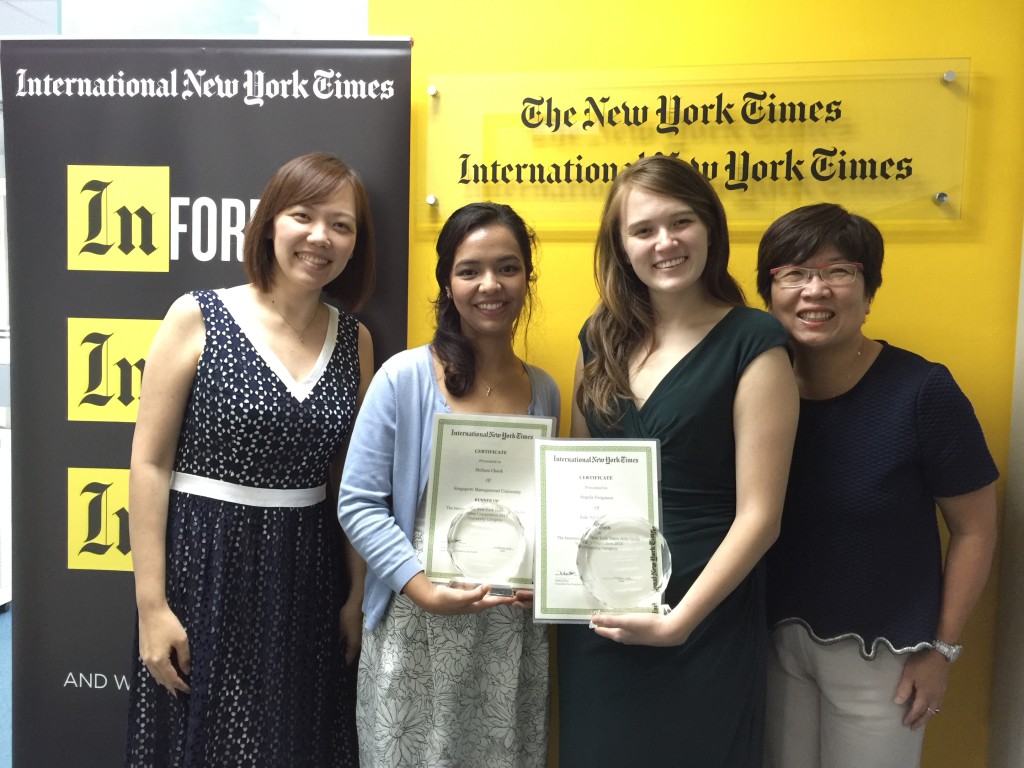 Angela (second from right) receiving her award at the International New York Times office.Image provided by the International New York Times
You have been living in Singapore for close to two years now. What is your favourite part about studying here?
The fact that I can learn even more outside the classroom than I can in it. For example, I recently completed a photography project about the Burmese community in Singapore. I spent every Sunday hanging out at places where Burmese people usually hang out in, talking to them. Just through those experiences— from hanging out at Peninsula Plaza… at the Burmese temple, to going to the Burmese New Year Water Festival—I mean, there was no life-altering revelation, but these experiences just opened my eyes to how different people live and I think that is very valuable in itself.
What do you hope to do after graduation?
I will be working in Singapore because I am under the government tuition bond, so I will be here for three years after graduation. As for my career path, I am not too sure, but becoming a journalist has been a dream of mine for a while.
The death of comfortable education was also republished in the Singapore newspaper TODAY.