By Daryl Yang
To support outstanding students in pursuing their dreams with passion and contributing back to society, the Sharon Ann Eravelly Scholarship was established in memory of the late Sharon Ann Eravelly – or "Shaz" as she was affectionately known.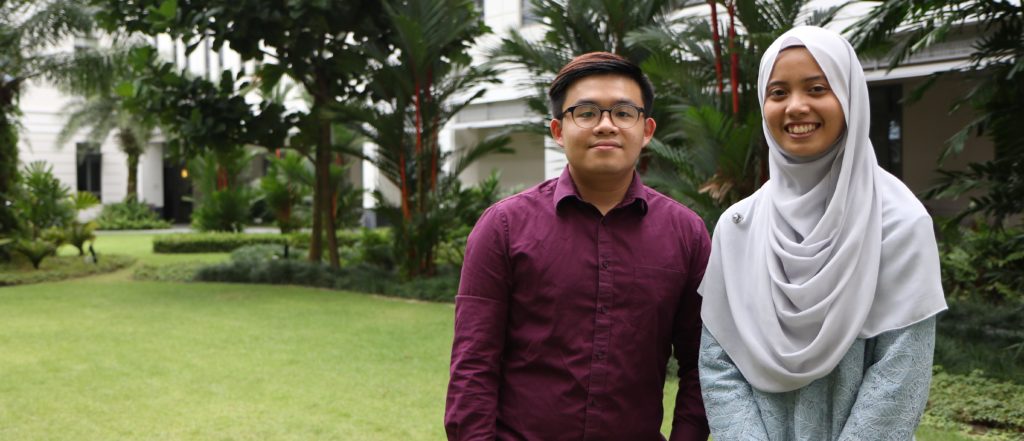 Loo Zhao Xuan and Nabilah Binte Abdul Rahman. Image by Lynn Ee for Yale-NUS College.
Shaun Lim (Class of 2018) recently graduated from Yale-NUS College and was a recipient of the scholarship. He will be embarking on a doctorate programme at Sanford Burnham Prebys Medical Discovery Institute's Graduate School of Biomedical Sciences in San Diego, California.
"I will always be grateful for the Yale-NUS education that I have received. The scholarship has not only enabled this, but has also saved me from having to repay any loans upon graduation. This will prove extremely valuable in the next stage of my career as I can focus on my graduate school research without any financial worries."
A life sciences major with a strong interest in theatre, Shaun was able to explore both areas of interest during his time at Yale-NUS. One the highlights of his college life was being able to conduct biological research in a research associate position under Assistant Professor of Science (Biochemistry) Jan Gruber.
"I will truly cherish working in Asst Prof Gruber's lab, where he provided invaluable mentorship and supervision that guided me to further my interests in ageing and ageing mechanisms," he reflected.
"My time at Yale-NUS has trained me to think broadly, be curious about everything and not be confined to any one field of interest," he added. "At Yale-NUS, I have been able to hone my interests in biology and I'm also grateful to have been introduced to new interests such as theatre."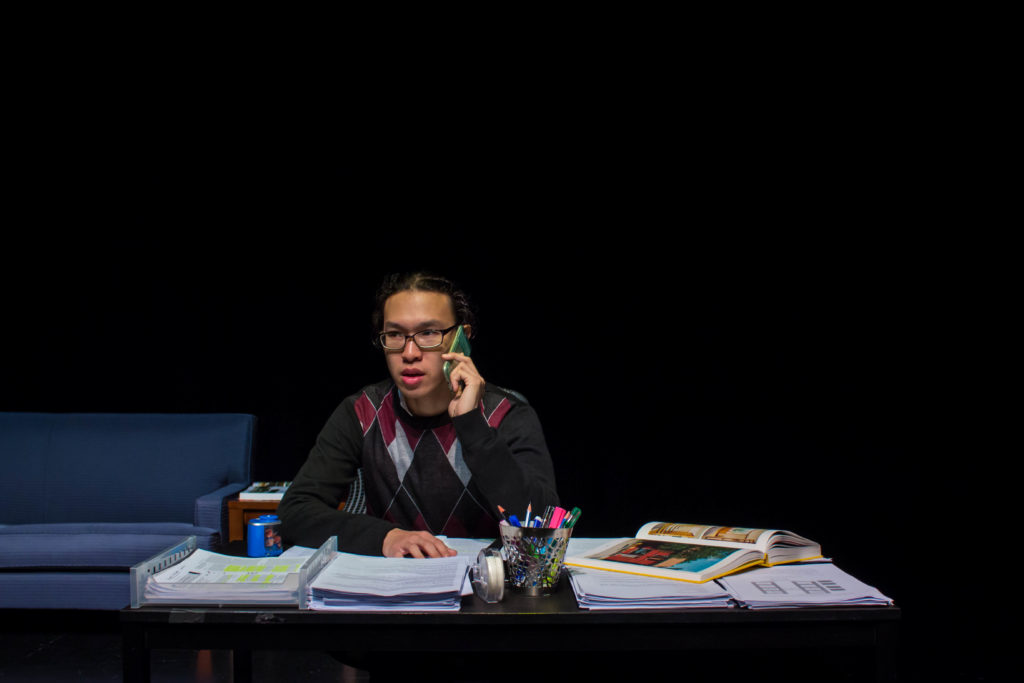 Shaun performed in Oleanna, a theatre workshop showcase held at the Black Box Theatre in April this year. Image provided by Shaun Lim.
Outside of the classroom, Shaun has been involved in the Yale-NUS performing arts scene, being involved in productions such as 4.48 Psychosis, The Iliad, Boom and Mergers and Accusations. He was also part of Patchwork, an a cappella group at the College.
Another recipient of the scholarship is Loo Zhao Xuan (Class of 2021), who hails from Malaysia.
On how the scholarship has helped him pursue his education, Zhao Xuan shared that he "wouldn't be able to attend Yale-NUS College without this scholarship".
"I've always been interested in exploring a broad-based education that allows me to explore different academic disciplines and cultivate critical thinking skills, and Yale-NUS is the perfect place to do so," he added.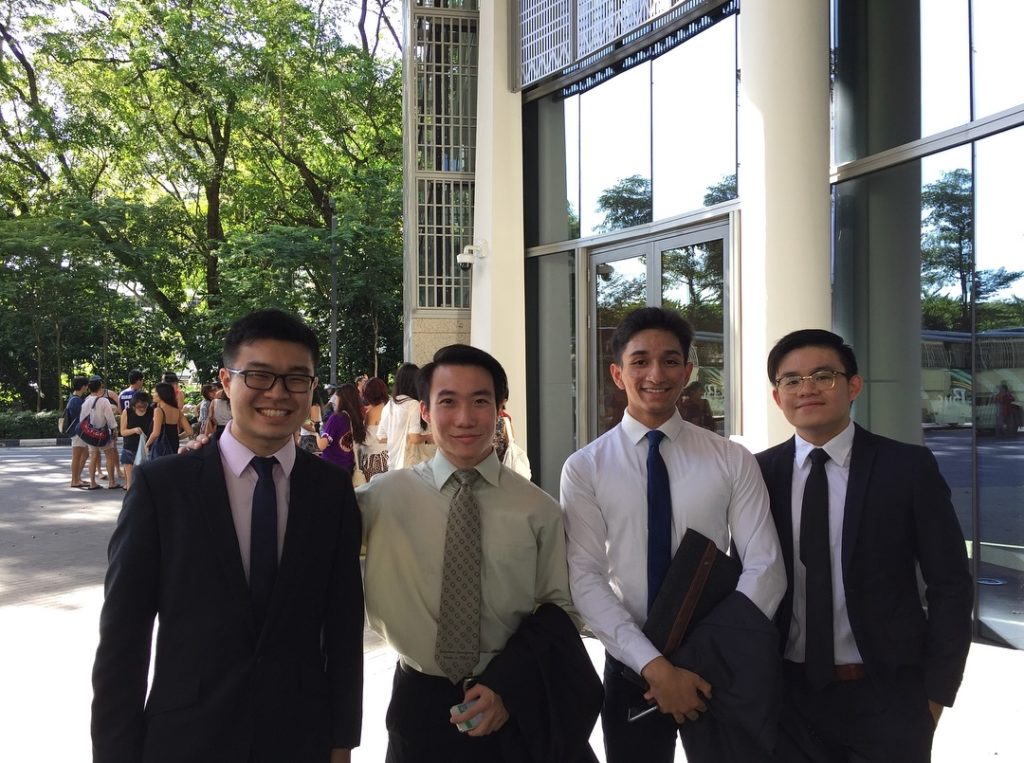 Zhao Xuan (first from right) co-organised the Singapore Asset Management Conference – an undergraduate asset and wealth management conference – for 250 people. Image provided by Loo Zhao Xuan.
Over the summer, Zhao Xuan pursued an internship at RSM Argentina in Buenos Aires, where he was exposed to the rich cultures of Latin America.
RSM is the seventh largest audit and accounting firm in Argentina and part of the global network of RSM International, one of the world's leading audit, tax and advisory networks of independently owned and managed professional services firms.
"This experience piqued my interest in the rich history of the region, which is something that I hope to further explore in college," he shared.
Meanwhile, first year student Nabilah Binte Abdul Rahman (Class of 2022), who received the scholarship at the beginning of this academic year, also expressed her gratitude for this act of philanthropy.
"I'm truly grateful to be a recipient of this scholarship, especially since it was set up in memory of such a remarkable and inspiring social changemaker, Ms Sharon Ann Eravelly," Nabilah said, having learnt about Ms Eravelly when she was awarded the scholarship.
"With this privilege of not having to worry about the cost of tuition, I am determined to follow in her footsteps and be just as bold and passionate in effecting positive change in my community."
Nabilah shared that she hopes to contribute towards fostering a culture of giving in the College. She has since joined I'dECO, Yale-NUS' environmental sustainability movement, and is additionally interested in being part of ComPact, a community service group, this semester.
"Since successfully carrying out an independent fundraiser with a group of friends for the victims of the Syrian conflict, I wholeheartedly believe in the power of individuals to come together and make a difference," she added.
On why she decided to join Yale-NUS, Nabilah explained that the College offered her a solution to a long-standing dilemma.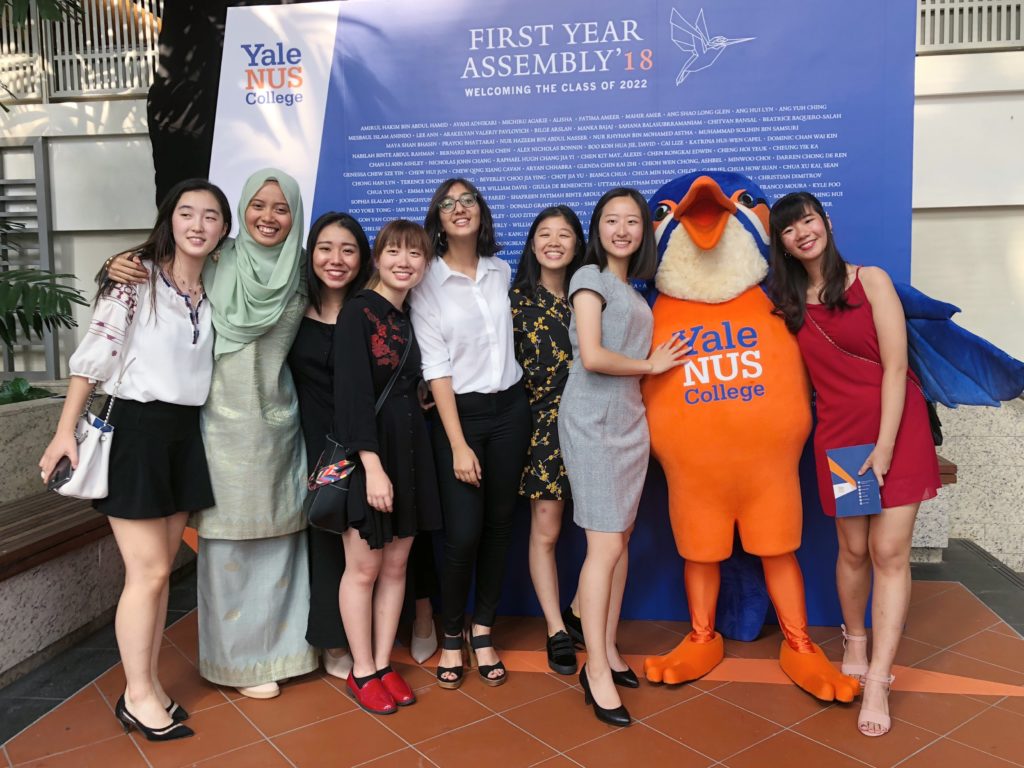 Nabilah (second from left) poses for a photo with her classmates at First Year Assembly. Image provided by Nabilah Binte Abdul Rahman.
"As a young teen, I had always struggled with the dilemma of choosing between the humanities and the sciences as well as deciding on a singular career path. While I deeply enjoy the sciences, I also have artistic inclinations and a strong appreciation for the humanities, which makes it almost impossible to settle on a course in either discipline. Yale-NUS offers exactly what I have been looking for and I am eager to dive into both the arts and the sciences through the Common Curriculum," she noted.
Like Nabilah, Zhao Xuan also plans to give back to the community to support those who struggle to finance their higher education.
"Back in Malaysia, I had many outstanding friends who struggled to finance their higher education and thus were unable to attend university. However, I was fortunate enough to receive funding to attend Yale-NUS through the scholarship. My journey with the College gave me a first-hand encounter of inequality, and this is something that I hope I can do something about," Zhao Xuan reflected.
"In college, I'm trying to meet and learn from as many social entrepreneurs, changemakers and venture capitalists as possible as I hope to someday combine social impact and finance to address these issues."
As a newly minted alumnus, Shaun similarly shared that he likewise hopes to give back to the community.
"I hope pay it forward in the form of advising and monetary donations to help future Yale-NUS students have the same opportunities to grow both personally and academically while they pursue their education," he said.