By Dodi Yap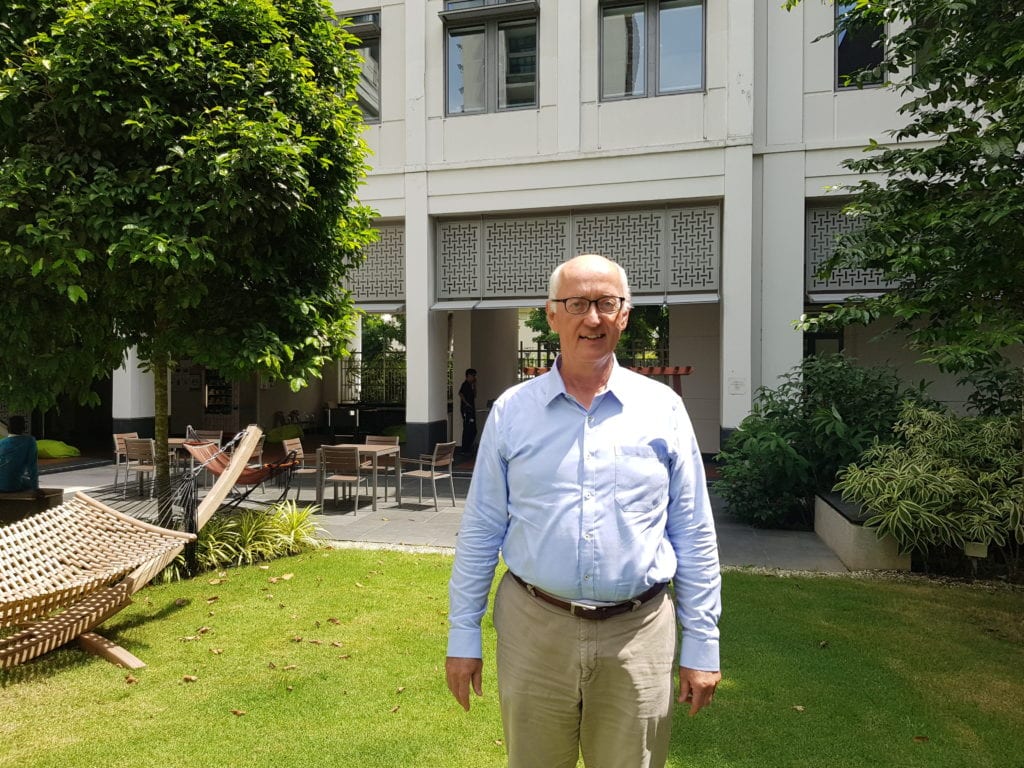 Professor of Science (Chemistry) Steven Bernasek, the new rector of Cendana College. Image by Dodi Yap for Yale-NUS College.
As part of their living and learning experience, all students in Yale-NUS College live on campus in one of three residential colleges (RCs), in which they stay for all four years of their undergraduate studies. Each RC is helmed by a rector, who is responsible for forging the social, cultural, and intellectual life and character of the RC, and plans activities and events to support this.
Beginning Academic Year (AY) 2019/2020, Professor of Science (Chemistry) Steven Bernasek will take over from Associate Professor of Science (Life Sciences) Neil Clarke as the rector of Cendana College, one of the three RCs alongside Saga College and Elm College. Prof Bernasek will be Cendana's third rector.
"It's a mix of many emotions having to leave my role as a rector, but this is the best time and opportunity for me to step down and re-direct my focus on research", said Assoc Prof Clarke.
Assoc Prof Clarke assumed the role of  Cendana's second rector in 2016. After three years of service, he will be taking a year-long sabbatical to do research in Vancouver, Canada in AY 2019/2020.
During his time as rector, Assoc Prof Clarke has earned the goodwill of students, residents, and his colleagues at Cendana College.
"He's a very spontaneous, supportive, jovial and participative rector. He listens and contributes his feedback and suggestion to our college and never turns students or staff down. His focus always lies in the well-being of Cendana. I will miss every moment of my time working with him," said Assistant Manager of Cendana College Office, Maggie Keng.
"I will miss Cendana and its residents, but I believe Cendana is in very good hands with Professor Bernasek succeeding as rector," said Assoc Prof Clarke.
When asked if he had any advice for Rector Bernasek, Assoc Prof Clarke added, "There are many different ways to be a rector. Just do your own thing and don't worry about what other people have done."
Rector Bernasek is excited to become the new rector of Cendana.
"As a Faculty Fellow of Rockefeller residential college at Princeton University, where I worked for many years before joining Yale-NUS, I had the opportunity to advise first- and second-year students on academic matters and participated in an active Faculty Fellows programme. I am strongly supportive of the residential aspect of our College, and I look forward to live on campus with the students and be more directly involved in residential life at Cendana," he said.
Prior to joining Yale-NUS, Rector Bernasek was a Professor of Chemistry at Princeton University. He received his undergraduate degree from Kansas State University and his PhD from the University of California, Berkeley. An experimental physical chemist, Rector Bernasek's research interests are in the areas of surface chemistry, heterogenous catalysis and self-assembly at surfaces and interfaces.
Rector Bernasek is the 2006 recipient of the Arthur W. Adamson ACS Award for Distinguished Service in the Advancement of Surface Chemistry and is also a fellow of the American Vacuum Society. He joined Yale-NUS in July 2015 after retiring from Princeton University as a Professor of Chemistry Emeritus.
At Yale-NUS, Rector Bernasek has served as the Director of the Science Division, Dean of Faculty, and Executive Vice President (Academic Affairs). He currently holds a joint appointment at National University of Singapore (NUS) and Yale-NUS, and teaches General Chemistry, Physical Chemistry and Statistical Thermodynamics at Yale-NUS.
As rector, he will sponsor educational programming events, invite guests for Rector's Teas (events at which external guests are invited to speak on a certain topic), host study breaks, and offer programmes to enhance students' intellectual and cultural experience.
"I would like to start by hearing what students and residents have to say about their living experience at Cendana, and I would love to do it over a meal in the dining hall. I would also like to participate in Cendana College Council meetings to gather feedback," he said.
In addition, Rector Bernasek is keen to involve faculty, some of whom live in the various RCs as residential fellows, in his upcoming plans for Cendana.
"I believe faculty play a big role in shaping residential life. I will want to meet with the residential fellows and faculty affiliated with Cendana to develop the residential fellows programme. I would also like to have a vibrant series of visitors presenting seminars and Rector's Teas, and I have already started reaching out to friends and colleagues on this matter. I also enjoy music performances, and would want to share that with the students of Cendana."
Besides music performances, Rector Bernasek greatly enjoys taking long walks at West Coast Park and the Southern Ridges. He enjoys reading almost about anything, has a private pilot's license, and – along with many Singaporeans – views the curry fish head as one of his favourite dishes in Singapore.
Students can also look forward to exciting new activities from Elm and Saga Colleges in the new academic year. In addition to Saga College's usual lineup of fun residential programmes, such as Chai and Cookies (regular study breaks involving tea and snacks), students can look forward to a new activity, 'Movies Under the Stars' – screenings of movies on an outdoor canvas in the cosy Saga Courtyard.
In the upcoming academic year, Elm College will also be running a series of 'Liberal Arts and the Environment' talks on Fridays. These will feature Elm faculty members from various disciplines who will share aspects of their work, and how it relates to the environment, with the wider Yale-NUS community.