By Wisha Jamal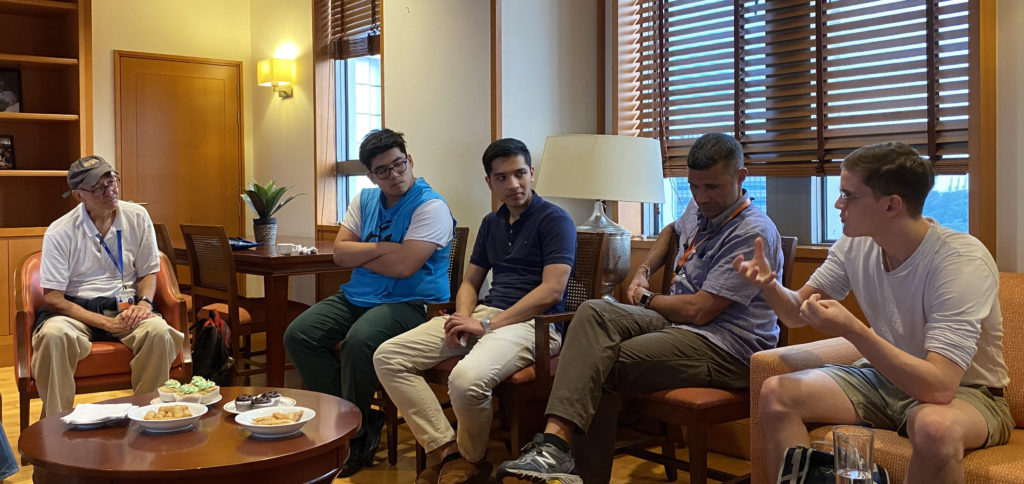 Visiting faculty member Bob Reiss talks to students about his experience in journalism. Image provided by Jenika Kaul. 
At Yale-NUS College, students who are interested in journalism can develop relevant skills, build networks and learn more about the media industry through the Journalism Pathway, a programme by the Centre for International & Professional Experience (CIPE). The Pathway offers specialised workshops, events and other opportunities to help students gain insights and skillsets relevant to the media sector.
Ms Jenika Kaul, a Senior Programme Manager at CIPE who oversees the Journalism Pathway said, "There is a thriving community of people with an interest in journalism on our campus, across student organisations, departments, and majors. The Journalism Pathway seeks to bring together these existing resources under the same roof to develop, and share programming and opportunities."
According to Ms Kaul, the Pathway focuses on three goals: developing technical and narrative skills; building professional and networking skills; and considering the role of journalism in society. CIPE facilitates these goals through a range of activities such as events that focus on story pitching, multimedia journalism etc, internships in communications, Learning Across Boundaries (LAB) ("China's Rise and the Future of ASEAN Summer" led by journalist Vincent Ni in 2019) and the Summer Writing Fellowship.
Over the past semester, CIPE organised several events related to journalism to cater to the increasing interest in this field among Yale-NUS students. The events  covered a wide range of topics; from 'How to Write a Successful Op-Ed' led by Dr José Torreblanca, the former Op-Ed editor at El Pais to 'The Perils of Being First: Pitching Big Stories Before They're Big Stories' by visiting faculty member and journalist Bob Reiss who shared his personal experience in the industry.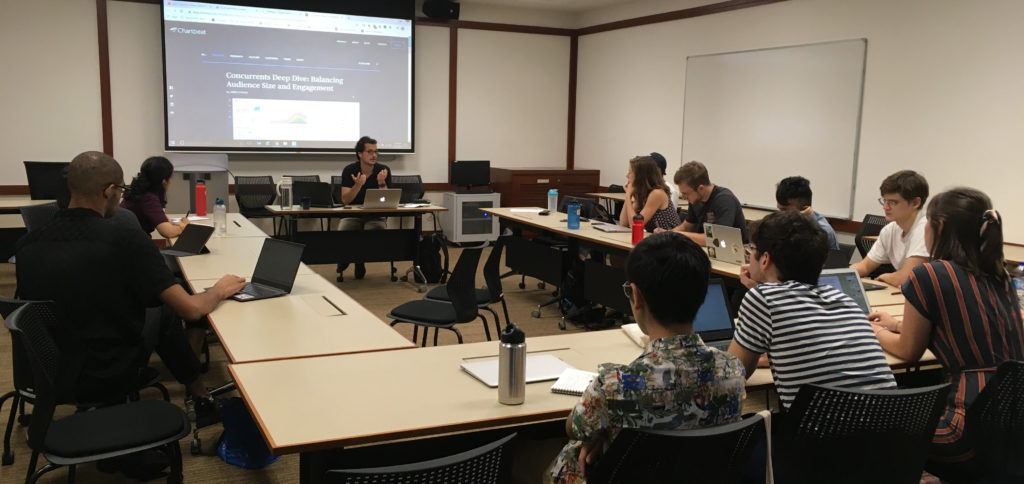 Dr José Torreblanca, former Op-Ed editor of El Pais, leads a workshop on Op-Ed writing. Image provided by Jenika Kaul. 
Besides hosting events on writing and networking, CIPE also co-organised a 'Fireside Chat on Financial Journalism' with student group Yale-NUS Women in Business. Held via video conferencing due to COVID-19 restrictions, the event featured speakers Ms Joyce Koh, Singapore Bureau Chief of Bloomberg and Ms Liza Lin, a reporter at The Wall Street Journal, and provided an opportunity for students to learn about this specialised field of journalism and to network with the journalists.
Chitvan Bansal (Class of 2022), a student associate for the Journalism Pathway said, "Through this event I was able to combine two personal interests – my involvement as the President of the Yale-NUS Women in Business, as well as my Student Associate role in the Journalism Pathway – to organise a talk on financial media and journalism."
She added, "Because of the Pathway, I also benefited from learning about the spectrum of journalism and its changing nature from the vantage point of different journalism practitioners; such as multimedia journalists, financial journalists, and editors."
The Pathway has also benefited from contributions from other members in the Yale-NUS community such as The Writers' Centre and Mr Tom Benner, a journalist and board member of the Asian American Journalists Association. According to Ms Kaul, partnerships between CIPE and other interested organisations at Yale-NUS "are key to the development of the Journalism Pathway".
Although some events had to be postponed due to the COVID-19 restrictions, the Journalism Pathway team hopes to move forward with them in the upcoming semester. Chitvan shared that there are plans to organise more skills-based events (including a portfolio-building workshop) and sessions with alumni who are now journalists.
Besides the CIPE Journalism Pathway, students can also explore their interest in the field through modules like A Reporters Toolbox: The Practice of Daily Journalism or by writing for student-run publications on campus, like The Octant.