By Daryl Yang | Images by Weave for Yale-NUS College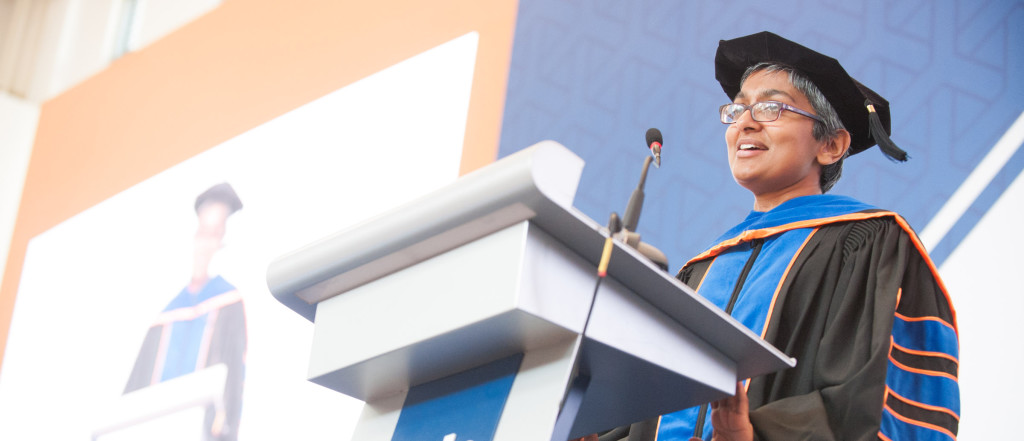 On 5 August 2016, Assistant Professor of Social Sciences (Sociology and Public Policy) Anju Paul was the first faculty member to be nominated by the Orientation Committee to address the matriculating Class of 2020 at the First Year Assembly, an annual event held on campus as a ceremonial welcome for new students.
Dr Paul is an international migration scholar with a research focus on migration to, from, and within Asia. She graduated from the University of Michigan in 2012 with a joint PhD in Sociology and Public Policy.
When asked why the Orientation Committee had decided to nominate Dr Paul, Dominic Choa (Class of 2018) explained, "We chose the theme of "Full House" for Orientation this year, because it was the first time that Yale-NUS College was at full capacity. When it came to thinking of who could best represent that at the First Year Assembly, we could not think of a better person to represent how Yale-NUS College means home to us than Dr Paul."
When she found out that she had been nominated, the well-loved professor wanted to use the opportunity to get the Class of 2020 excited about being here and embarking on their journey in college.
"I was incredibly honoured to be nominated to speak to the Class of 2020, especially because this batch was finally going to complete our college. I wanted to focus on what it meant to be in a living and learning community like Yale-NUS and how unique we are as a college. There truly is nothing quite like Yale-NUS in the whole world."
"For me, the college vision is something I hold very dear and I wanted to break it down for these new members of our community. Why learning as a verb? Why a community? What does it mean to be founded by two great universities? As I thought about it that way, it came very organically to me that I should end with asking the students to repeat it as a pledge," Dr Paul explained.
She was referring to the vision that was crafted at the inception of the College:
A community of learning,
Founded by two great universities,
In Asia, for the World.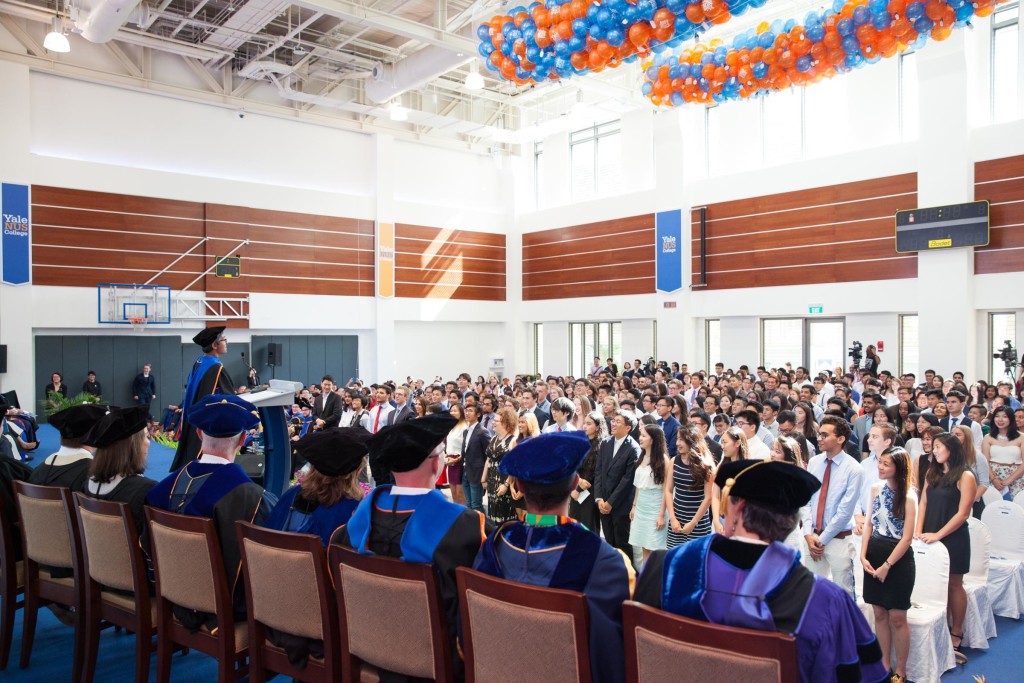 Dr Paul gets the Class of 2020 on their feet to recite the College vision as a pledge.
"We are not Yale in Asia, and we are not NUS-lite. We are Yale-NUS and we are more than comfortable in our liberal-arts-college-in-Singapore skin. In fact, we relish being different. Not better (necessarily), but certainly one-of-a-kind. In our difference and diversity, we find freedom and richness. In our intimacy, we find the opportunity to learn from one another," Dr Paul remarked in her speech.
What Dr Paul shared resonated strongly with both students and staff, with many coming up to her after she spoke to share how much what she said had meant to them.
"People emailed me to ask for the transcript of my speech because they wanted to keep it for themselves to read again. This wasn't a speech that I had written just for the Class of 2020, but also the whole community to remind ourselves after our short but hectic past three years as a college."
One reason that led Dr Paul to join Yale-NUS College was the location. Singapore is almost a second home to Dr Paul who had spent some years here attending Victoria Junior College before studying at the National University of Singapore and then working at Singapore Airlines on a scholarship.
"I have many connections with Singapore, as well as many friends and happy memories. When I heard about the recruitment for the inaugural faculty, I was very excited to join the College to be a part of this project."
"One reason why I wanted to join Yale-NUS was also because I would have loved if there was such a college in Singapore back when I was studying here. I wanted to be a part of the project to bring liberal arts to Singapore. The fact that my husband also got the job as Vice Rector made it an even easier decision to make," she shared. Dr Paul is married to the Vice Rector Eduardo Lage-Otero of Saga College, and together, they play an important role in the residential living component of students at Yale-NUS.
She added: "I was very excited to have my family spend time in Asia and immerse themselves in its culture, as well as introduce that side of their heritage to our children. Neither my husband nor our children have lived in Asia, and only ever visited India once before we moved to Singapore."
Having previously completed her PhD research on the migration patterns of Filipino migrant workers in Singapore, Dr Paul has since expanded her research focus now to focus on other national groups such as Indonesian domestic workers. She has also been working on a new book, Multinational Maids, which will be published next year, and will be embarking on a new project examining the migration patterns of Asian scientists and the impact on the scientific community in Asia.