By Meddley Bourdeau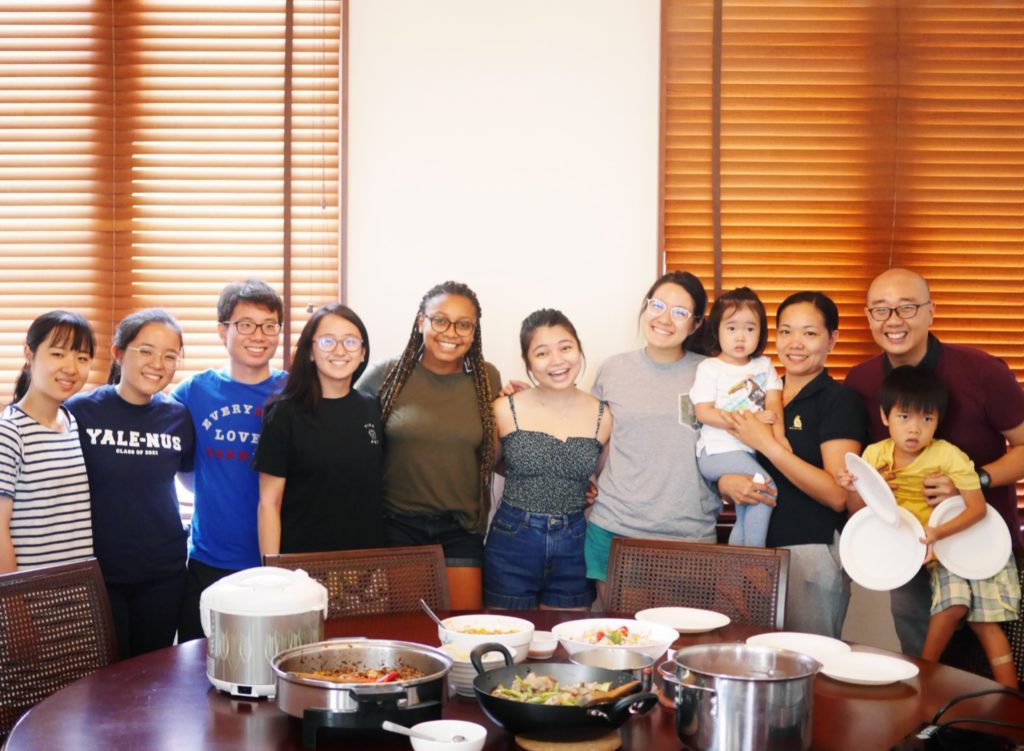 Image provided by Yasmin Ortiga.
From carefully curated museum trips to fine dining etiquette sessions, residential faculty at Yale-NUS College are creative with the manner in which they engage students beyond the classroom.
The residential faculty programme at Yale-NUS College adds to the experiential learning experience for students. Residential faculty are those who live on campus, many of whom organise programmes to enrich the residential life of students.
Whether it is through connecting with industry professionals over a home-cooked meal or discussing striking aspects of a film, these programmes inspire students to create and interact with both faculty and their peers beyond the classroom, encourage them to immerse themselves in the rich medley of cultures in the region, and provide them with spaces where they can ideate, de-stress, and create.
In Saga Residential College, Associate Professor of Science (Physics) Shaffique Adam and his wife Ms Munira Hyder host the Simmering Supper Series, in which students and faculty work together to prepare entire menus from scratch and invite guests of interest.. They then host a dinner party to network with guests such as ambassadors, lawyers, and scientists.
Assoc Prof Adam and Ms Hyder stress student ownership over the event: students plan the menu and serve as hosts for the evening. They are careful to have the menu reflect the diverse diets and cuisines of those attending, leading to interesting culinary fusions. For instance, at their Thanksgiving Simmering Supper last year, they served turkey rendang (a local dish made of spiced, slow-cooked meat) with seasoning paste prepared by a student from scratch. From preparation to hosting, students are empowered to take control of the event in addition to honing soft skills such as networking.
In Cendana Residential College, Assistant Professor of Social Sciences (Environmental Studies) Marvin Montefrio and his family host the Cendana Culinaria series, a space for participants to come together and learn to cook various cuisines from one another. Their first instalment was in February 2019, when Asst Prof Montefrio and a dozen students worked together to prepare dishes from the Philippines.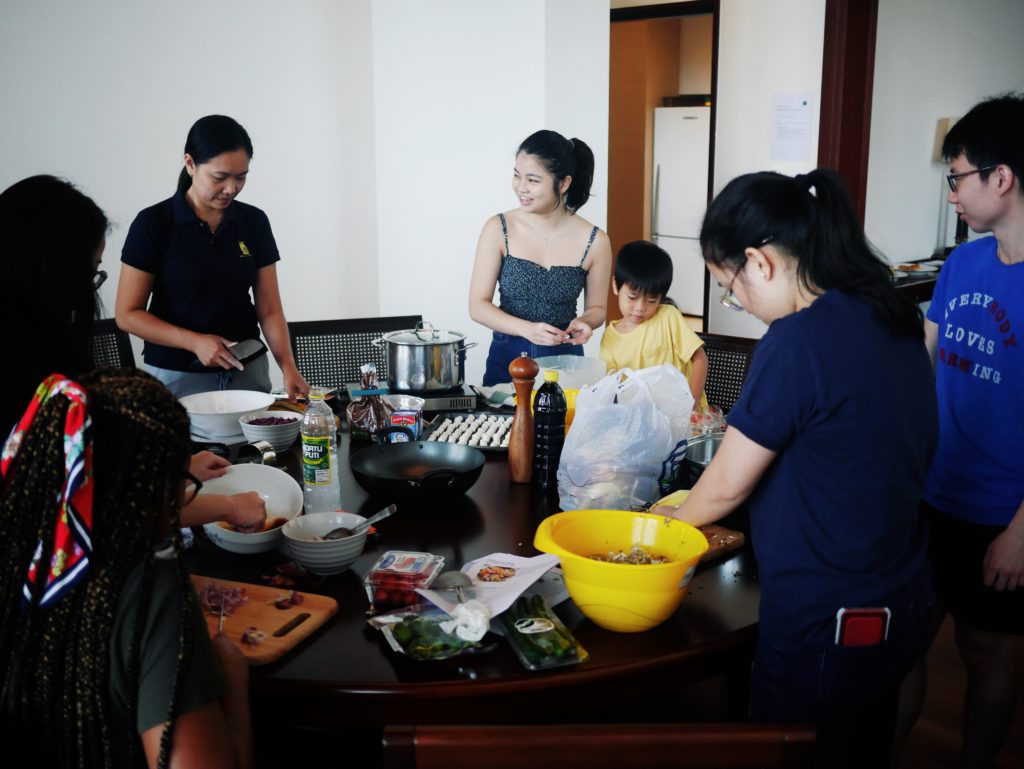 Image provided by Asst Prof Marvin Montefrio.
He said: "The event is an opportunity for members of the college to come together and explore not-so-familiar dishes from culinary traditions that are uncommon here in Singapore. It is all about sharing stories, memories, recipes, culinary blunders, 'aha' moments, and, of course, good food. I like the idea of learning about food as co-exploration. Thus, this event does not rely on culinary professionals teaching us how to cook. Instead, anyone can share, learn and experiment with others."
Asst Prof Montefrio hopes to host the second instalment in the next few months, which will hopefully feature Burmese cuisine.
Food is one way to bring people together, but there is also art.  Across the Colleges, Residential Faculty take students on curated trips to local museums.  In Elm Residential College, Assistant Professors Mao Shaoling and Heidi Stalla have up to host a movie night series, in which Asst Prof Stalla shows films connected to the classes she teaches, often adaptations, historical dramas, or documentaries.
In the past, they have screened different versions of 'Mrs. Dalloway', 'Orlando' and local film '667'. After each screening, students are encouraged to free-write about the most striking aspect of the films, which unfolds into a sharing session leading to interesting conversations. Asst Prof Stalla emphasises the significance of the movie nights' salon-type setting in providing a casual space for intellectual interactions.
These distinctive residential programmes at Yale-NUS open up the worlds of both faculty and students alike. They allow individuals to interact with each other outside of formal classroom settings, demonstrating how living and learning can intertwine in a meaningful way.