By Yip Jie Ying
If you attended the recently concluded The Future of Our Pasts Festival organised by Yale-NUS College to commemorate the Singapore Bicentennial, you may have noticed First Storeys, a theatrical installation that examines the historical trajectory of housing in Singapore, with a focus on the resettlement during the 1950s to the 1990s. The interactive installation is the brainchild of Sean Cham (Class of 2019), a recipient of the Yale-NUS Global Leader Scholarship.
No stranger to the local arts scene, Sean has been making waves with his projects, which highlight various aspects of Singapore's history as well as social issues. A versatile artist, his works span a wide range of mediums, from art installations to photography series and even theatrical performances. For him, First Storeys represents the culmination of two years of hard work in a bid to tell stories that people were able to relate to.
"First Storeys could have taken any other form, but because I was trying to humanise the actors, it was important for me to put a person to it," Sean said. This careful consideration allowed attendees a glimpse into the human side of Singapore's housing development history beyond textbooks and historical documents.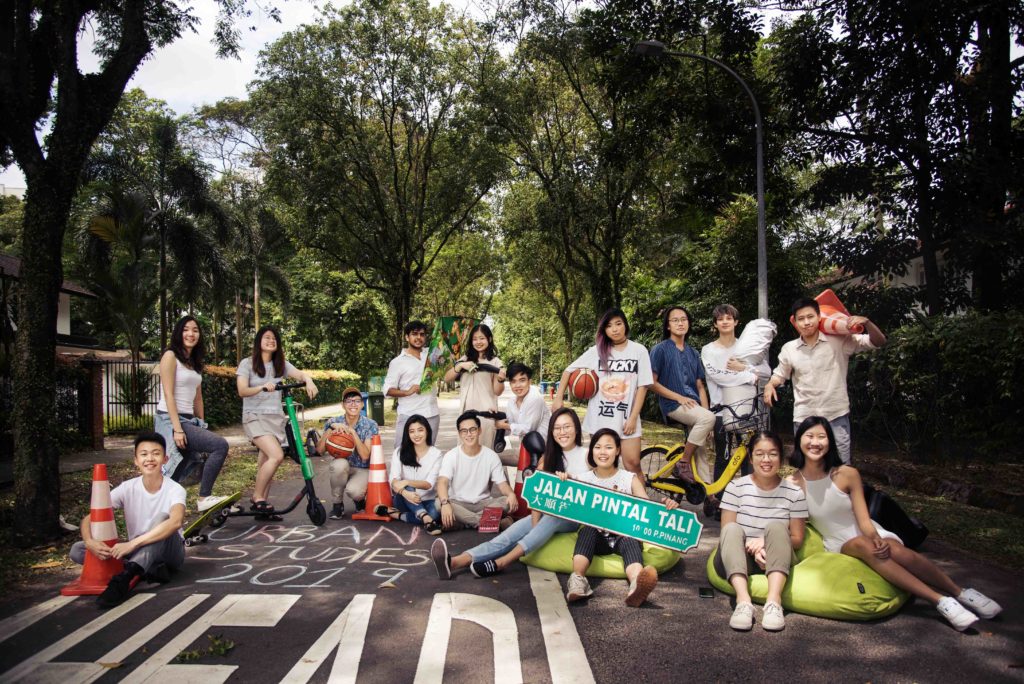 Sean (seated, first from left) with other graduating students from the Urban Studies major. Photo provided by Sean Cham.
Sean has also explored other social issues, such as migrant workers' rights, through his work. His photography series, a satirical documentation of construction sites in Singapore titled This is Where, was a featured highlight of the M1 Singapore Fringe Festival 2019. A senior majoring in Urban Studies, he is currently working on his capstone project, which focuses on site-specific arts in Singapore, and he hopes to explore the topic of the underground city for one of his future works.
Looking back, Sean is thankful for the experiences that he has had at Yale-NUS, many of which were enabled by the Global Leader Scholarship. "Receiving the scholarship provided me with opportunities outside of my own means and freed up time for me to pursue my passions without needing to work," he said. He also shared that having entered the College with a one-track frame of mind, his biggest takeaway is the ability to be open to other perspectives and to "examine similar topics from different angles". This, he explained, provides more nuance to the work he does, as opposed to surface-level exploration.
Another recipient of the scholarship, Jannell Job (Class of 2021), has also been able to pursue her own passions – psychology and law – at the College. After receiving her diploma in Psychology Studies from Temasek Polytechnic, she enrolled in the Double Degree Programme (DDP) in Law and Liberal Arts, which is jointly offered by Yale-NUS and the National University of Singapore (NUS) Faculty of Law, a move she believes would enable her to further her passion for research while exploring her interest in the law.
Giving back through volunteerism and community service has been a hallmark of Jannell's college life thus far. Last semester, she joined ComPact – a Yale-NUS student organisation that aims to make community service opportunities easily available to the College community – where she tutored at-risk youths. Inspired by her tutee's diligence and resilience, she has since continued with this project under the I'mpart programme.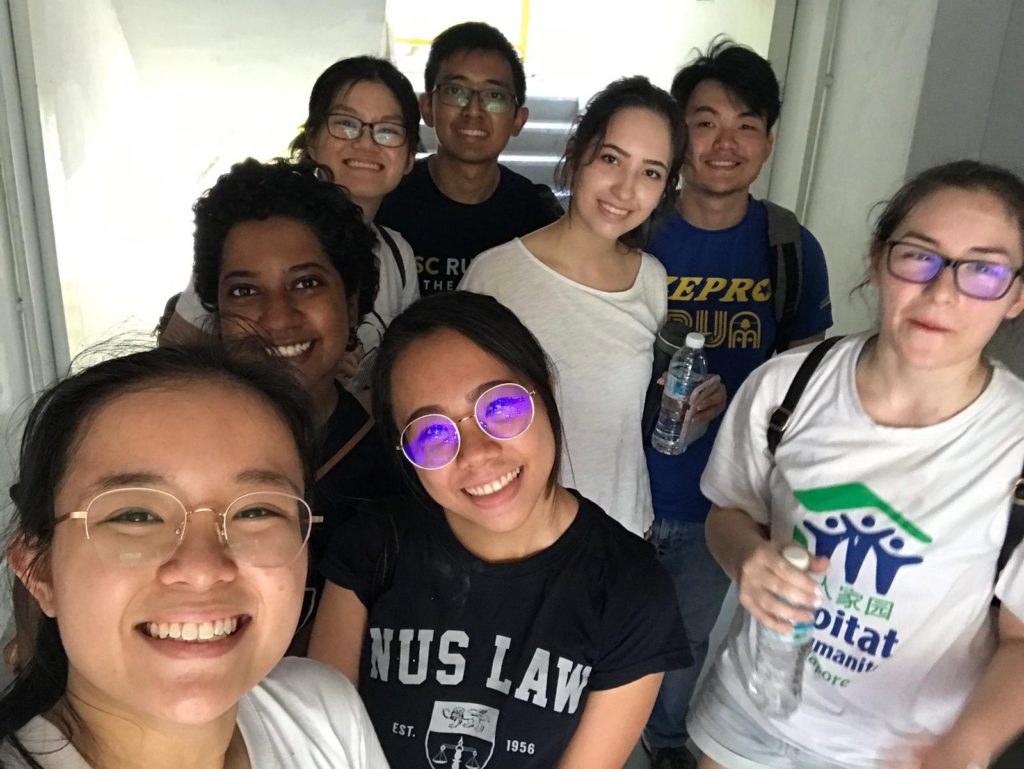 Jannell (second row, first from left) volunteering with the Yale-NUS Habitat for Humanity chapter. Photo provided by Jannell Job.
Aside from tutoring, the compassionate sophomore is also working with the Yale-NUS Habitat for Humanity chapter, where she helps marginalised and vulnerable individuals upkeep their homes, an experience she describes as "eye-opening".
Keen to combine her dual interest in psychology and law with her desire to give back, Jannell hopes to eventually work in an industry that allows her to pursue these passions in the context of community service – such as criminal and family law, where she notes that lawyers serve as support systems, mediators and even listening ears to those whom they provide assistance to.
Like Sean, Jannell is thankful for the scholarship, which has allowed her to attend Yale-NUS by lifting the financial burdens that would otherwise be placed on her family. "I am very grateful for this as not everyone is able to receive a university education even if they are capable of getting one, due to financial constraints or other reasons," she reflected.
Zhala Sarmast (Class of 2022), an Afghan student and the scholarship's newest recipient, echoes Jannell's sentiments on the importance of education its power to change lives. She believes that many problems in her home country, such as gender discrimation, illiteracy and terrorism, stem from a lack of education. Wanting to take a stand against these issues, she joined its Women's National Cycling Team to spread the message of change in spite of the dangers she faced in her community, which frowns on women doing sports. The team's efforts to effect change earned it a nomination for the Nobel Peace Prize in 2016. "These problems negatively represent the Afghan nationality, which is a limitation for me and my fellow Afghans in our quest to pursue our passions and achieve our goals," she shared.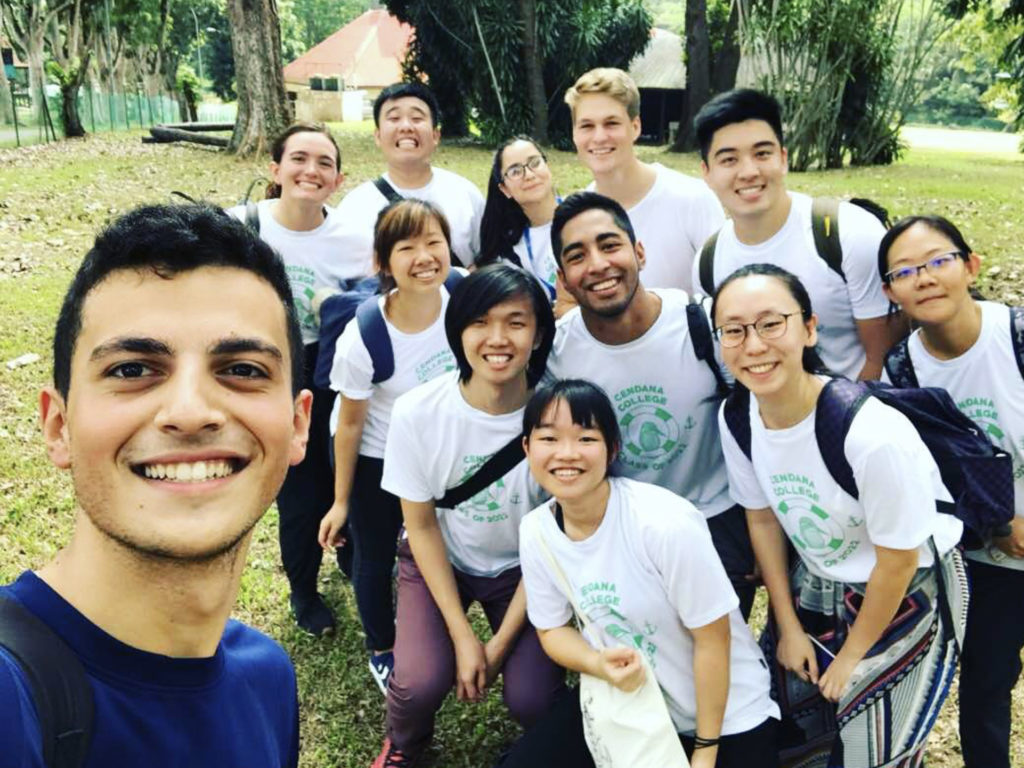 Zhala (back row, second from right, with glasses) takes part in a team-building activity with her Residential College Advisory (RCA) group during orientation. Photo provided by Zhala Sarmast.
Since entering Yale-NUS, Zhala has continued to develop her passion for cycling by joining the Yale-NUS Cycling Club, with which she trains regularly to represent both the College as well as the Afghanistan Women's National Cycling Team in international competitions. She dreams of inspiring girls around the world through sports, and continues to actively champion her message of change in spite of the societal challenges and even physical assaults that she has faced back in her own country.
As a prospective Physical Sciences major, Zhala hopes to encourage an interest in Science, Technology, Engineering and Math (STEM) in her country by eventually building a school that specialises in STEM, which she hopes will provide a "dynamic, challenging and safe learning environment for future generations of Afghans, regardless of gender, ethnicity, religion or socio-economic circumstances".
The positive young athlete views the challenges that she has faced as sources of motivation that keep her going and remains hopeful about the development of her country. "Being nominated for the Nobel Peace Prize reassures me that my work is not a waste of time and positive changes will eventually occur," she said, adding that she is happy to see an increasing number of girls using bikes as transportation in her community.
The four-year, merit-based Yale-NUS Global Leader Scholarship was established by a donor to the College and is awarded to outstanding students upon their admission into Yale-NUS. Since its inception, six Yale-NUS students have received this prestigious award, enabling them to continue developing into future leaders in their respective communities.