Written by Clare Isabel Ee | Images by Woan Lin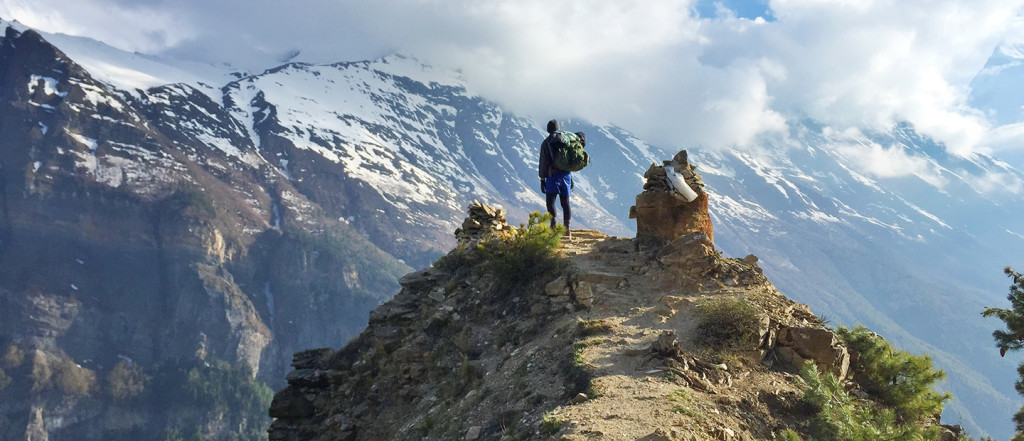 For 44 days, Ami Firdaus (Class of 2017), Jake Goh Si Yuan (Class of 2018) and their friend, Woan Lin, travelled the famous Annapurna Circuit in Nepal over the summer break, and returned to Singapore with beautiful photos, unbelievable stories to tell, and experiences that changed each of their lives.
"One cannot even begin to imagine the sheer beauty of the Annapurnas without having been there," said Ami, "and we surely cannot understand the things we try to learn in the classroom without actually experiencing them wherever they manifest themselves in this world."
The idea for the self-funded trip was birthed in a Philosophy and Political Theory class, a module that is part of the Yale-NUS Common Curriculum. It was the brainchild of Jake, who found himself intrigued by the Buddhist and Hindu philosophies taught by Associate Professor Amber Carpenter, an expert on Indian Buddhist philosophy.
"My friends and I often hold long and hazy discussions about what we have learnt in class, and one topic that arose often was about the self and identity, or the lack of," he explained.
"We decided that talk was only going to get us so far, but what would bring us to a complete understanding was to actually experience it. What better place than Nepal and the Annapurna Circuit to explore about the self and identity within the Buddhist and Hindu context that we were looking for?"
Starting from Bhulbule, the trio trekked to Marpha on foot, and then travelled to Pokhara by bus. On the way to Pokhara, they disembarked and travelled from Tatopani to Beni on foot as they were passing through a landslide area.
Along the way, they met and befriended a number of Nepali people and fellow travellers, walked through villages, climbed mountains, and looked out at the breathtaking mountain ranges.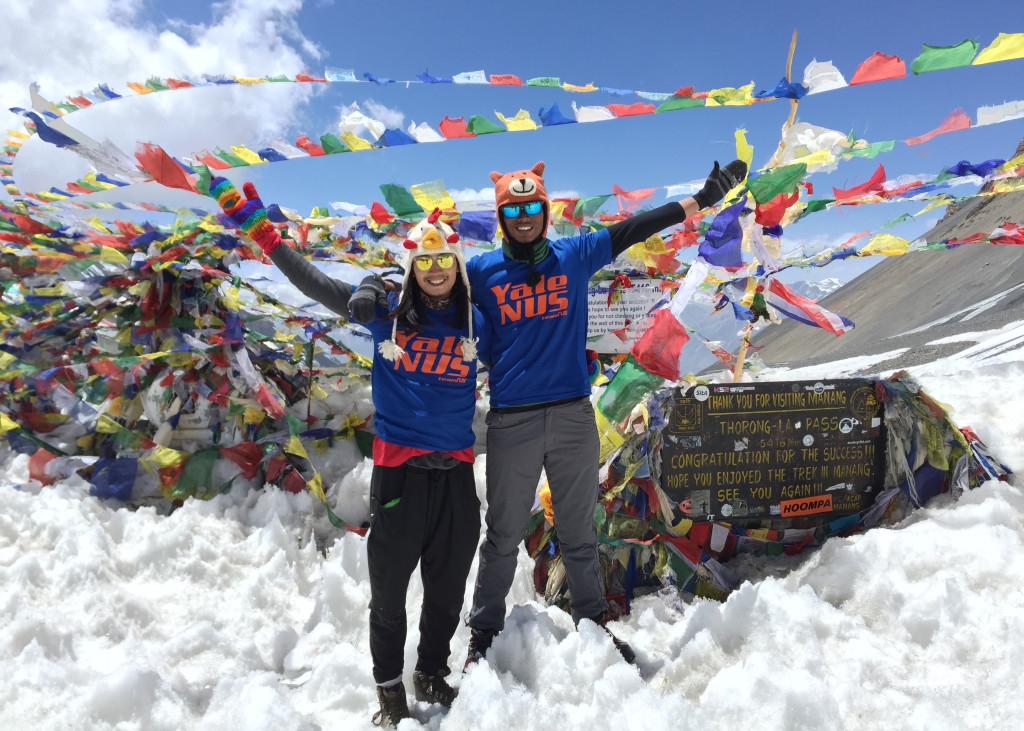 Jake and Ami at Manang, Nepal
Both Ami and Jake agreed that the strongest learning point from their trip was the impact that experiences can have on learning.
"During the Vipassana segment of the journey, one of learning points from the course was about the need to not only understand something intellectually, which has only the potential to bring you so far, but also experientially, which will give you a more well-rounded and complete understanding on something, which in this case was enlightenment in the Buddhist context," said Jake.
Ami added: "Even with impressive intellect, we will only end up waxing blind philosophy in trying to understand the various intricately-linked issues that affect and concern us as individuals, cultures and societies."
Having already been back in Singapore for a month, they miss their time in Nepal and are really keen to return to explore more of the country.
As an Anthropology major with a strong interest in regional development, Ami would like to visit Nepal again in future, this time to possibly study the impact of economic development on culture, language and the environment, as well as the relevance of anthropological knowledge in the sustainable regional development.
After all, he says, "Reality cannot be understood, only experienced."