By Daryl Yang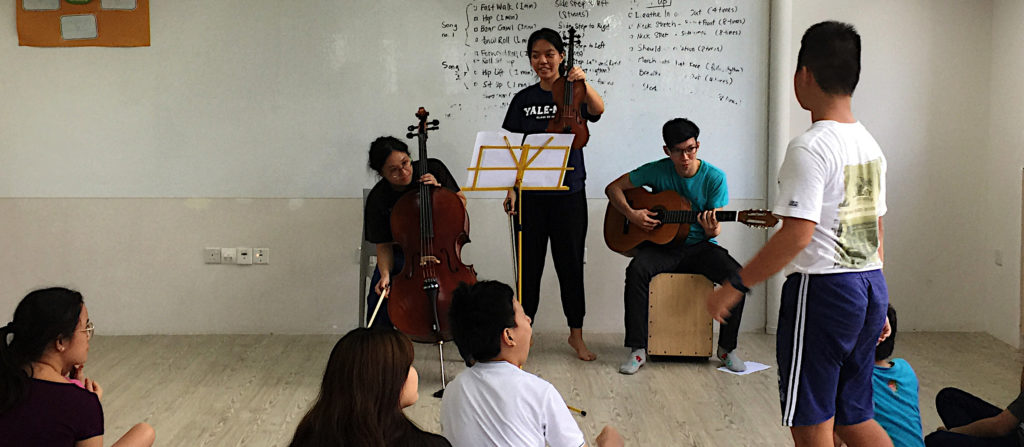 Image provided by Joel Yew.
Instead of taking a break after completing her first semester at Yale-NUS, Saoirse Lighbourne (Class of 2022) was back in the classroom during the year-end term break. But this time, she was there not as a student but a teacher.
Saoirse was volunteering for a holiday programme conducted by Rainbow Centre Day Care in collaboration with ComPact, Yale-NUS' community service organisation. ComPact tapped on the various talents of the student community to share the joy of artistic expression with autistic children.  Held across five weeks, the classes took place every Wednesday from 21 November 2018 to 19 December 2018.
According to Jay Ong, the ComPact student leader who organised the programme, the aim was to introduce students from Rainbow Centre to different types of artistic expression. The project was supported by the Saga College Rector's Office, one of the three residential colleges on campus.
Rainbow Centre is a charity organisation which aims to create opportunities for persons with disabilities to make the most of their abilities and participate meaningfully in society. The programme was organised for children with autism who attend the organisation's out-of-school-hours (OOSH) service.
"We teamed up with Yale-NUS students who were involved in different arts-related student organisations to come up with a variety of lessons," he said.
"Centred around the story of Little Robin Red Vest, the programme culminates in a multi-sensory storytelling session of the story during the final lesson, utilising the items created by the students over the first four weeks."
Teo Wen Min (Class of 2021), from the College's Visual Arts Society (VAS), decided to participate in the programme with a few other friends from VAS after she heard about it. Her team came up with an activity for the students to make some of the props that were to be used during the storytelling, which gave them the opportunity to interact with children through craftwork.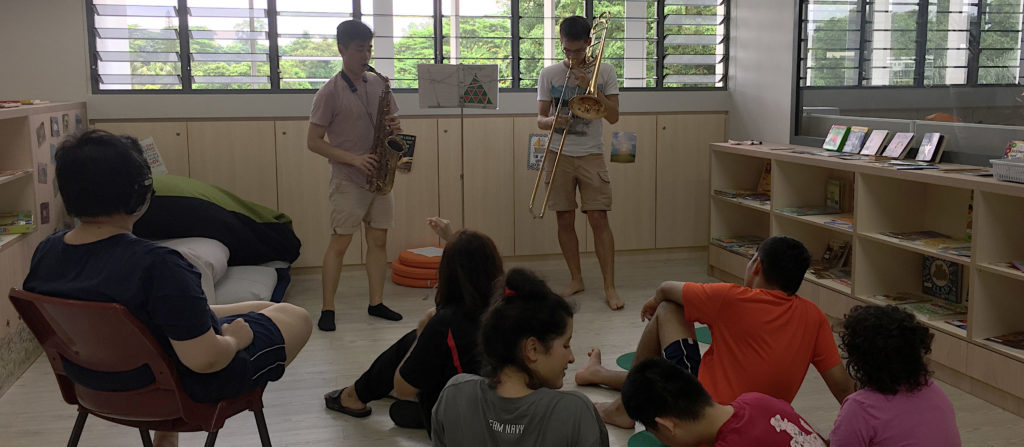 Image provided by Joel Yew.
What struck Wen Min most was how excited the children were. "Although they don't converse as fluently as most kids their age, they were still very excited in sharing their interests and were very joyful. It was refreshing just to watch them enjoy themselves," she said.
Another student involved in the programme was Zhu Minying (Class of 2019), who helped to run the class on dance. On why she decided to participate, she said that she wanted to share the gift of dance with others.
"To me, dance can bring healing and most definitely, bring joy to people. That is why I've decided to participate in this community project, because I simply want to share what I have experienced through dance — freedom, love, hope — with the people around me," she said.
Minying proposed an activity that used dance as a means of expression.
"We got the children to attach a dance move to their names, and introduced ourselves again, with actions this time. Then, in the same format, we got the children to share with everyone their dreams and aspirations, both verbally and physically with a dance action," she said.
The experience working with students from different student organisations has led the team to "focus on actively creating more meaningful and sustainable partnerships".
"We have been meeting members from other community service groups to find out more about their initiatives and the difficulties they are facing. From our conversations, we realised that our isolated efforts often have limited impact," Jay said.
"Bigger solutions to these problems cannot come from a single student organisation, but can only come through some form of consolidated effort."