By Lim Tian Jiao
For many arts groups at Yale-NUS College, showcases are usually held at the end of the semester to display the culmination of the entire semester's work to a live audience. Despite COVID-19 restrictions, this year was no different. Playing for smaller audiences, or shifting showcases partially online, some students still managed to share their projects with the College community. We catch up with some students to find out how they prepared and performed for their respective showcases.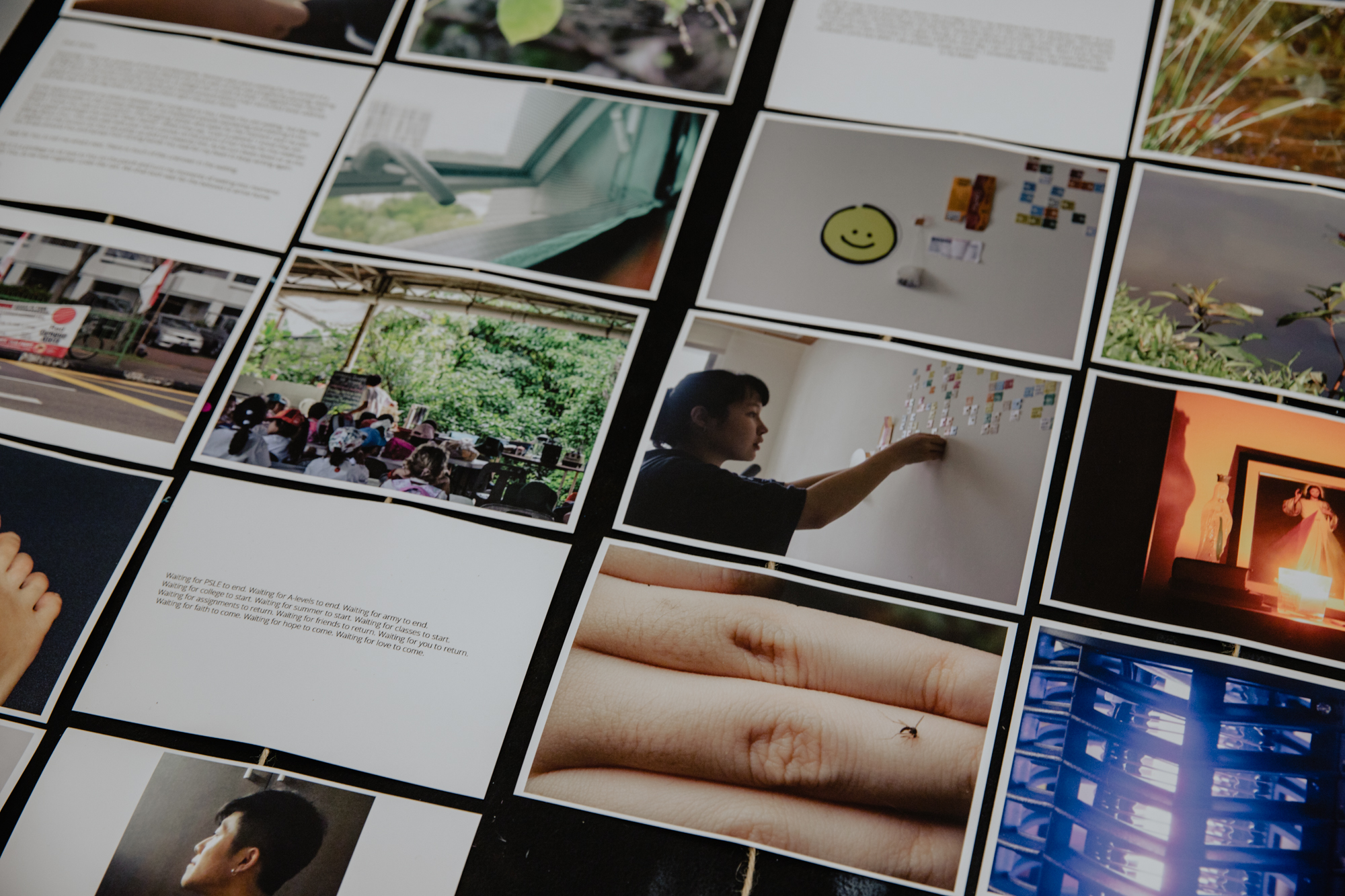 Works from the Arts and Humanities showcase exhibition. Wan Jia Ling (Class of 2023)'s artwork, 'Fill In This Space', are in the second and third photos. Images provided by Ashbel Chioh and Uladzimir Treihis.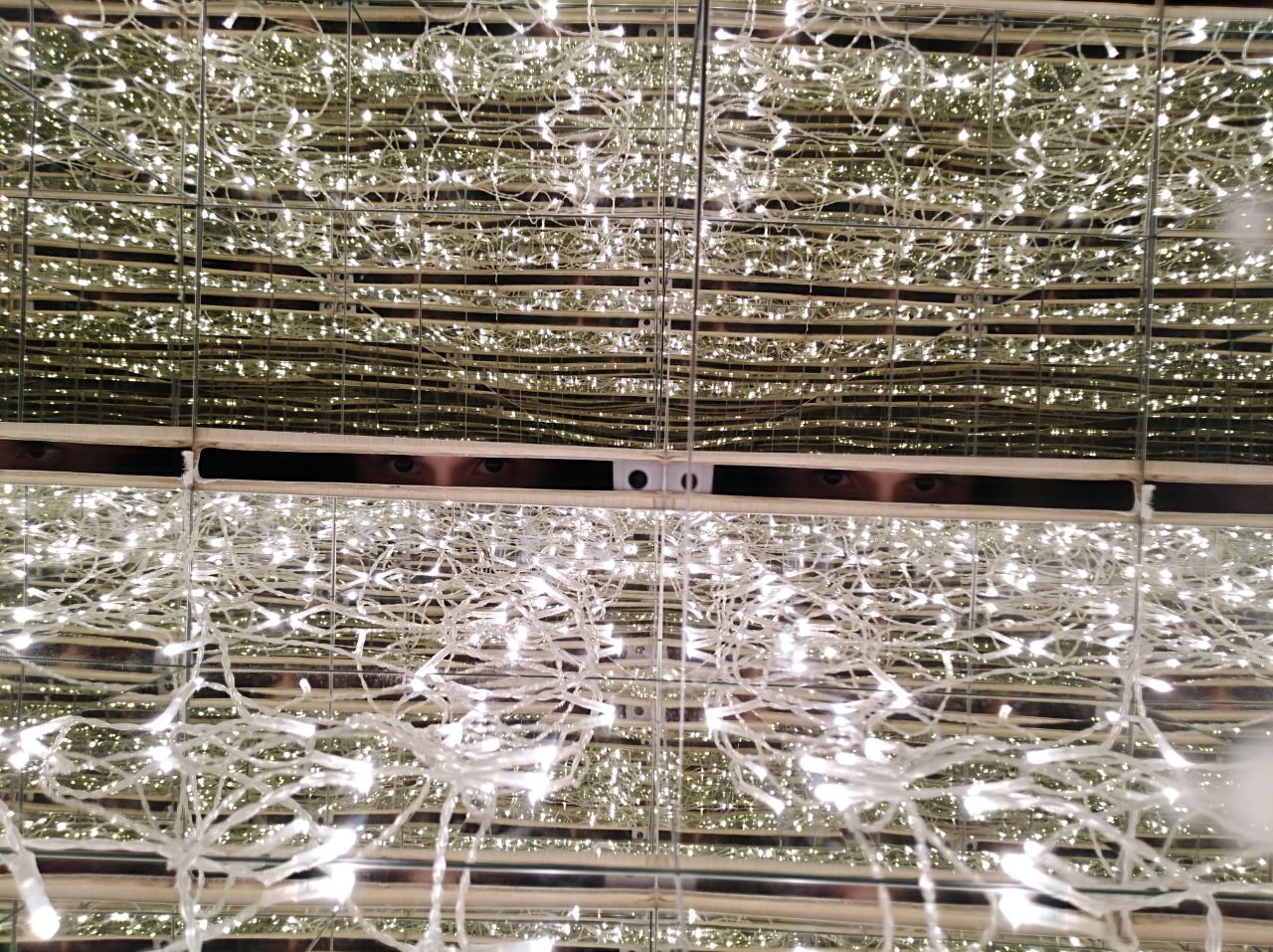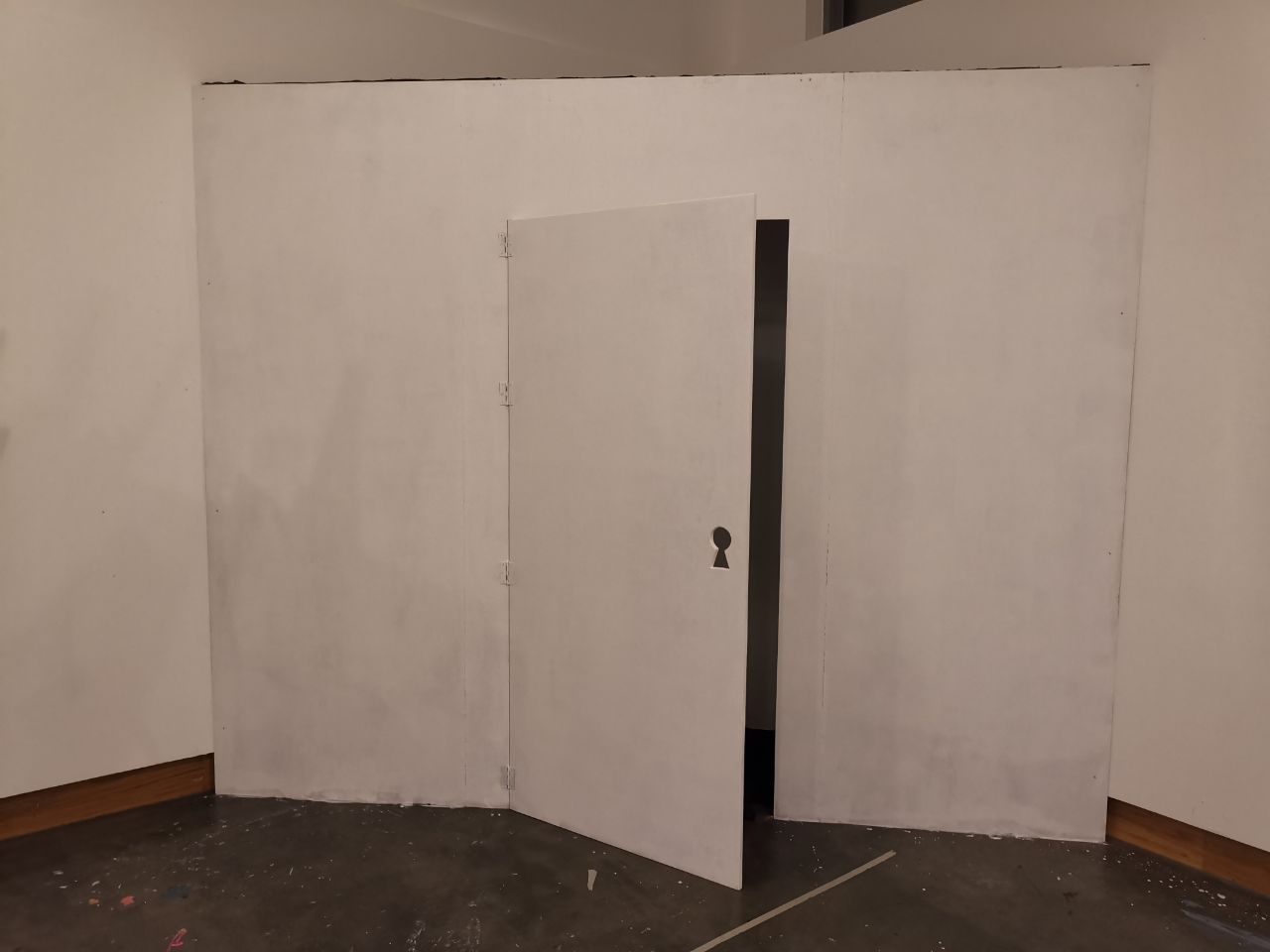 In November, the week-long Arts and Humanities showcase, which featured an exhibition and live music performances, was held for the fourth year running. The showcase was a space for students to present their art projects developed under the guidance of Arts and Humanities faculty members.
"Last semester's End-of-Semester show was sadly interrupted by the pandemic lockdown, so we are delighted that we were able to feature works physically, and perform and attend in-person this semester," said Dr Yanyun Chen, Lecturer for Humanities (Visual Arts) and co-organiser of the showcase. "It's always a pleasure to see the projects students develop, and to see conversations with their friends and the wider College community growing around these works."
For instance, Wan Jia Ling (Class of 2023) exhibited her final submission for Sculpting Movement, a module conducted by Yale-NUS' Artist-in-Residence, Mr Sai Chen (aka Chen Sai Hua Kuan). She created an interactive installation piece — a closet which audience members could walk through and discover secrets in — from scratch, at the College's fabrication studio.
Jia Ling especially enjoyed the research process in creating her piece. "As someone unfamiliar with woodworking, I had to talk to a number of people who had experience in the different aspects of building something like this. This made me refine my artwork's message. I spent so many sleepless nights imagining how a person would experience my artwork, from first seeing it to finding the hidden world within it. This strengthened my faith in myself as an artist and in my vision."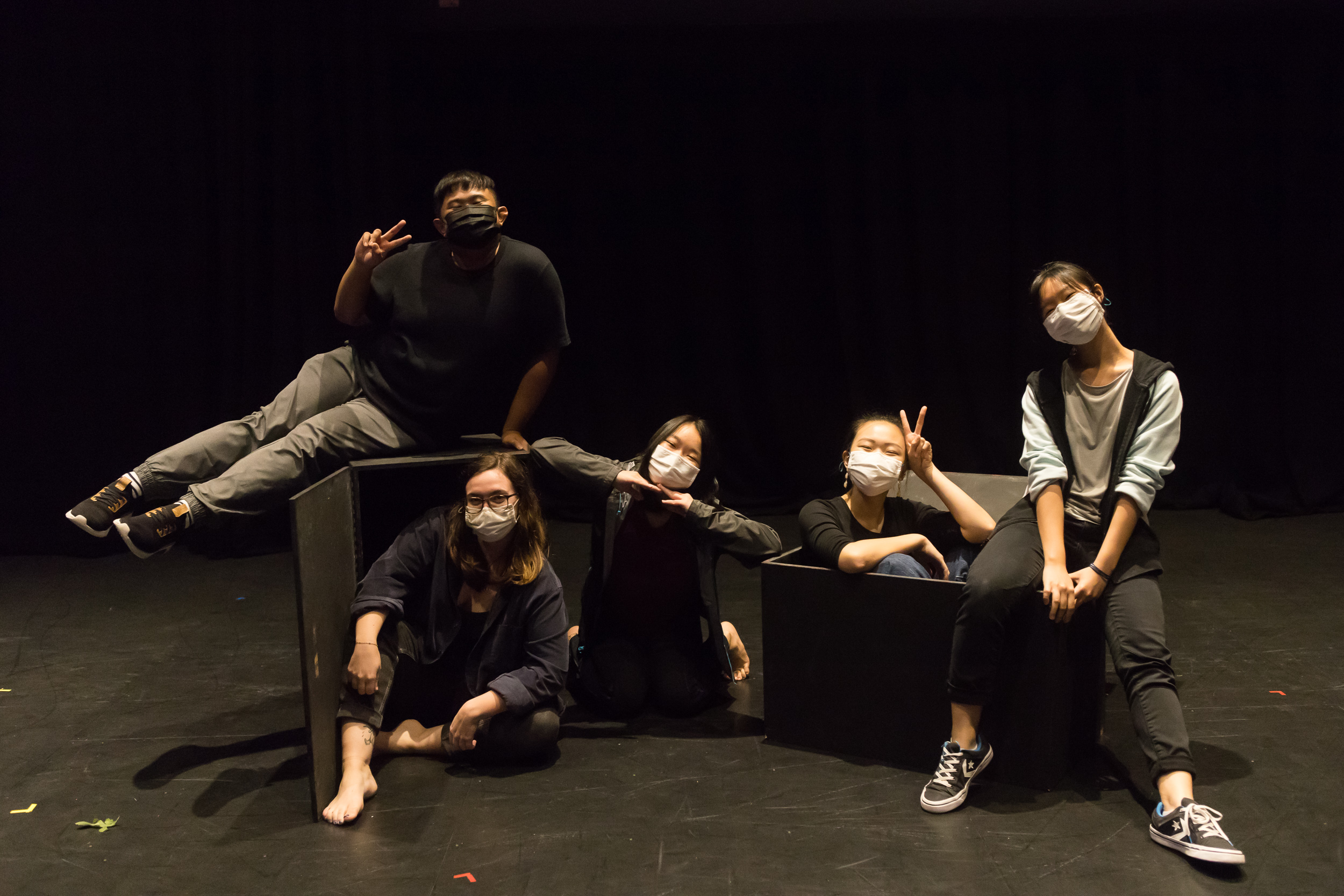 Playdough! performed to a small live audience this year. Image provided by the Playdough! team.
Also in November, student group Playdough! staged four original short plays to a small live audience. Playdough! is a theatre project that aims to create a welcoming space for students to learn about theatre. It features original short plays that are written, directed, and performed by Yale-NUS students.
Playdough! playwright Steven Sy (Class of 2022) wrote Amihan, a Filipino fantasy play. "Writing for Playdough!, I could draw on folklore and my Filipino identity to both explore and represent my place in the world as an international student living in Singapore. It was my way of reckoning with being immersed in a world so different from the one in which I grew up," he said.
For Wisha Jamal (Class of 2022), a first-time playwright, watching her play come to life was extremely rewarding. "The actors and directors thought of back-stories I had never imagined, and some of that showed in the performance or in some new improvised dialogue," she said. "I really didn't expect that, but it was insanely fun to watch in the final production!"
Steven felt much the same way. "The actors were able to add their own flair to the characters, resulting in portrayals that were radically different from the characters on the page in the best way possible. It was such a privilege watching the actors make the characters into their own, and I loved the to see those versions develop throughout the weeks we spent in rehearsal," he said.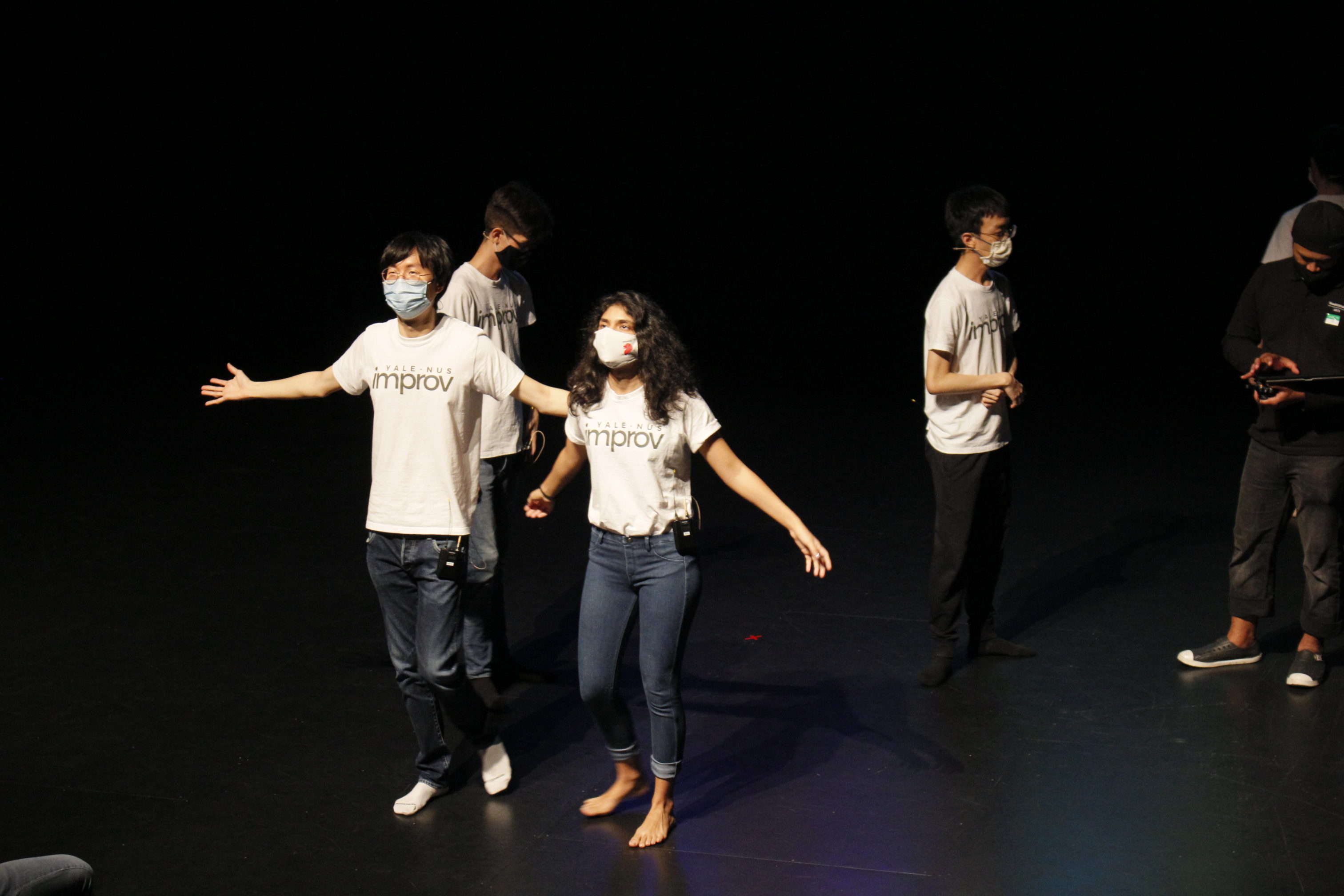 In November, Yale-NUS Improv Comedy Conglomerate performed to a live audience and livestreamed their show. Image provided by Annetta Fong.
The Yale-NUS Improv Comedy Conglomerate ("Improv") hosted their end-of-semester show both in-person and to a virtual audience via YouTube live-stream. Themed '90s Sitcom', the show featured a mix of short games and longer scenes. Performers responded to prompts from audience members, both those attending in-person and online.
Kyle Foo (Class of 2022), president of Improv, explained that the student group had to adapt to COVID-19 regulations, such as livestreaming their show for the first time due to the limitations placed on audience size. Furthermore, Improv had to rehearse and perform with their masks on. "This really put the acting abilities of our troupe to the test," he said.
For Billy Tran (Class of 2024), a first-time Improv performer, preparing for the showcase was instructive in teaching him how to put on a witty, engaging show without a script. "Being new to Improv, I'm still so amazed at how the entire team managed to make a memorable and coherent show from nothing but a few prompts from audience members," he said. "While you can prepare for the show by rehearsing the games, the actual showcase will still have this element of unpredictability that is fun, both for us and the audience."
Added Kyle, "Improv lives off its audience's energy and prompts, and the reactions of both the in-person and livestream audiences were incredible. Stay tuned for more amazing improvised performances to come!"