Written by Clare Isabel Ee | Image provided by Patricia Craig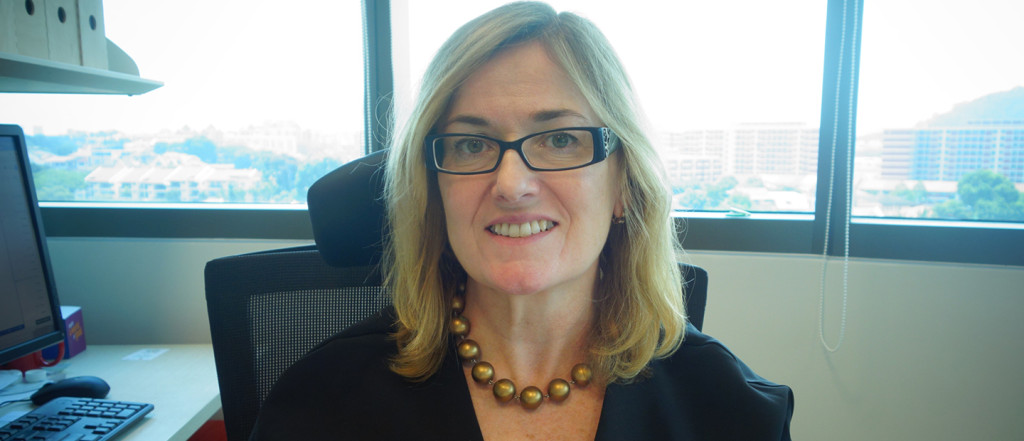 The College will warmly welcome Dr Patricia Craig as Dean of International & Professional Experience in the new academic year, beginning July 2015.
A highly accomplished administrator and scholar, Dr Craig is currently the Executive Director of Wheelock College, Singapore. There she spent a very successful three years overseeing its undergraduate and graduate programmes as well as developing new partnerships in Asia for Wheelock, a college whose home campus is in Boston, and is a member of the Colleges of the Fenway.
"I am thrilled to be joining Yale-NUS," shared Dr Craig. "I was attracted not only by the astounding quality of the students and faculty, but also by the idea of being able to contribute to the mission of creating a model of global education for citizens in an interdependent and highly complex world."
At Yale-NUS, Dr Craig will helm the Centre for International and Professional Experience (CIPE), a team that manages a portfolio of global opportunities designed to enhance our students' academic learning, broaden their perspectives and hone the skills and character they need to succeed as students today and leaders tomorrow. CIPE encompasses four pillars: International Programmes, Co-curricular Programmes, Career Services, and Leadership and Global Citizenship.
One of CIPE's flagship programmes is Week 7: Learning Across Boundaries, where students can apply for overseas learning trips led by faculty members. Another unique initiative is Mystery Internships, where students are only told of their overseas internship destination just before embarking on their journey.
Through such programming, CIPE seeks to encourage Yale-NUS students to expand their boundaries and capabilities, and expose themselves to new challenges. Being well-situated in Singapore, students are exposed to both regional and global opportunities.
"That [Yale-NUS'] home is Singapore makes perfect sense for this kind of venture, as it is a country that truly sees itself at the forefront of the development of exciting ideas," said Dr Craig.
She added: "And for me, the fact that part of the institution's DNA is from Yale, my alma mater, made it irresistible."
Dr Craig obtained a BA in Economics from Swarthmore College, a liberal arts institution, before furthering her studies with an MA and PhD in Sociology from Yale University.
Before making her mark on Wheelock, Dr Craig was based at Harvard University, first at the Harvard Institute for International Development, where she gained extensive experience in Asia on institutional and economic development, then as Executive Director at the Minda de Gunzberg Center for European Studies, where she founded and ran the centre's Study Group on Higher Education in Europe. Dr Craig also created a successful series of breakfast talks, where undergraduates could meet with visiting global leaders, and grew the range of internships offered by the centre, widening its breadth to include sectors like the arts, government, finance and fashion.
A prolific scholar, Dr Craig regularly publishes her work in academic journals, co-authored the book The Quality of Life in Rural Asia (Oxford University Press), and periodically contributes insightful columns to local newspapers The Straits Times and TODAY. She also serves on several boards, including two nonprofit organisations, Writing Through, based in London and Siem Reap, Cambodia, and WorldBoston in Boston.