By Daryl Yang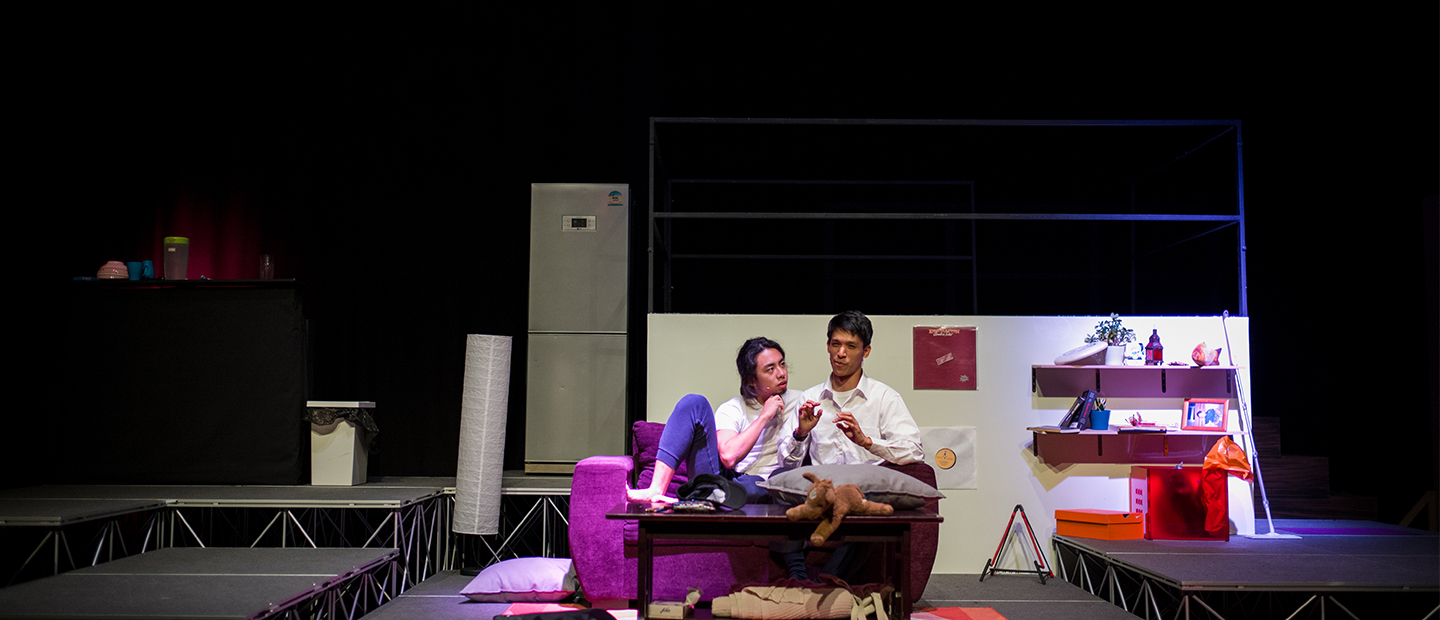 Chia Yaim Chong (Class of 2020, left) and Ziyad Bagharib (Class of 2018, right), who played the two lead characters, rehearsing on the set of 'Overtime'. Image provided by Ashley Mak
When Myle Yan Tay (Class of 2019) and Nathaniel Mah (Class of 2020) began writing the musical 'Overtime" in 2017, they weren't sure it would become a reality because of how much it would cost to produce it.
But they persisted, weaving a story about the lives of two best friends after they graduate from art school. One joins the civil service and the other pursues a career as a playwright. Both struggle to balance passion, pragmatism and friendship.
In November 2017, 'Overtime' was staged over five performances in three days, thanks to the generosity of donors. It was Yale-NUS College's first original musical and was described by one local theatre critic as "the rare student musical that feels almost ready for a professional staging, like a good off-Broadway production".
Yan and Nathaniel attributed the success to the funding they received, sharing that it allowed them to pursue their full vision for 'Overtime' through the set and lighting design, among other expenses.
"Without this funding, we would not have been able to stage the College's first original musical," they said. "It pushed us to work hard so that we could give back to the school community."
'Overtime' is one example of how philanthropic support for the arts at Yale-NUS is making it possible for students to explore their diverse artistic pursuits both inside and outside of the classroom.
One example of a fund that is making a difference is the Chen Chong Swee Asian Arts Programme, which supports Singaporean, Southeast Asian and Asian art at the College. Named after Mr Chen Chong Swee, a local artist who pioneered the Nanyang style of painting unique to Singapore and was also responsible for nurturing many young artists, the programme was established by his family to promote and develop fine arts in Singapore and the region. As a realist painter, he firmly believed that art should accurately represent its subject matter while remaining relevant and easily understood by its audience.
During his lifetime, Mr Chen was an arts educator at various institutions, including the Chinese ink painting department at the Nanyang Academy of Fine Arts. He also co-founded the Salon Art Society (now known as the Singapore Society of Chinese Artists) and the Singapore Watercolour Society.
In particular, the programme has encouraged research and interest in both regional and local art by enabling the College to invite visiting experts and artists to meet students. Students have been able to attend various talks and workshops by artists such as local contemporary painter and art scholar Ng Joon Kiat, Vietnam-based artist Richard Streitmatter-Tran and animator Muhamad Mirza Bin Ja'afar.
According to the Chen family, the College is a unique cradle for the development of Asian art. Their aspiration is that their gift will support the evolution of Singapore into a city of excellence for art and science.
"Through our gift, we also hope that talents in the fine arts are nurtured to their full potential," they said.
Meanwhile, the Tolani Performing Arts Fund supports student performances (particularly acapella and theatre productions like 'Overtime'), workshops and other related initiatives that help to advance the performing arts scene at the College.
Mr Rohet Tolani, Managing Director of Tolani Shipping (S) Pte Ltd, said the fund aims to ensure that the opportunity to engage in the arts at Yale-NUS will play an important role in optimising the holistic education and development of the diverse student body.
"We also hope that the extra-curricular and co-curricular arts components will eventually lead to strong formal arts programmes at Yale-NUS, which will in turn lead to greater excellence and vibrancy in the arts and cultural scene in this part of the world," he added.
"With Yale's legacy and pre-eminence in incorporating the arts, particularly in its liberal arts curriculum, we feel that Yale-NUS is uniquely positioned to do the same in Singapore. With exposure to quality arts opportunities, some students may be inspired to pursue the arts more seriously and that would be a great boon to the arts."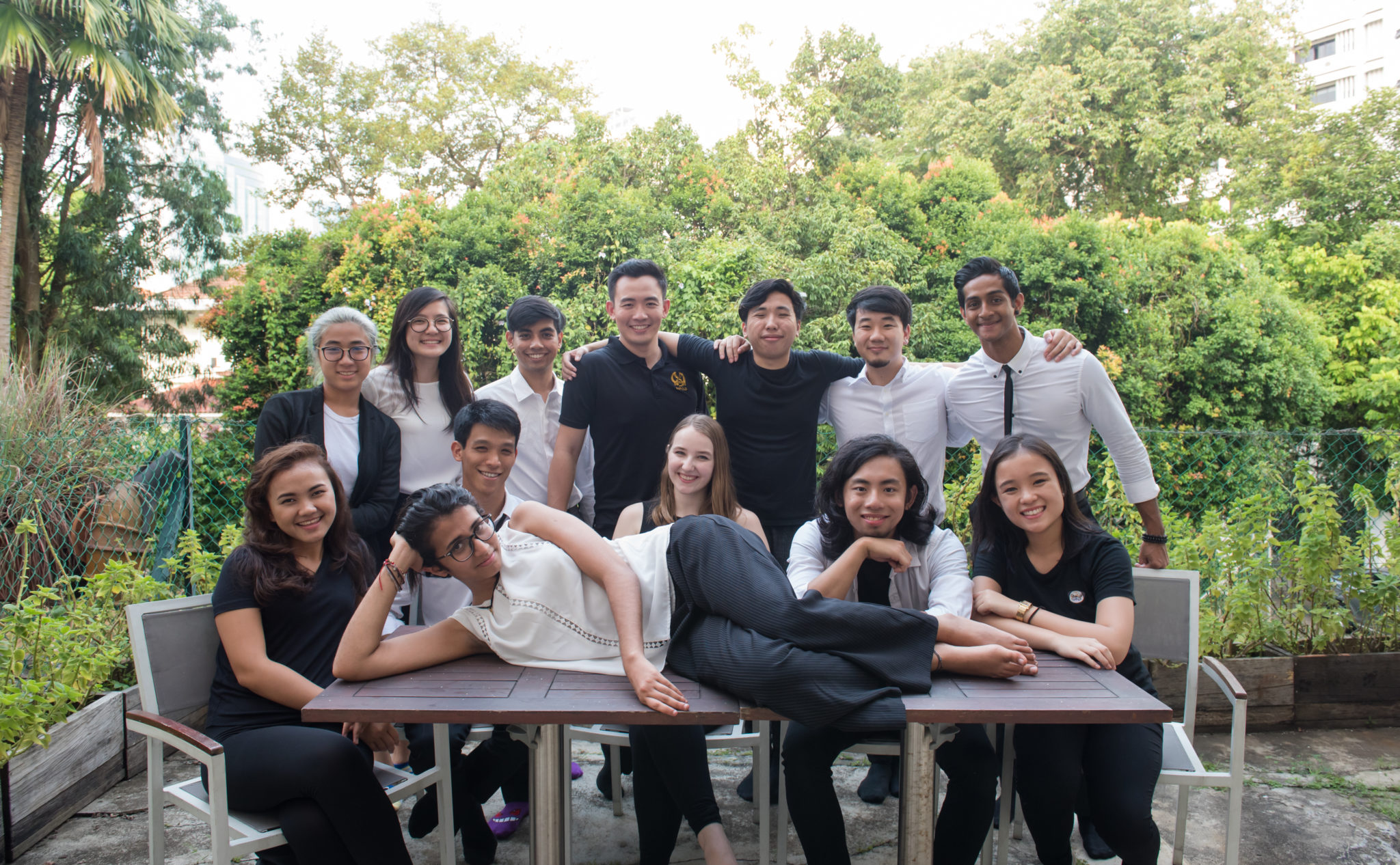 The cast and creative team behind 'Overtime'. Image provided by Zac Yeow (Flotography)
Another production that received philanthropic support was a staging of 'Mergers & Accusations', the first of a trilogy of plays by acclaimed local playwright Eleanor Wong. The play focuses on the life of lesbian lawyer Ellen and her marriage of convenience to best friend and fellow lawyer Jon.
Hoping to keep the spirit of giving alive by paying it forward, co-directors Lu Zhao Boyu and Shaun Lim (both from the Class of 2018) decided to donate the proceeds from the show back to the College.
"Our team decided to donate the funds to the College because we were kindly supported with generous funding to explore this endeavour in the first place," the duo explained.
"We hope that our donation will help develop a culture of giving in this institution, which has given us so much over the past four years."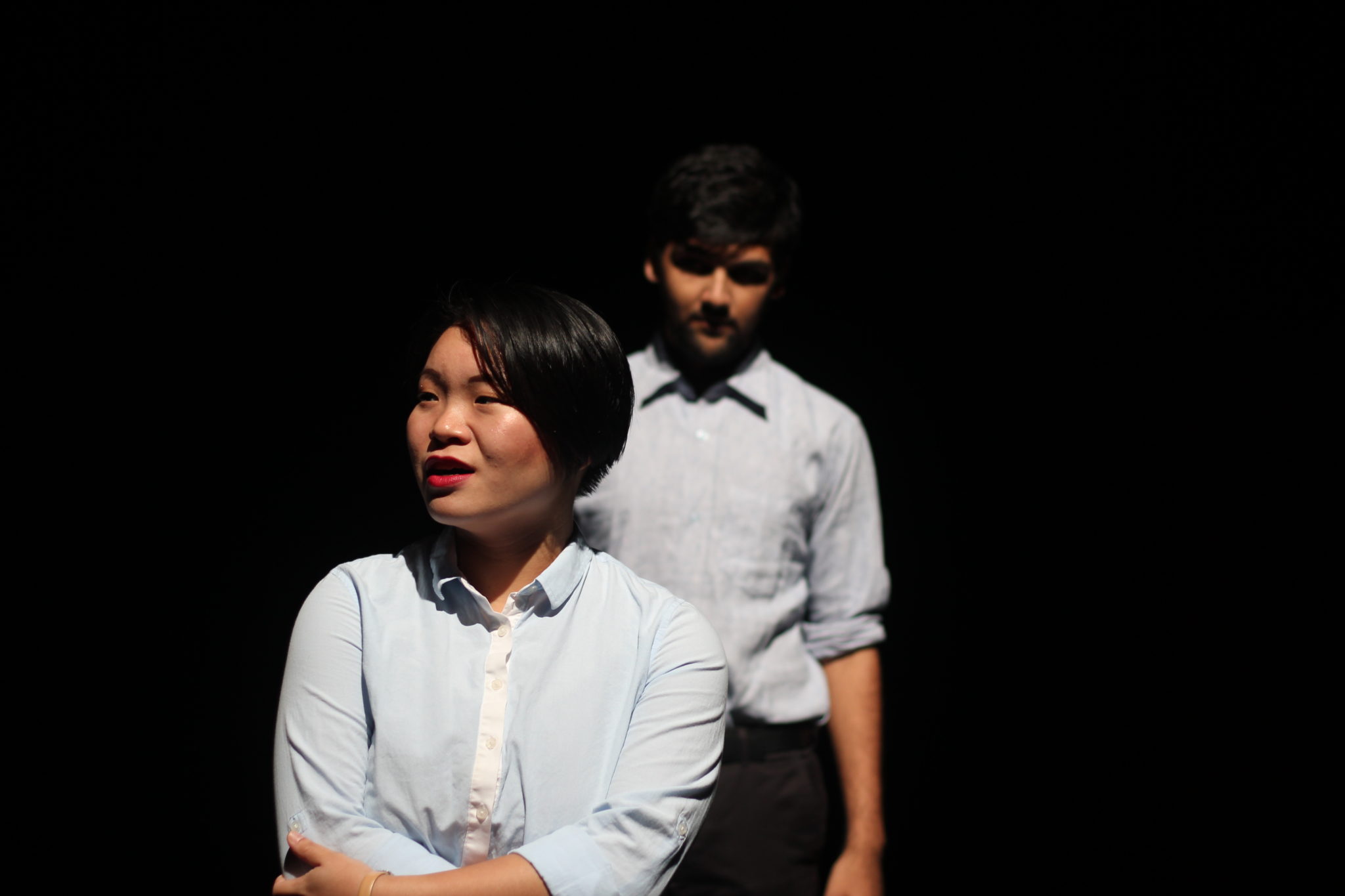 Tan Yan Ru (Class of 2019, foreground) and Shikhar Agarwal (Class of 2020, background) played the lead roles of Ellen and Jon respectively in 'Mergers & Accusations'. Image provided by Rachel Juay