Written by Clare Isabel Ee | Images provided by Yale-NUS Global China Connection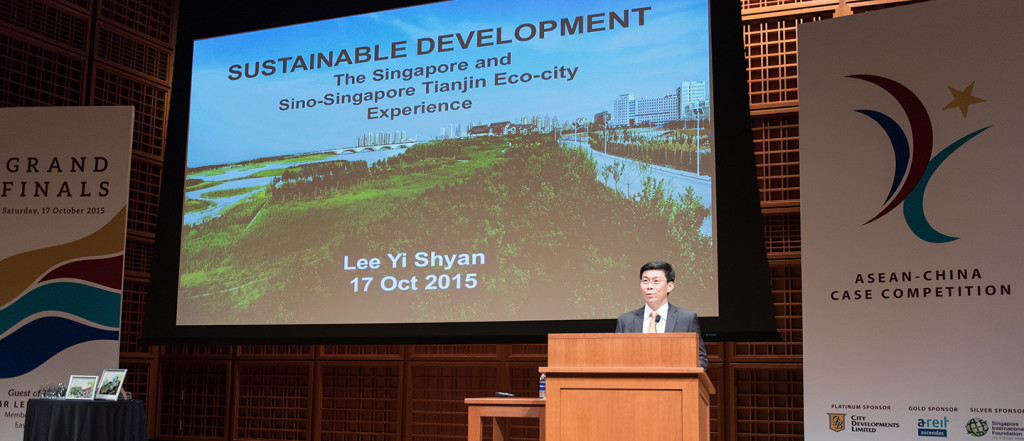 On 17 October 2015, more than 100 undergraduate students and faculty filled the Yale-NUS Performance Hall to attend the Grand Finals of the inaugural ASEAN-China Case Competition (ACCC).
Organised by the Yale-NUS Global China Connection (GCC), the competition was graced by Guest-of-Honour Mr Lee Yi Shyan, Member of Parliament for East Coast GRC, and focused on how environmental sustainability can be developed in China.
The former Senior Minister of State, Ministry of Trade and Industry and Ministry of National Development gave a keynote address, touching on Singapore's sustainable development experience and the Sino-Singapore Tianjin Eco-city, emphasising the importance of transnational discussion and partnerships.
"Given similar challenges faced by all countries, we can benefit from sharing experiences in areas such as urbanisation, economic modernisation, governance and the promotion of social harmony," he highlighted in his address.
"Together, hand-in-hand, we can continue to do our part to make the world a better place for future generations."
The case required participating groups to propose an implementation plan for an eco-city development project in the Liangjiang New Area of Chongqing, China. Teams assumed the role of a nongovernmental urban development consultant proposing to the Development and Reform Commission of the government of Chongqing.
About 420 youths participated in ACCC 2015, forming 89 teams from over 60 universities across 18 countries.
Eight finalist teams from Singapore, Hong Kong & China, Thailand, Philippines, and the United Kingdom & Malaysia were shortlisted after three weeks of preliminary and semi-final selection rounds.
"Participants had to think creatively, while being constrained by practical realities," commented Colette Chiaranussati (Class of 2018), Vice-Chairman of the ACCC 2015 committee and Vice-President (Networking) for GCC, on the case solutions presented by participants throughout the competition.
She added: "Sustainability and eco-concepts are industries of the future. By engaging with these interests early on while still undergraduates, we hope to get participants thinking about how they can be involved in these industries of the future."
At the Grand Finals, the top three teams that emerged from the semi-finals competed for exclusive internship opportunities in Greater China with multinational technology company IBM and a cash prize of S$3,000 for the winning team, and cash prizes of S$2,000 and S$1,000 for the second and third places respectively.
A team from Yale-NUS College clinched the first prize, while second prize was awarded to a team from the University of Hong Kong, and third prize to a group from the National University of Singapore.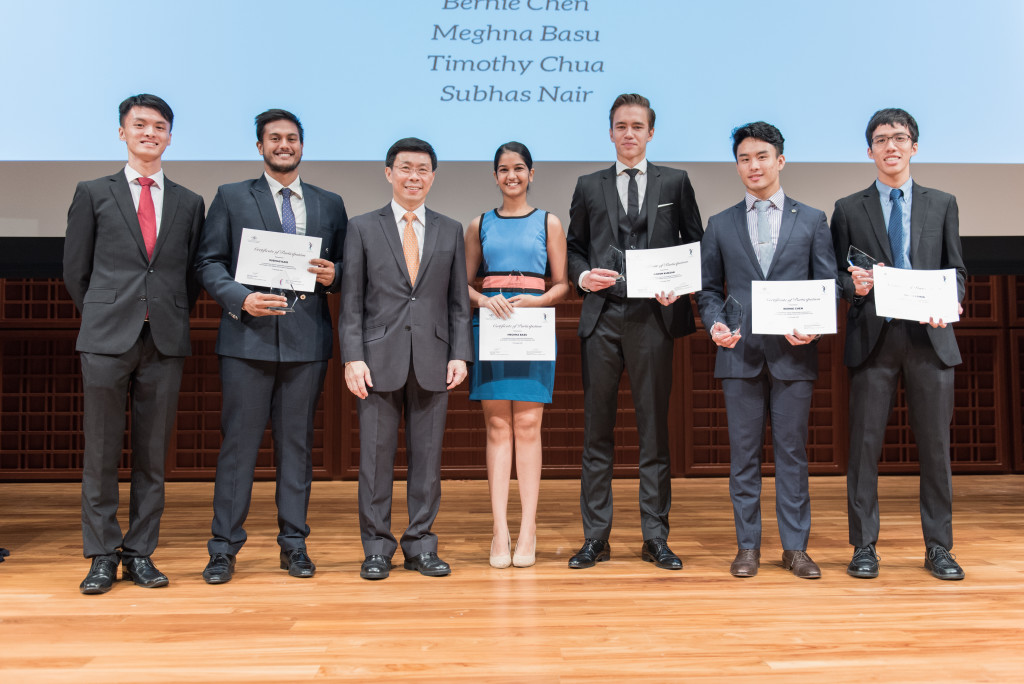 The top prize was awarded to a team from Yale-NUS. (from left) Zhang Yaolin, GCC President and Class of 2018; Subhas Nair, Class of 2017; Guest-of-Honour Mr Lee Yi Shyan; Meghna Basu, Class of 2017; Aaron Kurzak, Class of 2017; Bernie Chen, Class of 2018; Timothy Chua, Class of 2017. 
Zhang Yaolin (Class of 2018), President of GCC, explained in his closing speech the thought process that went into designing the interdisciplinary competition.
"We wanted to engage with contemporary Chinese issues at an in-depth level and generate solutions that take into account the context of China," he said. "We chose the theme of urbanisation because of its impact on all our aspects of our lives."
"Over the past few days, I have been extremely impressed by the innovative solutions to a more sustainable future that were presented by our participants from all around the world," he added.
"I am confident that our youths and leaders of the futures will rise to the challenge to create a more sustainable future for all of us."
The ACCC was generously supported by its main partners Business China, the Urban Land Institute, and Future Cities Laboratories, and received sponsorship from City Developments Limited (Platinum Sponsor), Ascendas REIT (Gold Sponsor), and the Singapore International Foundation (Silver Sponsor).
Find out more about Yale-NUS GCC here!