By Kelly Ng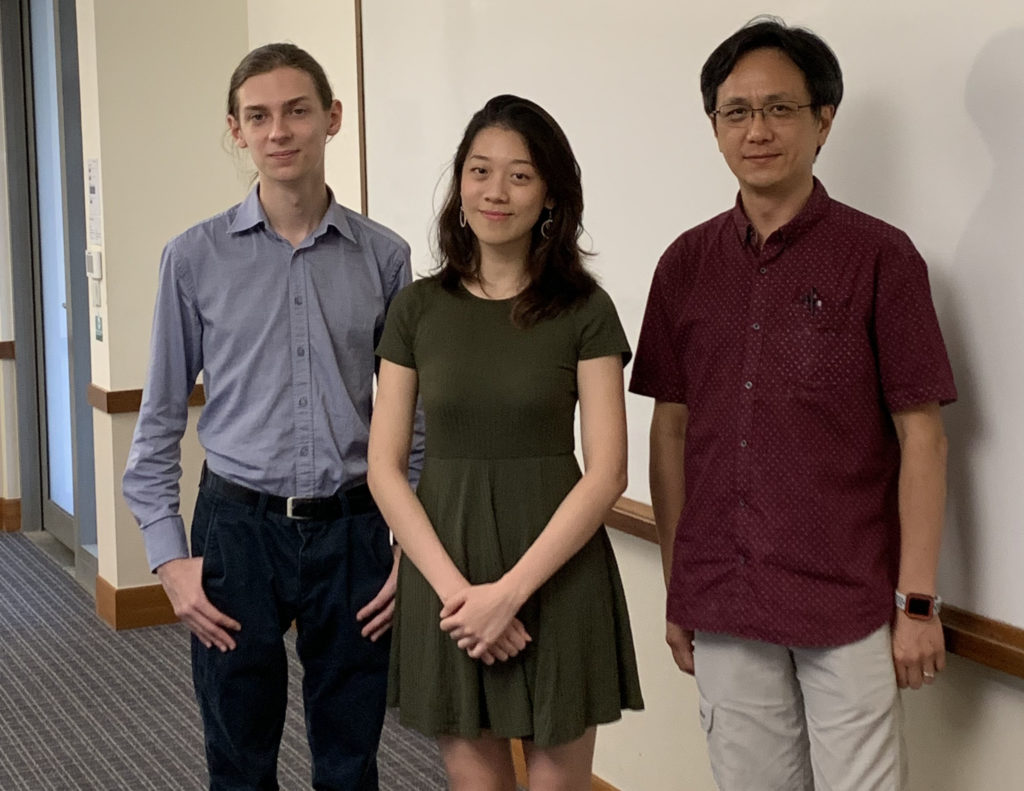 Associate Professor Robby Tan with his students Krzysztof Lis and Katherine Sun who took his Computer Vision and Deep Learning class. Image by Kelly Ng for Yale-NUS College.  
In recent years, the field of Artificial Intelligence (AI) has been burgeoning across many industries, and presents new possibilities in areas from smartphone applications and household gadgets to self-driving cars and robotics. At Yale-NUS College, there are two courses that delve into Artificial Intelligence, namely, Machine Learning, and Computer Vision and Deep Learning, offered under the Mathematical, Computational and Statistical Sciences (MCS) major. MCS is one of the 14 majors offered at Yale-NUS College.
Computer Vision and Deep Learning builds upon the algorithms and technologies taught in the Machine Learning course, and has been offered since Academic Year 2015/2016.
According to Associate Professor of Science (Computer Science) Robby Tan who teaches the course, the goal of Computer Vision is to make computers work like human visual perception, namely, to understand and recognise the world through visual data. One important technique in computer vision is Deep Learning. Deep Learning is able to extract features and to infer the visual information from the features automatically and accurately. For example, students learn the algorithms behind computer vision technologies like face detection, 3D depth estimation from images or videos (also called, stereo vision), and automated object recognition. All these technologies are used in many everyday applications, such as the face recognition function in smartphones or in self-driving cars or robots.
Assoc Prof Tan said that the curriculum of the course is aligned to modern trends and developments that we see in the world today. He said, "Computer Vision is one of the fields, alongside Machine Learning and natural language processing, which triggers the popularity of AI in academia and the many industries that use it. Meanwhile, Deep Learning is a part of Machine Learning that functions as the core engine of Computer Vision algorithms."
For Krzysztof Lis (Class of 2021), he decided to enrol in the class because of his personal interest in AI. "I have always found it fascinating that humans have empowered computers with the ability to 'see' and produce complex solutions to a multitude of problems," he said.
"I'm amazed at how powerful some of these new technologies are in understanding their input and creating completely new output. However, I've also learnt that although such methods are incredible, they have their limits. At times, less sophisticated technologies can better solve specific problems," he said.
Similar to Krzysztof, Katherine Sun (Class of 2020) is also fascinated by new models such as Generative Adversarial Network (GAN), a type of AI machine learning technique. "This model (GAN) is fairly recent and technology giants like Nvidia have been experimenting a lot with it. For example, computer scientists have figured a way to use GAN to perform image translation, such as turning a winter video into summer and have created realistic renderings of drawn landscapes," she said.
A MCS major, Katherine has also previously taken the Machine Learning course and a range of other mathematical courses. "In this discipline, there is a lot of overlap between different fields. It was amazing for me to see how previously learnt linear algebra concepts that seemed arbitrary made a lot more sense when applied in computer vision," she explained.
Looking into the future, both Krzysztof and Katherine are keen on exploring more of the AI field. As a budding entrepreneur who recently founded a new start-up, Krzysztof is interested in incorporating AI or specifically, Machine Learning models to analyse user data. Meanwhile, Katherine is certain that based on the kind of courses that she took during her time at Yale-NUS College, she would like to work in the data science or machine learning field.
"I definitely want to be a part of this exciting field, to see firsthand how new models and technologies can change our lives," she enthused.