By Avani Adhikari
*All photos were taken indoors or before the implementation of COVID-19 safe management measures.
At Yale-NUS College, the spirit of giving is a testament to the solidarity of the community. Motivated to aid deserving students, many have stepped forward to make recurring gifts so cohorts of students can continue to enjoy a rewarding education at the College without financial worries.
For Associate Professor of Humanities (Literature) Andrew Hui, making a recurring gift continues the cycle of support from one generation to the next. He said, "We give because we've been given. I'm grateful for the support I received in my higher education thus it only seems right that I give back."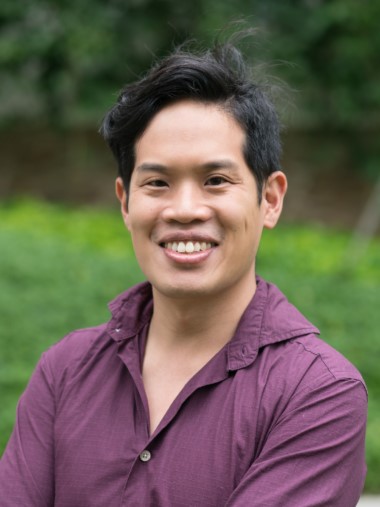 Associate Professor Andrew Hui began contributing his gift in 2016, in remembrance of his late close friend, Associate Professor Bernard Bate. Image provided by Assoc Prof Hui.
Assoc Prof Hui began donating in 2016 in remembrance of his close friend, the late Associate Professor Bernard (Barney) Bate. As a faculty member at the College, Assoc Prof Hui believes every student should be able to enjoy the value of education. "Any liberal arts college is only as good as the people in it. Finances should not stand in the way of a student's education and I hope that students will be able to fully benefit from their experience at the College without worrying about the expenses," added Assoc Prof Hui.
As a tight-knit community, members of Yale-NUS often rely on each other for support. Recurring gifts, like Assoc Prof Hui's, form the cornerstone of giving for our students, alumni, faculty, staff and parents at Yale-NUS and go towards supporting a wide variety of programmes and causes such as Financial Aid, International Opportunities, Counselling Support and more.
Alumnus Mr Anshuman Mohan (Class of 2017) shared that regular giving is a good way to foster bonds among the community. "When I make a gift, I see it as a simple recognition of shared ideals. This underscores a connection that would have gone unrecognised otherwise and would perhaps have been forgotten over time."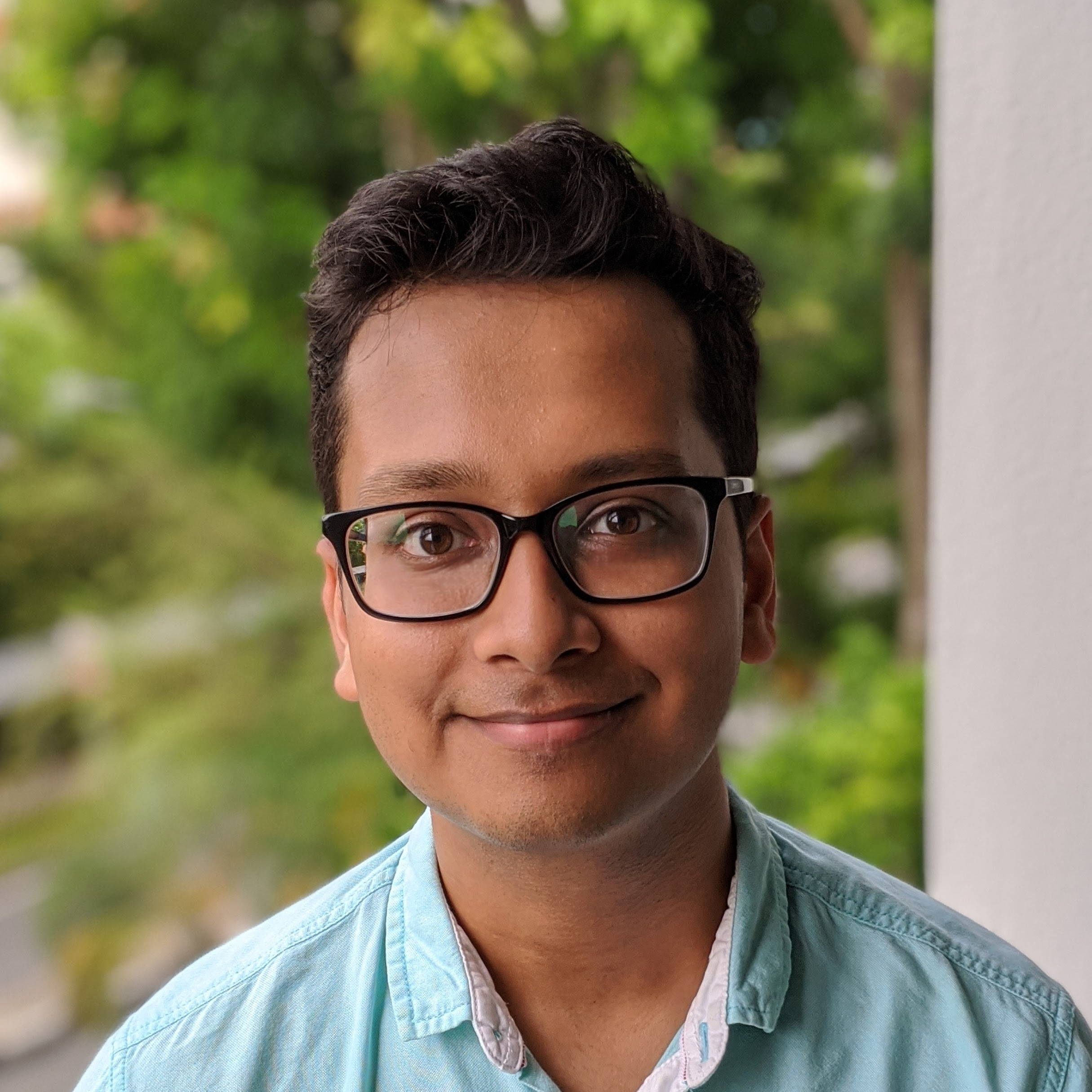 Mr Anshuman Mohan majored in Mathematical, Computational and Statistical Sciences and won the Elm College Award for Outstanding Service to the Elm Residential College community during his time at Yale-NUS. Image provided by Mr Mohan.
Through his contributions which were directed towards the Yale-NUS College International Opportunities Fund, Mr Mohan hoped that students can benefit from a holistic Yale-NUS education which includes the opportunity to study abroad. "My dollar contributions are too modest to significantly impact a student's decision to go for semester abroad, but I hope my gift signals to the College that this experience is valuable," he added.
Beyond supporting the value of education, other donors like Mr Johnny Burgos and Mrs Jovanka Rojas, who are parents of alumna Ms Tamara Burgos (Class of 2018), hoped that their gifts can enhance the growth of the College. They believed that contributing regularly will provide a "sustainable increase to funds for future projects" so Yale-NUS can "continue to attract the best professors, admit students with great talents and commitment, and offer an outstanding education."
"Tamara benefited from scholarships and support to take part in study trips and internships abroad. We want other students to have the same opportunity so they can grow as people and professionals that make positive contributions to humanity," Mr Burgos and Mrs Rojas added.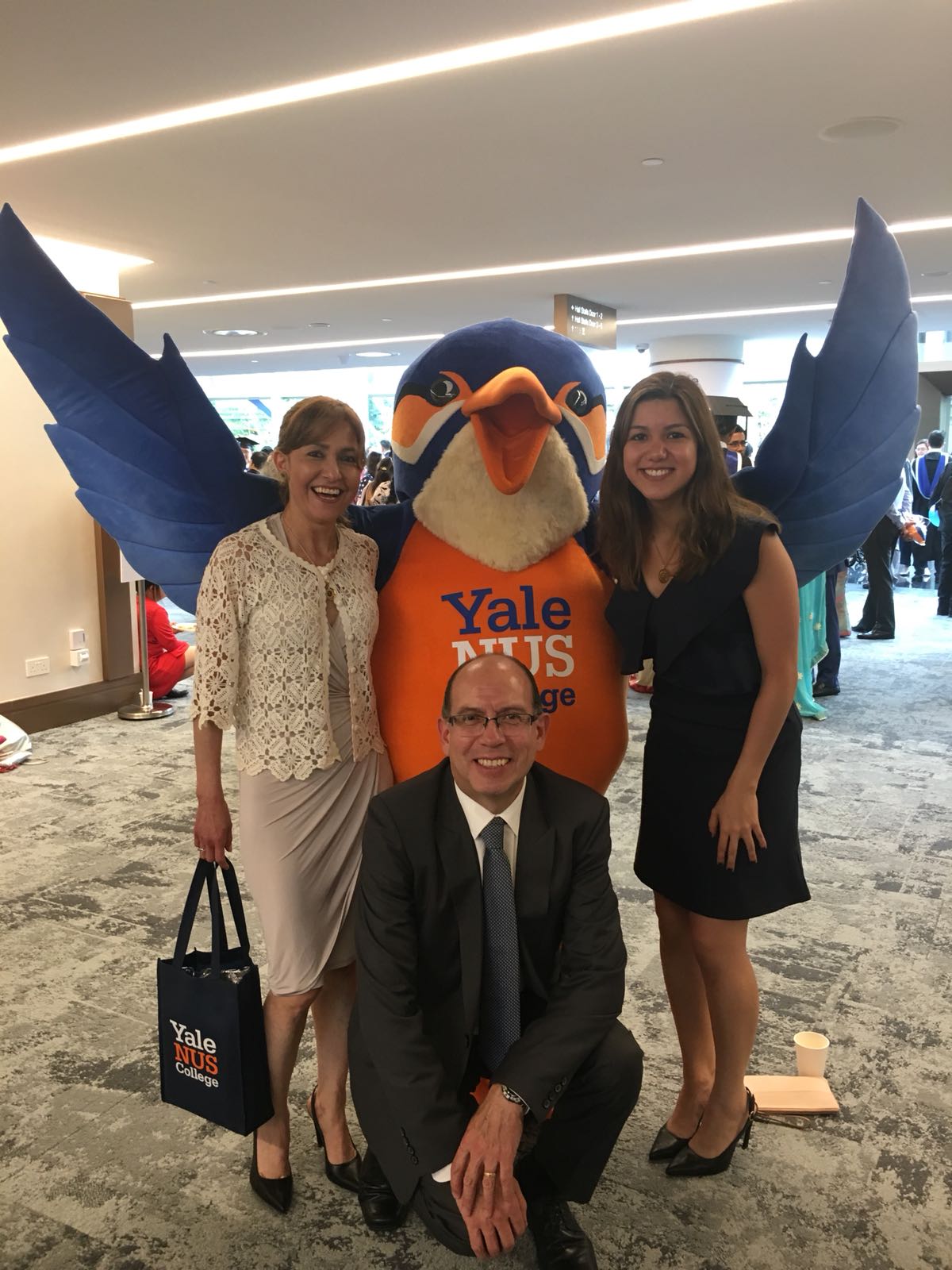 From left to right: Mrs Jovanka Rojas, Mr Johnny Burgos and Ms Tamara Burgos (Class of 2018) at her graduation ceremony. Mr Burgos and Mrs Rojas have been making recurring gifts through the Yale-NUS College Parents' Fund. Image provided by Mr Burgos.
For Ms Joella Lopes-Lam, another regular donor, her inspiration to give came from her faith in the College's philosophy to promote a culture of giving and the impact it can bring. Ms Lopes-Lam, who was a staff member with the College from August 2016 to June 2020, made her gift after she interacted with students and colleagues and was "inspired by how much had been done despite the College being very young at that time." As a Senior Executive in the Development Office then, Ms Lopes-Lam developed and spearheaded the Annual Giving Programme at the College consisting of the Senior Class Gift, Alumni Giving and Faculty and Staff Giving Campaigns. The Programme was created to encourage giving at Yale-NUS.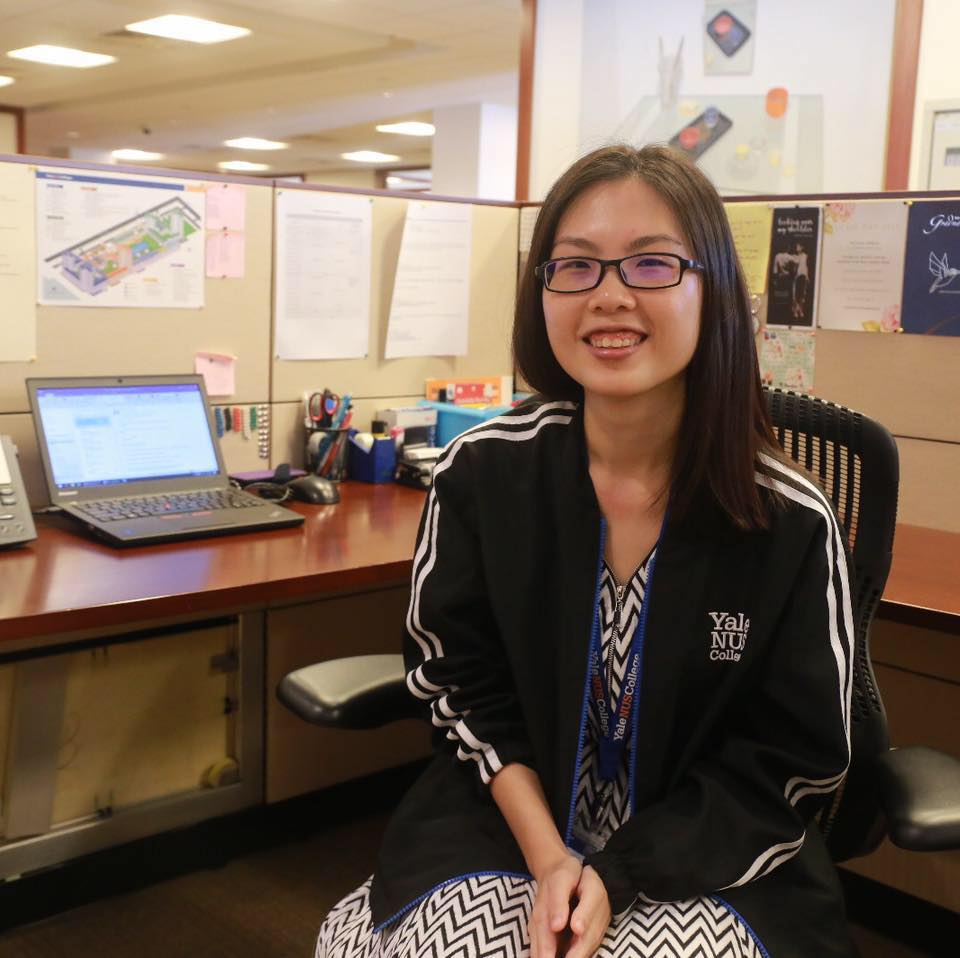 Ms Joella Lopes-Lam was a staff with the College from August 2016 to June 2020. She was with the Development Office and spearheaded the Annual Giving Programme during her time there. Image provided by Ms Lopes-Lam.
Ms Lopes-Lam also prepared gift impact reports for the College's donors and compiled thank you letters prepared by student recipients for their donors. "Reading some of these letters made me see how financial aid provided by donors helped make a difference in our students' lives. I believe that my gift to support financial aid contributes towards that goal, albeit in a small way."
Ms Lopes-Lam changed her donation to a recurring gift in order to ensure that it becomes a habit and to inspire other members of the Yale-NUS community to consider giving regularly. For her, the importance of giving lies in "giving back with the means and privilege that we have, to help those who might need assistance, so that they can help others as well in the future."
Make a difference to someone else's life and give them the gift of education by heading over to our giving portal at https://giving.yale-nus.edu.sg/get-involved/ and contributing to a cause that resonates with you!