By Jermayne Ong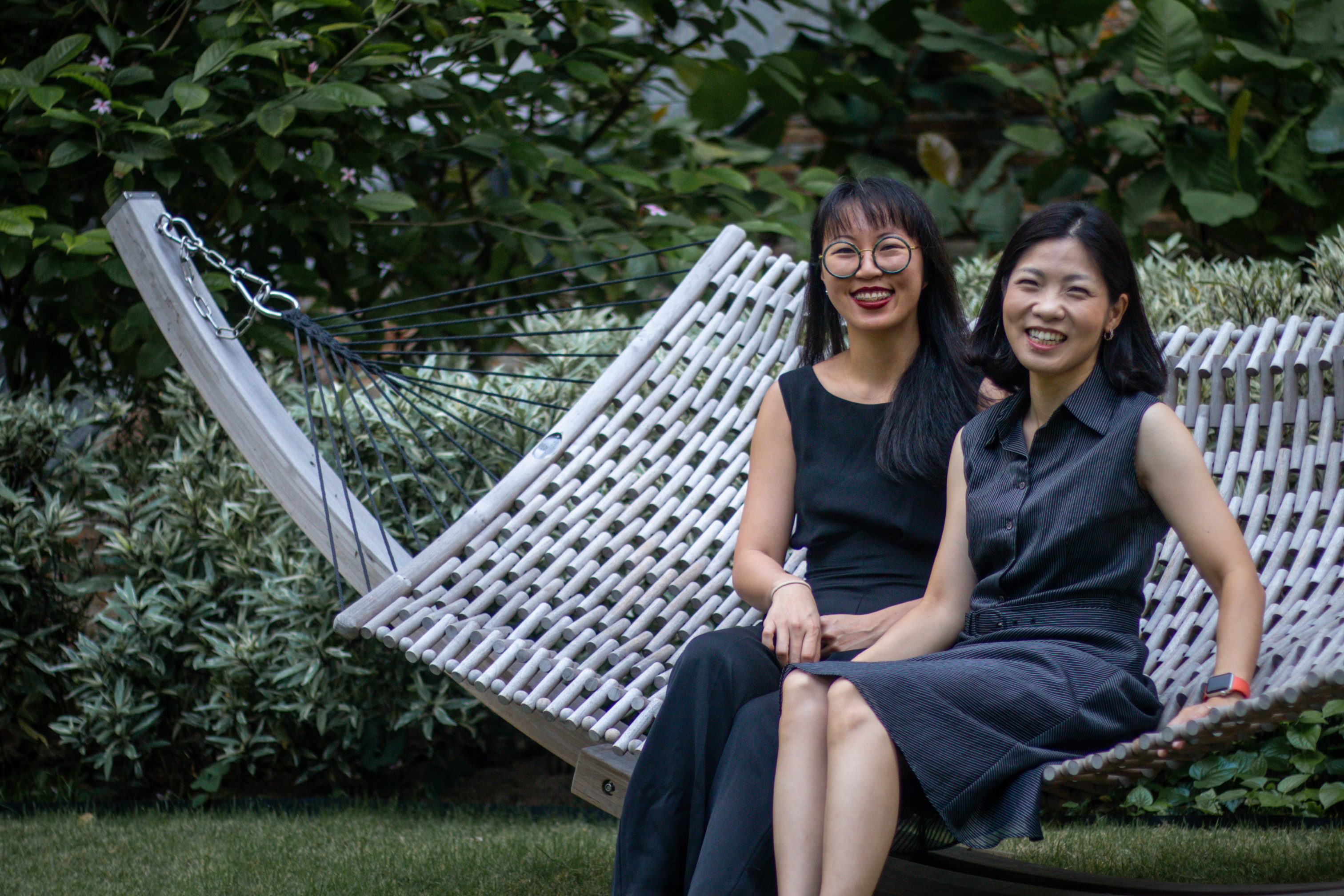 Dr Chen Yanyun (left) and Assistant Professor Nozomi Naoi (right). Image provided by Tan Shan Min.
Since the founding of Yale-NUS College, Arts and Humanities – one of the College's 14 majors, has strived to teach students about art in human life and to provide a context for them to eventually develop their own arts practices. Instrumental to this pedagogy are its faculty, including two junior faculty members who were recently named J Y Pillay and Georgette Chen Fellows respectively – Assistant Professor of Humanities Nozomi Naoi and Lecturer of Humanities Chen Yanyun.
Both Fellowships provide valuable support for Asst Prof Naoi and Dr Chen's research, which they were thankful for.
"I am extremely grateful to the donors of the J Y Pillay Fellowship for allowing me to contribute to the Yale-NUS community and to larger fields of study far beyond my own," said Asst Prof Naoi. Her research focuses on the role of modern Japanese design in reshaping one's understanding of the modern art historical discourse in the world and how it integrates Western and Asian ideas, cultures and aesthetics.
"My research will be relevant and compelling to scholars and students in my field as well as scholars and students of art history, Asian studies, media studies, and women's and gender studies," said Asst Prof Naoi, adding that the cross-cultural nature of her research is "a true fit for the J Y Pillay Fellowship".
"I believe this contributes to the fundamental mission of the College to nurture students who are aware and have learnt about an interconnected world through interdisciplinary approaches of teaching. This also honours Yale-NUS' mission of providing a global and interdisciplinary education," she added.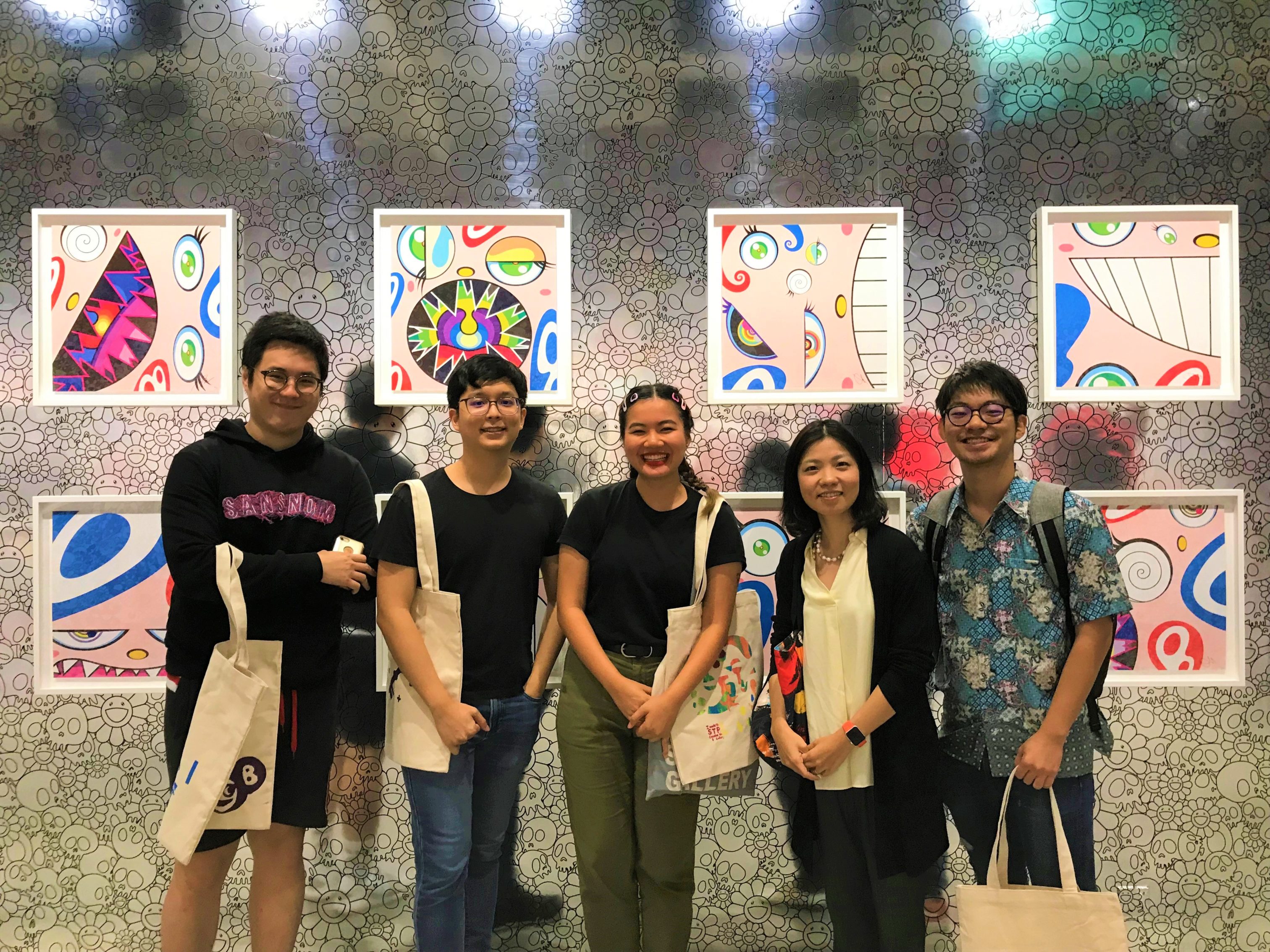 Field trip and guided tour of the exhibition, "Takashi Murakami: From Superflat to Bubblewrap" at Singapore Tyler Print Institute for students in the Critical Approaches to Art History class. Image provided by Asst Prof Naoi.
Asst Prof Naoi, who grew up biculturally in Tokyo and pursued her higher education in the United States, was drawn to Yale-NUS as she believed that her cross-cultural research and personal upbringing would resonate with students at the College.
"I hope that my personal experience will provide a way for students to reconcile their own culture, education and broader identity in the global world," she explained.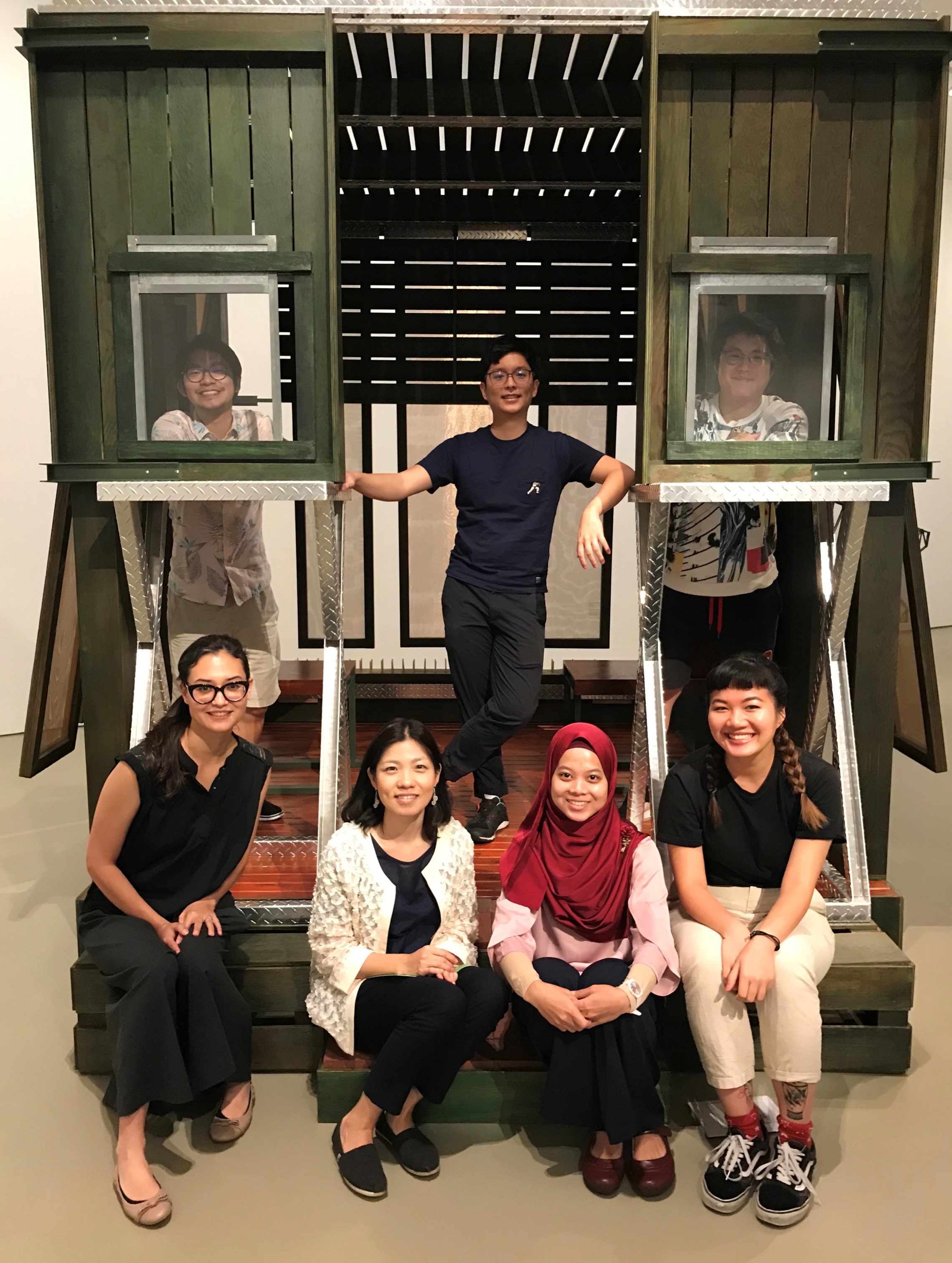 Field trip and guided tour of the exhibition, "Siah Armajani: Spaces for the Public Spaces for Democracy" at Nanyang Technological University Centre for Contemporary Art (NTU CCA) for students in the Critical Approaches to Art History class. Image provided by Asst Prof Naoi.
The J Y Pillay Fellowship is part of the J Y Pillay Global-Asia Programme, which was established to honour Professor J Y Pillay, an outstanding civil servant, national policy maker and corporate leader. The Programme also includes two professorships, innovative academic and student programmes, and study awards for Yale-NUS students in need of financial assistance.
Similarly, the Georgette Chen Fellowship supports a deserving Yale-NUS faculty member who demonstrates scholarly merit and research promise. For Dr Chen, this means valuable support for her research regarding nudity in Singaporean artworks, including its historical, philosophical and sociological aspects.
"Thank you so very much for supporting me — a Singaporean artist — in a project that tackles what could be an uncomfortable subject such as The Nude for our region, and for placing value on rigorous art research in Singapore," Dr Chen said. "I am truly grateful for this generous support!"
Dr Chen's research aims to develop a catalogue that serves as a collective voice for Singapore's contemporary art scene to the body of knowledge of the nude in art and art history, including statements from living artists and operating artists' estates, which comprise deceased artists' artistic assets. Amongst numerous accolades, Dr Chen was recipient of the People's Choice Award at the President's Young Talents 2018 exhibition and took home the prize for the 2019 ArtOutreach IMPART Visual Artist Award.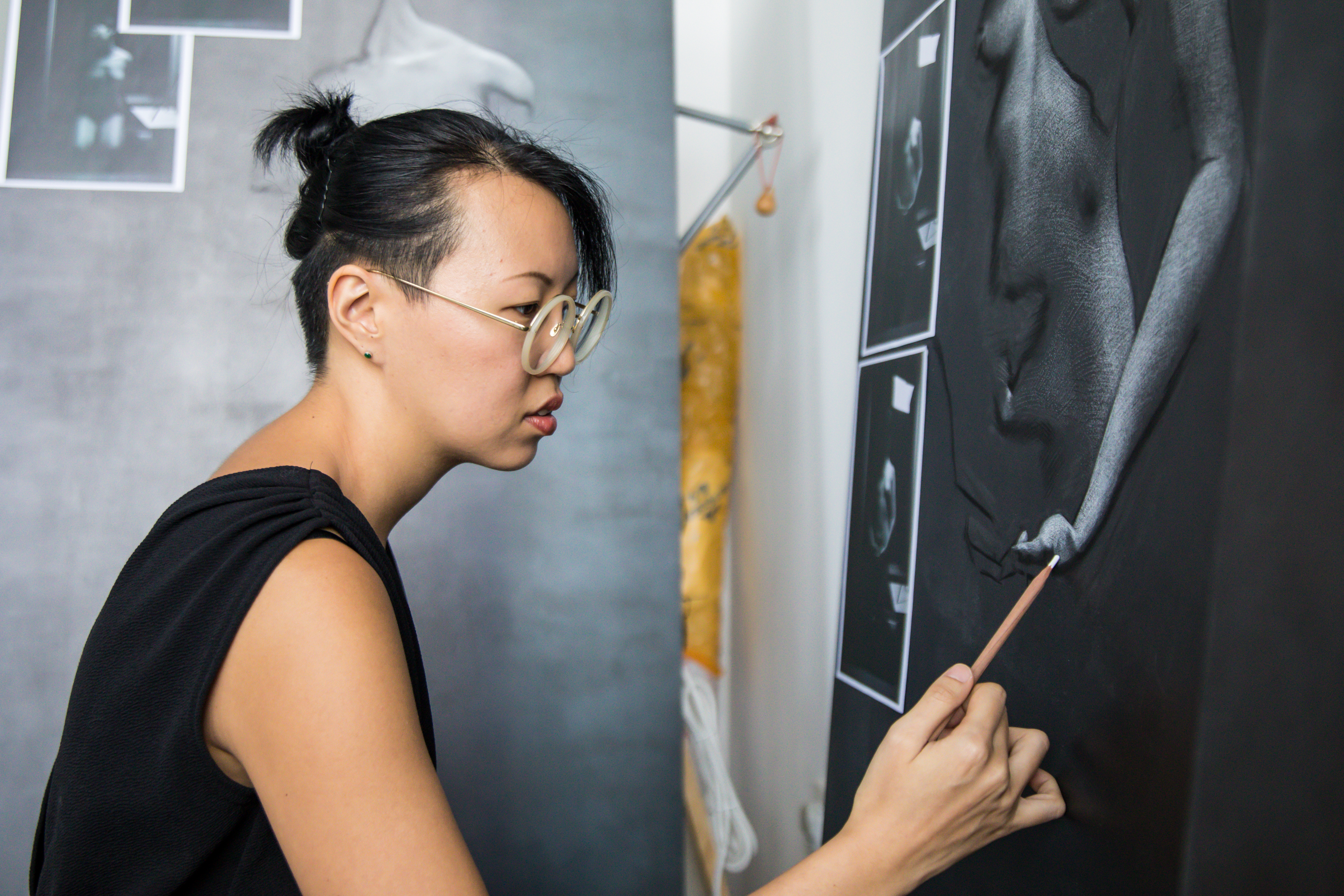 Dr Chen preparing for the "Scars that Write us" for President's Young Talents 2018 exhibition at Singapore Art Museum. Image provided by Singapore Art Museum.
As a student and fan of Georgette Chen's work for decades, Dr Chen shared that it was "an honour to be associated with her name and estate".
"As one of few female representatives in the early generation of Singapore artists, it is important to perpetuate Georgette Chen's stories and her works, and to grow beyond it, [and] if we are able to, to continue to carry these legacies with care," she added.
The Fellowship is supported by the Georgette Chen Trust, which is a Founding Benefactor of the College. Named after one of Singapore's most famous painters of the 20th century, the Trust also supports the Georgette Chen Study Award, which is given to students requiring financial assistance to pursue their education at Yale-NUS.
Outside of their research, Asst Prof Naoi and Dr Chen have inspired many Yale-NUS students in their art making journeys in their capacities as practitioners and professors of visual arts.
One such student is Crystal Low (Class of 2020), an Arts and Humanities major who is working on her capstone project under the guidance of both professors. She shared that their heightened perceptivity is a result of sincere and honest engagement in all that they do, inspiring her to similarly invest herself in the study of art with a spirit of wholeheartedness and conscientiousness.
"I am most grateful to both professors for embodying compassion, humility and patience in their interactions with students and the way that they conduct their lessons," Crystal said. "I am very appreciative of how student-centric they are in their pedagogies because it closes the gap between professor and student, making our learning experience far more comfortable and fruitful."
"They uphold the standards for faculty members of Yale-NUS as they demonstrate dedication to the holistic development and growth of their students at the sacrifice of their own time, and this has contributed to the positive aspects of my experience as a student in Yale-NUS," she added.