By Yip Jie Ying & Joella Lopes-Lam | Images as Credited
To learn a language is to have one more window from which to look at the world (学一门语言,就是多一个观察世界的窗户). This Chinese proverb clearly resonates with students who dedicate numerous hours to learning languages from all over the world. With support from the Tan Chin Tuan Foundation, 11 Yale-NUS students stepped up their language learning efforts last summer. They did so by embarking on immersive programmes at language schools in various Chinese-speaking countries under the Chinese Language Scholarship. Despite starting out with varying levels of language proficiency, all of them had similar goals – to learn the Chinese language and further develop their appreciation for Chinese culture and history.
First established in 2012, the Scholarship is part of the Tan Chin Tuan Foundation's Chinese Culture & Civilisation Programme, which aims to support the advancement of Chinese studies at the College by providing funding for students on Chinese language summer immersion programmes.
One of the recipients, Keith Ng (Class of 2019), attended the Inter-University Programme (IUP) for Chinese Language Studies at Tsinghua University in Beijing for eight weeks. Keith chose the intensive programme for its small class size, personalised teaching and the chance to study at and experience the culture of one of Asia's top universities. While he is no stranger to the language, the programme helped to further strengthen Keith's language competency over the two-month period, and gave him opportunities to explore his academic interests at the same time.
As an aspiring Economics major, Keith was able to maximise his learning and glean new perspectives on various developmental issues in China by spending time interacting with the locals. He also visited many of Beijing's cultural and historical attractions as well as economic activity hubs.
"China's development is especially important to economics and urban studies as it is the world's second largest economy and arguably also the fastest urbanising country. I was able to see first-hand the speed of its development, but I also saw the consequences and problems associated with it. Such a perspective is difficult to attain if you do not visit the country," he said.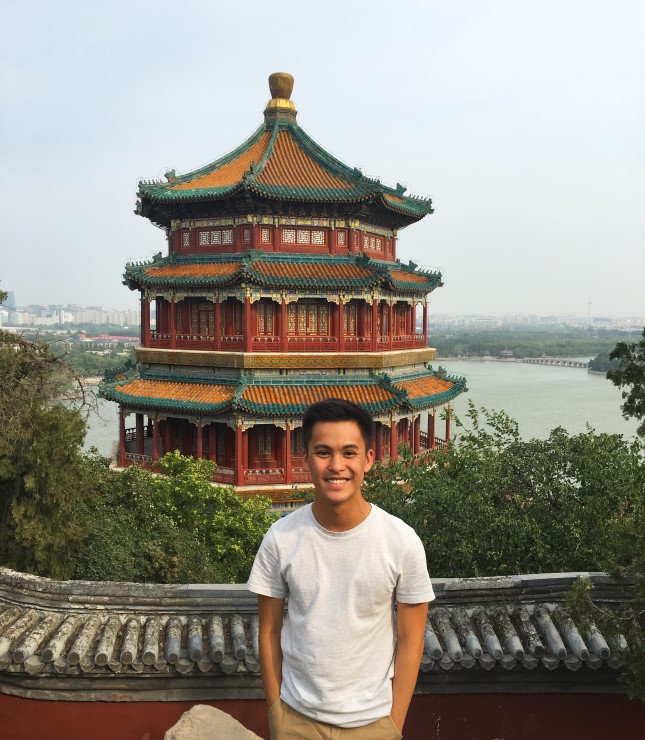 Keith at the Old Summer Palace, which overlooks the booming tech cluster at Zhongguancun in Beijing. Image provided by Keith Ng.
Beijing was also where Laureen Hollge (Class of 2018) spent her summer, learning Chinese at the Harvard Beijing Academy (HBA). A first-time visitor to China, she was especially keen to be immersed and grounded in its culture while learning the language. However, one of the biggest challenges she faced came in the form of the language pledge she made as part of the programme, allowing her to speak only in Mandarin.
"This was hard, especially in the beginning when it was impossible for me to even communicate what food I wanted or where I wanted to go, but I slowly found myself discussing topics varying from politics to metaphysics in Chinese," Laureen said. "By the end of my time there, I felt empowered to communicate anything I wanted. Now, I am not only able to survive casual chats with locals in Mandarin, but I can also express myself even in complex discussions, be it about global warming, urbanisation or cultural values."
Laureen also spent a week in Inner Mongolia conducting research and applying her Mandarin-speaking skills outside the classroom. During the trip, she was invited to stay in a yurt with her Mongolian friends. She also had the chance to eat snails, listen to Mongolian rap and try alcohol made from horse milk.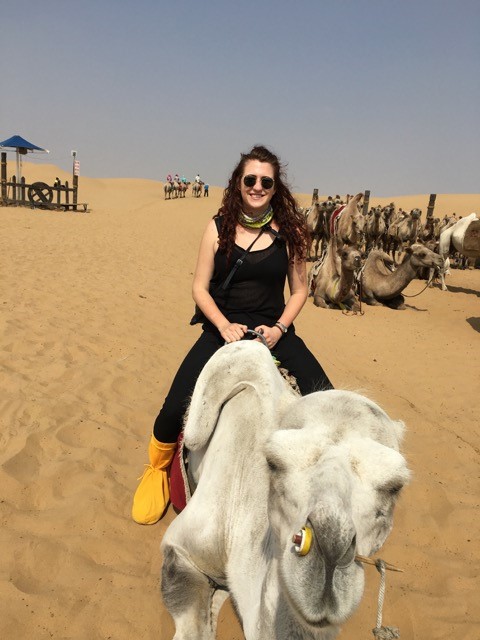 Laureen riding on a camel in Inner Mongolia, where she spent a week on social studies. Image provided by Laureen Hollge.
Meanwhile, Yonatan Gazit (Class of 2018) spent nine weeks in Taipei as part of the National Taiwan University's International Chinese Learning Programme (ICLP). Being completely new to the language when he first entered Yale-NUS, he completed two semesters of elementary Chinese classes before deciding to apply for an immersive programme to help him "nail down the basics of the language" and become more confident in its everyday use.
Although the language barrier initially caused him to feel a sense of isolation, Yonatan's experience eventually surpassed his expectations. With the help of his ICLP teachers, he quickly overcame the language challenge by spending more time and effort on improving his Chinese.
"When I first arrived in Taipei, I could barely scrape together a few words to say to the taxi driver. Yet, by the time I left, I have managed to have a conversation with the taxi driver and told him all about my summer studying Chinese in Taipei and how I was going back to college in Singapore. It was such a nice last memory that reminded me of all the work I have put in over the summer which finally paid off," he said.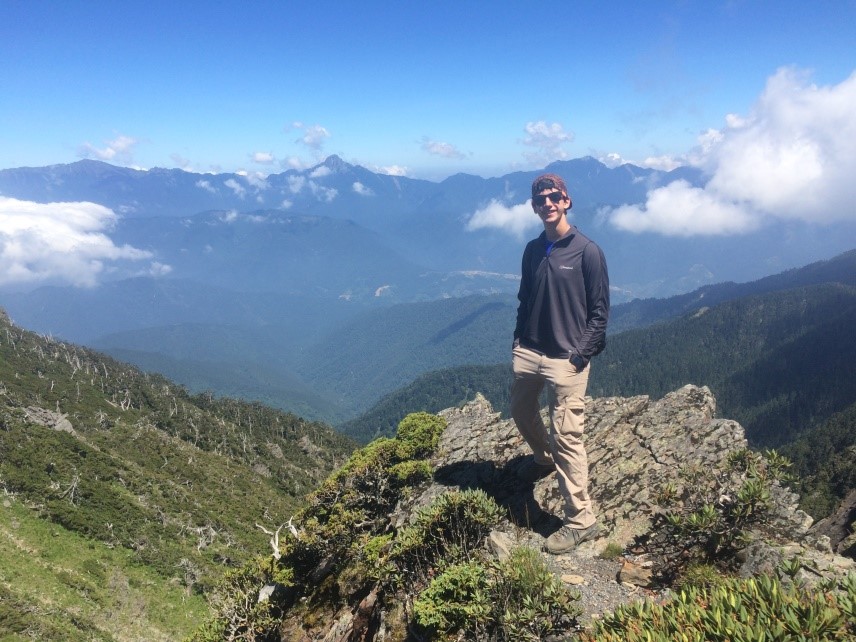 A hiking enthusiast, Yonatan went on a three-day hiking trip to Xue Shan (Snow Mountain) organised by the ICLP. Xue Shan is Taiwan's second highest peak. Image provided by Yonatan Gazit.
Yonatan was grateful for the opportunity to learn a new language and to immerse himself in a completely different environment and culture. He added that learning a new language exposes an individual to more career paths and greater possibilities. "The Chinese Language Scholarship has given me a newfound appreciation for just how rich the Chinese culture is and the possibilities that come from learning Chinese," he said.
Many previous scholarship recipients have since gone on to participate in other programmes and initiatives to further develop their interest in and passion for the Chinese language. One example is Mollie Saltskog (Class of 2017), who attended the Princeton in Beijing programme in the summer of 2015 and was recently accepted to the second class of Schwarzman Scholars, a highly prestigious year-long master's degree programme at Tsinghua University. She will proceed to pursue her postgraduate education on this programme upon graduation in May this year.
"Spending a summer in Beijing studying Mandarin Chinese gave me so much more than simply improved language skills. It gave me many small pieces to my puzzle as I tried to piece together an understanding of contemporary China," she said. "One big takeaway from that summer, which also played a crucial part in my decision to apply to the Schwarzman Scholars programme, was that understanding China today is key to leading change in the future."
Each year, the Chinese Language Scholarship presents students with various opportunities to learn and strengthen their Chinese with programmes that immerse them in a fully Chinese-speaking environment, building their language as well as appreciation for the Chinese culture. More information on the Tan Chin Tuan Foundation's Chinese Culture and Civilisation Programme can be found here.